Sure, running is a simple sport. One could argue that all you need is a good pair of shoes. And while that's true (to some extent), once you venture off the roads and into the wilderness, there are several essential items that will make your whole experience safer and more enjoyable.


Trail Running Shoes
Any fit expert will tell you: wear trail running shoes on the trail and road running shoes on the road. That's because trail running shoes offer the right amount of grip and protection for off-road surfaces. But not all trail running shoes are created equal. If you're running a soft, dry and mostly flat singletrack you're not going to need a burly mountain runner with aggressive tread. When you're just starting out in the off-road world, consider a middle-of-the-road all-around trail running model that has a little bit of everything.
Raleigh/Morrisville favorites:
 ON CLOUDVENTURE, $150
BROOKS CALDERA, $140
SAUCONY PEREGRINE
ID
This comes down to safety. Make sure you always tell someone where you're going and also bring along an ID. While your driver's license will do, consider something like the Road ID, which lets you out identifying info on a bracelet or shoe tag.
Hydration System
As we've said before, trail running miles are slower than road running miles due to elevation changes and trail obstacles, among other things. So, if the same mileage takes up to double the time, there's a good chance you're going to need to hydrate en route. Carrying a handheld water bottle or a hydration pack could make all the difference between an enjoyable day on the trails or a total bonk (going to be out more than an hour? Bring along some nutrition and electrolytes, too).
SHOP HYDRATION
Orange Mud Towel

This might be more of a luxury than necessity, but here in the south where summer running feels like swimming in hot soup, a transition towel will make the ride home after a muggy run infinitely more comfortable. It wraps around your body so you can change with some level of privacy and then, perhaps best of all, it covers your seat, so your stinky, sweaty and/or muddy body won't ruin your car interior.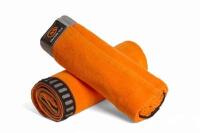 Sun protection
A lot of trails are more shaded than roads, but since you're likely to be out longer than usual you should take precautions, especially if you're unfamiliar with the trail. A combination of sunscreen, a wide-brimmed hat (a trucker hat works!), and clothing that covers your shoulders will provide optimal sun safety.
Socks
Just like any run, socks can make or break your trail run. A good, technical running sock will wick moisture from your feet, help prevent blisters, and stay secure around your feet and ankles even as you navigate changing terrain. For trail running, we like a crew or quarter crew sock for additional protection around the ankles from dirt and debris you might kick up while running.
Raleigh/Morrisville favorite:
Balega Blister Resist Quarter Crew, $15