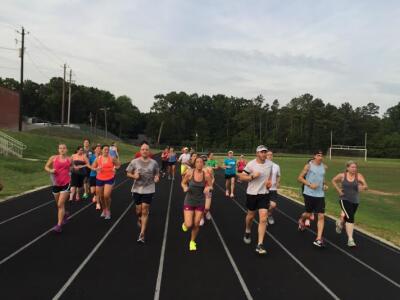 Not long after sunrise this past Wednesday, runners in our Summer Speed Series training program were on the track, completing a one-mile time trial to measure how far they'd come over four weeks of strength, speed, and agility workouts. With session one of the program complete, here are a couple of reflections:

"At the final time trial of the June Speed Series, we saw several of our participants drop 20-30 seconds off of their mile times. One participant even managed to knock off 51 seconds! The group did amazing work with each workout. We kept them challenged by alternating between hill repeats, short bursts on the track, and timed runs on the greenway. Every workout was different from the previous one. I think there were more than a few who were surprised by just how much they improved in such a short period of time by simply adding a little intensity that had been missing to their everyday running."
     - Brian Fowler, training program coordinator
"So proud of myself for getting up to run at 6 a.m. every Monday and Wednesday for the past 4 weeks. This speed series with Fleet Feet has really helped me, and has reminded me again and again why I love running. It's something everyone can do and be a part of no matter what stage they are at. Thank you Fleet Feet for getting my mile time down from 8:09 to 7:11!!!"
     - Staci Jahr, participant
Session two kicks off July 6th in North Raleigh! Sign up now!