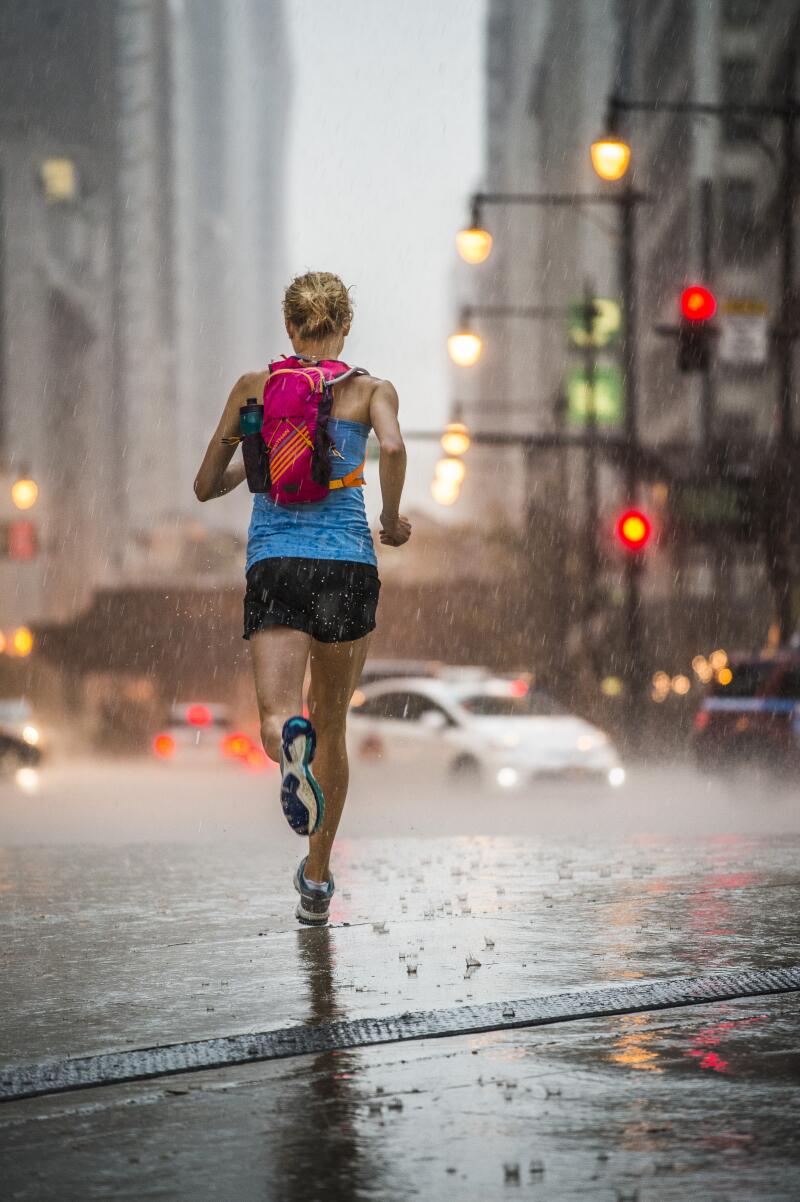 Tips for Running in the Rain
The occasional rainy day can be the perfect excuse to skip your run and indulge in some quality doing-nothing time, but a week of rainy days can do some damage on a running routine or a training plan if you're not willing to embrace the elements. Here are a few tips to make your rainy summer runs a little more comfortable (and safe!) when you just have to get out there.
Wear a hat
That sun visor's not just for sun! Shield your face and eyes from the downpour with a running hat with a brim. Anyone who wears contact lenses is probably intimately familiar with how frustrating, and frankly dangerous, rain in the eyes can be. Opting for head gear made from technical materials will also keep your scalp a little drier.
Wear fitted clothing
While on hot, sunny days you might prefer the airiness of loose-fitting apparel, baggy clothes will get waterlogged and heavy in the rain, and will be more likely to chafe. Stick with close-fitting tops and tights or compression shorts made from technical moisture-wicking material. If you're not comfortable wearing skin-tight gear, feel free to add a lightweight, looser top layer (but be careful not to overdress!) or look for shorts with a compression short built in. This keeps your skin drier and minimizes chafing.
Speaking of chafing...
You know you're prone to chafing when you're sweaty, so imagine the potential chafe-fest when your clothes are saturated from start to finish. Take all precautions you would normally take for your long runs even if you're just going out for a couple miles. Products like BodyGlide, Brave Soldier, or even just Vaseline can save you from some serious discomfort. As always, avoid cotton - cotton clothing and socks are never advisable, but in especially wet conditions technical fabrics are even more important.
Get flashy
Dress for a rainy daytime run like you would for a late evening or early morning run with low visibility. Keep in mind that roads will be slick, making it more difficult for cars to stop, so they need to see you well in advance. Reflective gear is great, but by the time drivers see the reflection they're probably too close; neon colors and lights will ensure you're visible before the car needs to slam on the brakes.
Consider your route
Don't risk getting stuck on a flooded trail or greenway. City running can be tedious when you have to stop every block for traffic, but flooding can happen rapidly and sometimes unexpectedly, so if it's been raining or rain is imminent, it's better to stick to the streets. 
Check the forecast
Ok, this seems obvious, but we all know how unpredictable North Carolina weather can be in the summer. Particularly if you're packing for a run after work, keep tabs on the hourly forecast and consider taking the above precautions if it looks like there's a chance the weather will turn on you.
Use good judgement
If there's thunder and lightning, heavy winds, or you're just ill-prepared, don't try to tough it out. Hit the treadmill or try again tomorrow.
After Your Run
Don't stay soggy
If you're driving home, hanging out after a social run, or have a post-run cool down routine (you should be stretching!), have a set of dry clothes handy to change into as soon as you finish running to keep your muscles warm and loose.

Take care of your gear.
Don't throw your soaked shoes or outerwear in the dryer! Hang your clothes to dry even if you don't have time to wash them yet (because wet clothes in a pile are gross and you're not a monster). Dry your shoes by stuffing them with newspaper; the paper absorbs moisture and helps your shoes keep their shape and fit.