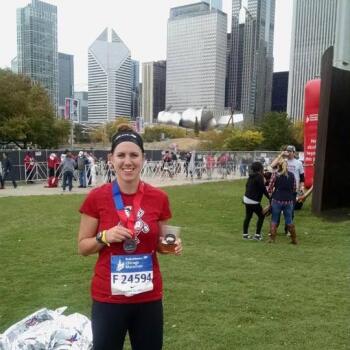 On November 1, 2015 I will be running the TCS New York City Marathon with the Arthritis Foundation's charity team. I am so excited to be running 26.2 miles with such an incredible organization and group of people! I have been involved with the Arthritis Foundation for a couple of years now in a variety of capacities. I interned with the Upper Midwest region in the event planning department after college, participate and create teams for the local runs each season, sit on the committee for large events, and volunteer at the other local events put on by my chapter. I could not imagine running a marathon for a better cause!
Not only is this a great organization, but it is a cause that is dear to my heart. I will be running each mile of the marathon for my mother, Ann Corrigan, who lives with Rheumatoid Arthritis. She has spent her life giving back to othersthrough teaching high school students with learning disabilities. I could not imagine giving something better back to her than this fundraising effort. She is the most compassionate and strongest woman I know. Her strength in living a positive life and helping others despite her personal pain has truly inspired my entire life. 
I cannot wait to see her face after I cross the finish line!
Thanks for your help along my NYC marathon journey and contribution to the Arthritis Foundation. Every dollar counts! 
Here is the link to donate:
 https://www.crowdrise.com/ArthritisFoundNYC2015/fundraiser/mollycorrigan