This past Monday, Raleigh's nOg Run Club celebrated its 7th Anniversary. Since 2008 the club, which Fleet Feet Raleigh sponsors, has attracted hundreds of local runners to its weekly social runs. The club promotes running and fitness, but also a sense of community, and the importance of doing good. The club supports 14 local charities each year through its popular races and monthly charity nights. Elizabeth Pagano, a chiropractor at Raleigh's Chiropractic Café, is the club's founder and president.
How long have you been a runner?
I started running track when I was in middle school.
What got you interested?
I played a sport every season. In the beginning, it was just a sport to play. When I got to college, I realized you can't go out and run 100 or 200 meters for exercise. I took a running class and at the end we were running 10 miles. There was a half marathon coming up locally and I decided to register.
How did it go?
Fine, because I did my long runs on the course. If I had an 8 mile run on my training schedule, I would have somebody drop me off at mile 5. So I knew exactly what to expect, which was nice for my first half marathon.
Were you hooked?
For a couple years after that, I would run one or two half marathons a year. In 2004 I really started getting into running and decided to set a goal of running at least a half marathon in all 50 states.
How many have you done now?
I have done 48 states and Washington, D.C. My final two are in October.
Which states do you still have to go?
Nevada and Colorado. I'll be running Vegas and Denver.
You do a lot of traveling for races.
All of my vacations are planned around a race.
What's your favorite place to run in Raleigh?
Besides with the nOg Run Club? The Greenway. I like running from Shelley Lake. It is easy to get in quite a few miles with places to stop for water if needed.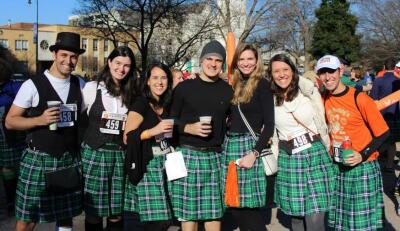 Tell me about how the nOg Run Club got started.
I had read an article in Runners' World about an Irish pub in Colorado Springs that had a run club, and I thought it sounded like a good idea, since my brother owns an Irish pub, Tir na nOg. Soon afterward, I went to Fleet Feet and got fitted for shoes by Eugene Wheeler. I mentioned the idea to him, and he liked it. We took the idea to Bob [Morris, owner of Fleet Feet Sports Raleigh], and the rest is history. We didn't know what to expect for our first run, but sixty-nine people showed up.
What kept them coming back?
It was easy for us back then because we were the first club offering that type of experience—running from a bar, then coming back to have a beer. Besides North Carolina Roadrunners Club, we were the only club not based at a running store. We'd play different games such as trivia, name that tune, or bingo afterward, but beyond that, we didn't have to do a lot. We didn't really advertise to get the word out. Runners who came and enjoyed themselves would bring friends the next time. It just grew organically.
Since that time, fundraising for local charities has become an important part of the club's mission.
Our big project since the beginning has been Wake County Holiday Cheer program, [which matches up children and seniors in need with community sponsors who provide Thanksgiving and Christmas meals or gifts]. The first year we sponsored 10 kids, which was huge, since club members' donations were the only source of funding.
We also partnered with different nonprofits to organize races, raising money to support their missions. Eventually we turned nonprofit so that we could partner with more charities and be more strategic about where the money was going.
We held our first annual St. Paddy's Run Green 8K in in 2009, and since then added the Oktoberfest 8K in the fall. We donate all the proceeds from our races back to local groups.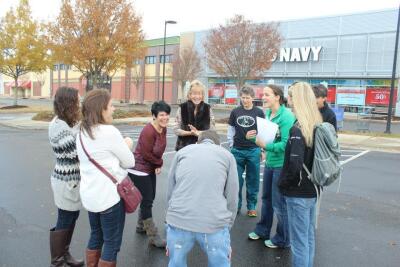 Tell me about some of your favorite moments working with local charities.
One of the best parts of the year is still working with the Wake County Holiday Cheer program. It's a ton of work. Many of our club members give up their Thanksgivings to shop for the children we support. Last year Old Navy let us go in early and gave us 50% off everything in the store. But it's fun, and it makes it worth it when you see how appreciative the parents are and how excited the kids are. Last year we raised more than $20,000 to sponsor 110 children, three seniors, two families in a homeless shelter, and 60 residents at Wake County Assisted Living.
We also donate $750 worth of school supplies to a different Wake County school as well as organize a large school supply drive in July to provide backpacks full of supplies to children in the foster care system. This year we were able to donate 75 filled bookbags.
Every year, Fleet Feet, Inc. in partnership with a group of shoe vendors, awards a select number of grants to select locally-owned franchises with the goal of promoting a healthy and active lifestyle and making a difference in the community. This year, we applied for a grant to support the nOg Run Club's work with the Holiday Cheer program. Through a generous grant from Fleet Feet, Inc. and New Balance, we'll be providing shoes to more than 100 children.
It's going to be huge. Most of the time families ask for necessities. We want to get them what they need, but also something exciting to open, so we get each child at least two toys. Many times families ask for shoes, but due to the relatively high cost, we can't usually fulfill all the wishes.
The nOg Run Club is well known, at least among our customers, for attempting to set the Guinness World Record for largest kilt run every spring. But you recently set the record for largest flip flop run. How did that go down?
Because there are now so many races in the area, we wanted to add something else to get more people to run our races. And who doesn't want to break a Guinness World Record? The St. Paddy's race has a post-race festival with pipes and drums and bands at the finish line. We've had enough people sign up to break the record all three years but unfortunately they just haven't shown up on race day with their kilts. We will try again in 2015 and hopefuly will get the 1,765 people we need to break the record.
With the flip flop run, we only needed 364. We were pretty confident we could do that. We're hoping that our success will inspire people to get their kilts for next year's St. Paddy's race.
Right now we're training for next month's Oktoberfest 8K. What can we expect on race day?
It's a really fun race. For a downtown course, it's pretty flat. We'll have fun games and great awards. Last year we added Limbo, which was surprisingly popular. It will be a great day!
---
Want to get involved? Here are three ways:
Connect with the nOg Run Club on Facebook
Register for the Oktoberfest 8K
Join us every Monday at 6 p.m. at Tir na nOg, 218 S. Blount St. for a social run followed by Trivia!