It's inspirational to see so many women go from sitting on the couch to running marathons"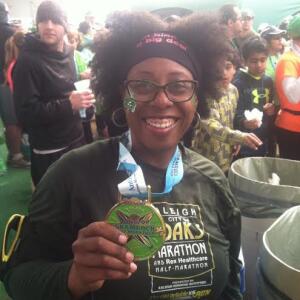 In 2009, Toni Carey and Ashley Hicks, two women from Atlanta, founded Black Girls RUN! Their aim was to help combat the obesity epidemic by encouraging African-American women to embrace health, fitness, and above all, running. Over the last five years, the organization has grown quickly, with local chapters in almost three dozen states offering group runs, training programs, advice, and camaraderie. The group welcomes runners of all ability levels, but makes a special effort to engage those just getting started.
Deyna Hardison is an ambassador for Black Girls RUN's Raleigh chapter. Hardison, a longtime runner and former broadcast journalist, also works as an engagement manager for Susan G. Komen North Carolina Triangle to the Coast.
Q: How long have you been a runner?
A: I first started running when I was 28. I was working in television at the time, and they say the camera adds 10 pounds, so I was running to lose weight.
Q: Is it still just about losing weight? What do you like best about running?
A: There is something very peaceful about being out early in the morning. The sun is rising, the birds are chirping. Depending on the season, you can smell the flowers, feel the cold, listen to the quiet. There is nobody out there but you. As a mother and a wife, I'm pretty busy. Running is my opportunity to shut down and go inward. it's nice. It's also nice that BGR offers support and a social element as well.
Q: How long have you been involved with Black Girls RUN?
A: I've been running with BGR in Raleigh for two years. The organization was founded in 2009 in Atlanta by two women, Ashley and Toni, who are both runners. They didn't see a lot of African American women running, and they were looking for a way to get more African American women into the sport as a way to combat the obesity epidemic and promote healthier lifestyles. They started by saying, let's get a few women together. It's turned into a huge movement that provides encouragement and resources to new and experienced runners. There are now more than 60 chapters across the nation. BGR encourages women to make healthy living a priority. Our goal in Raleigh is to get you off the couch. I just want you to move.
Q: How many runners are in the Raleigh group?
A: The Raleigh chapter has more than 4,000 members. Not all 4,000 run with us. Some run on their own. A lot sit on the sidelines and look the webpage. But there is a core group that participates and comes to events. I'd say there are three to four hundred. But that is probably a low estimate. We have groups that meet weekly at locations all around the Triangle. One of our bigger groups has 40-50 women who meet every Tuesday morning.
Q: How do you attract new members? What are some strategies you use to convince women who have never run before to join you?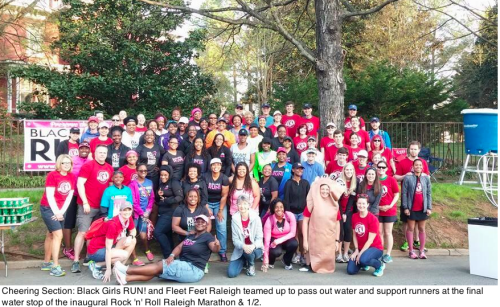 A: We don't have to do much. You often will see us with our shirts. We wear a lot of gear that attracts people. We volunteer at races, and when we staff a water station, people gravitate to us. We have a lot of fun. If I see a woman running by herself, I say, "You can join us. It's 5 am. You don't need to be on the street by yourself."
Q: What do you do to make sure new runners aren't intimidated when they're just starting out?
A: We have a program for new runners called WalkB4URun. But we stress that all of our runs are beginner friendly. All paces are welcome. We have a "leave no woman behind" attitude. We just want you to come out and join us.
It's inspirational to see so many women go from sitting on the couch to running marathons. We have a few who have done that. A couple years ago we organized a couch-to-5k program. We had about 50 women participate. We buddied up with these women and brought them across the finish line. One of the women was in the back. She was the sweeper. There was a police car behind her. When she saw the finish line, she became very emotional. About 20 of us brought her in to the finish line. There was not a dry eye in the house. It was a beautiful thing to see this woman, who had just started walking not long before, finish a 5k. She didn't know she could do that.
Running has become a lot more accessible in recent years. We used to think runners were all tall and white and ridiculously skinny. The Kara Goucher type. When you go to a race, you do see that type of runner, but you see lots of others, too.
Q: You've lived many different places. What do you think about Raleigh as a running city?
A: Raleigh is an active, welcoming community. I run with BGR as well as a group called Runner Peeps. Everybody is really cool. We laugh and talk and have fun. There are lots of other groups out there. Between Big Boss, Tir na nOg, Wake Forest Area Runners, the local running stores, everybody has a group.
I think people all across the country are getting more into running because of the high stress of our lives. You need that time to step back and reassess and clear your head. Running is great for that. On the BGR page, we have a joke: "If you're having a bad day, go for a run. It makes everyone else's day better." And it's good exercise.