What do you get when you cross a four-mile race with an 18-hole round of golf?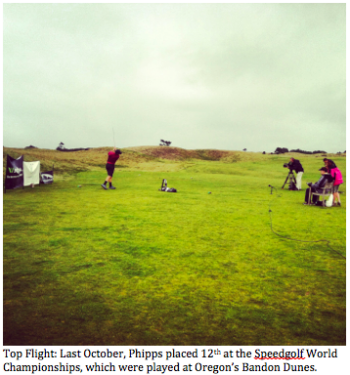 Pete Phipps is the founder of Raleigh's Oak City Speedgolf League. From May through September, he and his fellow speed golfers spend one night a week zipping down the fairways of the Raleigh Golf Association's stockholders' course on foot, finishing 18-hole rounds in under an hour. If you're never done so before, YouTube "speed golf" and check it out. Does it look like something you'd like to try? If so, the season starts next month!
Q: Tell me about your background. Have you always been a golfer?
A: I grew up in a town called Hudson, Ohio, which is a suburb of Cleveland. I grew up playing junior golf there. I had two older brothers who were also golfers. Being from the north, we could only play in the summer, so we played tournaments all summer long. I went to the United States Military Academy in West Point, New York, and played college golf there. Golf was a very significant part of my childhood, my teenage years, and my college experience.
Q: So running was something that came later?
A: I got into marathon running when I was stationed overseas, in Okinawa, Japan. Basically my army buddies peer pressured me to do it. When you're in the army, everything is kind of a contest, even with your best friends. You're in a culture of pushing yourself to your limits.
Q: When did you run your first marathon?
A: I did my first marathon in 2006. I've run a total of 20 so far. I'm currently taking a break from marathons while I get my new business up and running. (Phipps is the owner of Arrow Haircuts, located in Cameron Village.)
Q: Speed golf has been around for decades, but it's definitely a niche sport. How did you first come across it?
A: After I left the military in 2010, I moved to Raleigh and took a job in pharmaceutical marketing. And I got back into playing golf. But since I was working full-time, I was mostly playing on the weekends. And when you play on the weekends, the course is crowded. You're out there with everybody else who is in the same situation. I just got frustrated with how long it took. I wanted to find a better alternative. My brother, who currently lives in Raleigh, had participated in a speed golf league out in Oregon a couple years ago. He encouraged me to look into it.
The way I look at it is that on a weeknight, in less than an hour, you get to play 18 holes, get a great workout, and you're back home in time for dinner. Unless you run the course, you're not getting 18 holes in on a weeknight. It's impossible.
Q: It seems like one of the challenges of speed golf is just finding somewhere to play. You're obviously playing a lot faster than the typical foursome out there for leisure.
A: The first thing I did was find out if there was even a place that could host us, because it's an interesting thing to ask a golf course if you can go run as fast as you can around the course. Logistically it's difficult. You're basically asking them to block off period of tee times. Raleigh Golf Association was receptive to the idea. They agreed to block off one of their three nine-hole courses for us. We're playing at night, so we bring in revenue during hours when the course is not usually booked. No average golfer is teeing off at 7 o'clock at night.
Q: How long does a round of speed golf take?
A: The fastest time we clocked last year was 39 minutes. And when you run the course, it ends up being just over four miles.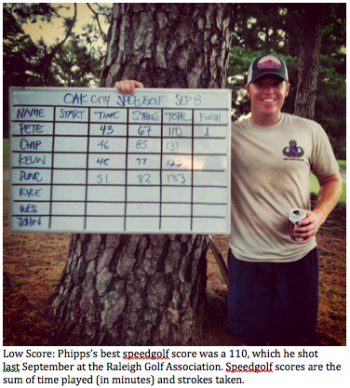 Q: Tell me more about the rules. How is speed golf different from traditional golf?
A: Everything stays the same as regular golf except for a few things. First, you can always leave the flag in. Second, there is no going back after a lost ball to hit from same spot. You just take a one-stroke penalty and drop it as close to where you thought your ball was as you can. Your score is the sum of your time spent on the course, in minutes, and your strokes. My best score last year was 67 in 43 minutes, for a total score of 110.
One other thing I should mention is that many people actually play better golf when they're going faster. We found that to be the case for people like me, who had a golf background, as well as casual golfers. We basically realized that when we go to play regular golf, we all are guilty of thinking too much. We looked back and were shocked at how well we could hit the ball. You see the target and you go for it. Whether you're 150 yards out or standing over a five-foot putt, you're stripping away the doubt, the hesitation. You're seeing the target and you're pulling the trigger.
Q: Do you play in groups or one at a time?
A: We play single file. Last year we started in two-minute increments. If you have to pass the golfer in front of you, you just yell. We've never had any problems.
Q: What about equipment? I've read that speed golfers carry fewer clubs.
A: As far as clubs, you can carry whatever you want. Obviously it makes more sense to carry fewer clubs because of the weight. Typically last year people were carrying four or five clubs. I personally carried a putter, a 54-degree wedge, an 8-iron, a 5-iron, and a 3-wood. That's it. Sometimes it's even more fun than regular golf, because you're forced to hit more interesting shots. For shoes, we just wear running shoes.
Q: When I originally came across speed golf, I was thinking of it as a great cross-training workout, but it's actually an intense run, with an added skill element. Plus you're carrying clubs.
A: It is great cross training. We all got better at it as we went. You learn to breathe better. You learn to slow down as you approach your ball. It's hard to hit a golf ball when your heart's going that fast. But you adapt to it. You learn little tricks.
Q: You've actually played in some big tournaments.
A: Before last year, I had no speed golfing experience, but last June, I finished second in the Eastern Speedgolf Open at The Foundry Golf Club in Richmond, Virginia. From there, I went and played in Speedgolf World Championships in Bandon Dunes out in Oregon. That was a lot fun. It was totally different weather on the Pacific coast, and different scenarios.
Q: What was it like coming together with speed golfers from around the country?
A: I have a couple of cool stories. There were two Olympians that played in the tournament, [runners] Bernard Lagat and Nick Willis. It was amazing to see them run.
Q: How did they do?
Bernard Lagat is not a very good golfer. But it was amazing to watch him run. I watched him tee off. He looked like a motorcycle flying down the fairway. It's like nothing I've every seen before.
Q: Going back to the Raleigh league, are most participants golfers or runners ?
A: That's a great question. I'd say it's 50/50 between golfers who have been pressured into running, and runners who've now been pressured into playing golf.
Play starts next month. If you're interested in learning more about speed golf, visit http://speedgolfinternational.com/. To join the Oak City league, contact Pete Phipps at pete@arrowhaircuts.com.