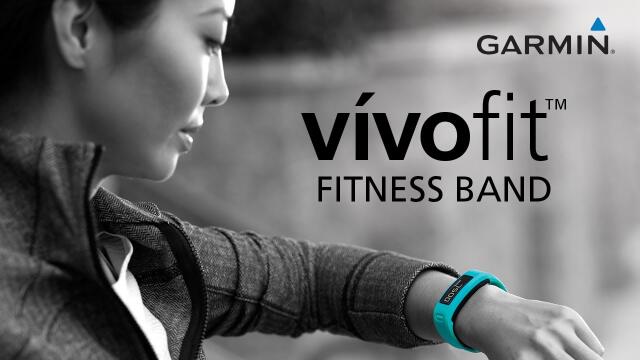 (technical information provided below)
When Garmin introduced the Vivofit Fitness Band I was a bit confused.  Why would a brand best known for professional cycling, marine/outdoor GPS, Nuvi car navigation systems, and of course running watches, want to build a not-so-complex product? The Vivofit doesn't use GPS, nor does it host any of their new running dynamics - its a pedometer with class.  I was skeptical up until the time I started to wear one. After 72 hours of wearing the Vivofit, I know exactly what Garmin is doing here, and it is healthy.
Research shows that prolonged sitting is not healthy, and in-fact can limit the effectiveness of your exercise or weight loss program by decreasing your body's production of fat-burning enzymes. Taking short walks throughout the day can counteract the effects of being sedentary and boost your overall health.  The Vivofit is not necessarily an activity monitor, but an inactivity monitor.

The Vivofit tracks your steps, miles walked, and calories burned.  It will also give you a daily goal and has the ability to upload data to Garmin Connect via bluetooth to your computer or smart phone. It uses Ant+ technology and can pair with a Garmin heart-rate monitor. It also can be worn to analyze your sleeping patterns. While these are all fantastic features and work better than most of the competition, the inactivity monitor or what I call the "get off your butt alert" is by far my favorite feature.  A red line (see image below) begins to appear at the top of the screen whenever you are not moving frequently enough and once its full (and angry looking) it means you've been an hour or more settled - you need to move your butt.  A short walk around your house, office, apartment, expo, or specialty running store will put you back on the good side of your Vivofit.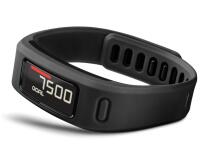 Each box contains two different straps one small and one large, and a bluetooth receiver. Not to mention the instructions, which are not necessary as this little puppy is user friendly and easy to master.  There's literally one button, press to cycle through data screens, press and hold to sync, pair, or go to sleep mode. The battery is easily replaceable and should last a year. The most important part, however, is that you can change band colors anytime you please with the band kit.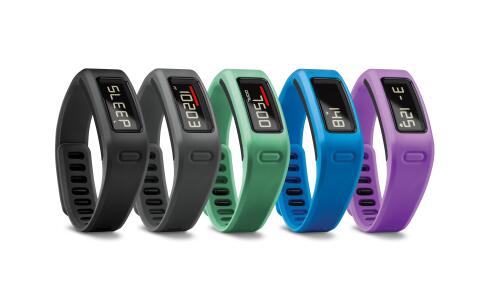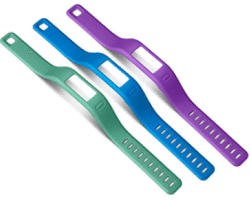 FUNCTION/FEATURE

GARMIN VIVOFIT
COPYRIGHT WWW.DCRAINMAKER.COM - UPDATED MARCH 12TH, 2014 @ 5:22 AMNEW WINDOW
GENERAL: PRICE
$129
GENERAL: BODY PLACEMENT
WRIST
GENERAL: DATA TRANSFER TYPE
BLUETOOTH SMART/ANT+
GENERAL: BLUETOOTH TO PHONE
YES
GENERAL: WATERPROOFING
50 METERS
GENERAL: BATTERY LIFE
1 YEAR
GENERAL: BATTERY TYPE
CR1632

FUNCTION/FEATURE

GARMIN VIVOFIT
WATCH: DISPLAYS TIME
YES
WATCH: HAS TIME ALARMS
NO
DATA: STEP COUNTER
YES
DATA: STAIRS CLIMBED
NO
DATA: DISTANCE WALKED
YES
DATA: CALORIES BURNED
YES
DATA: SLEEP METRICS
YES

FUNCTION/FEATURE

GARMIN VIVOFIT
SENSORS: SKIN TEMPERATURE
NO
SENSORS: HEART RATE
YES (WITH HR STRAP)
SENSORS: SKIN PERSPIRATION
NO
SOFTWARE: WEB APPLICATION
YES
SOFTWARE: PC APPLICATION
YES
SOFTWARE: MAC APPLICATION
YES
SOFTWARE: PHONE APPS
ANDROID/IOS
SOFTWARE: ABILITY TO EXPORT/SYNC SETTINGS FROM COMPUTER/PHONE
YES

FUNCTION/FEATURE

GARMIN VIVOFIT
PLATFORM: 3RD PARTIES CAN ACCESS DATA VIA API
SORTA
PLATFORM: ABILITY TO EXPORT YOUR DATA OUT OF PLATFORM
FITNESS: YES, STEPS/SLEEP: NO
PURCHASE: AMAZON LINK
LINK
PURCHASE: CLEVER TRAINING LINK (SAVE 10% WITH DCR10AKG)
LINK
DCRAINMAKER: REVIEW LINK
LINK