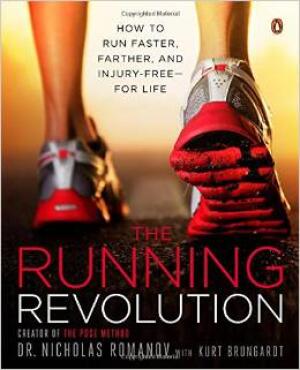 Want to improve your running form and reduce your risk of injury?
Join us October 17th for a special social run and book talk with Nicholas Romanov, creator of the POSE Method.
At 6:30 p.m., Romanov will lead a 3-mile social run from our Wade Avenue store, followed by a short POSE clinic. At 7:30, we'll head down the way to Quail Ridge Books & Music, for a talk about Romanov's new book, The Running Revolution, In the book, Romanov, a sports scientist who first developed the POSE Method in the mid-1970s and has spent decades studying and teaching running form, addresses many of the issues raised by Christopher McDougall's popular book Born to Run, as well as the wave of marketing surrounding barefoot and minimal shoes. He gives runners tips for improving their biomechanical efficiency and avoiding injury.

1. S-like body position with slightly bent knees
2. Forward lean from the ankles to employ gravity and work with it not against it
3. Pulling or lifting feet up under the hip not behind the buttocks
4. Ball of foot landing under your body (your GCM - general center of mass)