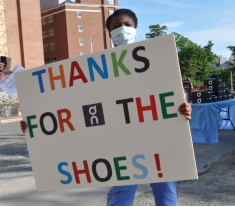 Photo credit: UNC Surgery
Working a job that requires long hours on your feet is demanding at the best of times, but for healthcare professionals and others whose work is vital to keeping us safe and healthy, the Covid-19 pandemic continues to pile on unthinkable additional strain. Several athletic companies have stepped up to support essential workers in the last few months; among them, On Running stands out for their coordinated efforts to collaborate with local running stores around the country to get comfortable, cushioned footwear to those who need it the most.
In May, the Swiss running company partnered with Fleet Feet Richmond and nonprofit Shood to provide 400 pairs of On shoes to staff at VCU Hospital. Further north, two running stores in the DC and Northern Virginia area joined forces with On to distribute an impressive 5,000 pairs to healthcare professionals and other essential workers in the region, including delivery personnel, grocery store employees, first responders, restaurant staff, and veterinarians.
In Chicago, On and Fleet Feet teamed up to deliver 250 new shoes to staff in the respiratory units at three Chicago-area hospitals.
And here in the Triangle, On's sales rep for the NC/SC region worked directly with doctors and staff at UNC to donate 330 pairs of shoes to the Jaycee Burn Center and the Surgery Intensive Care Unit.
In total, as of June 10 On has donated an estimated 10,000 pairs of shoes to frontline workers nationwide. Beyond shoes, the company also gave around 18,000 masks and hospital gowns (manufactured in On factories) to hospitals around the U.S. And while they couldn't reach every individual medical professional, On offered a blanket 50% discount on shoes to all healthcare workers with identifying credentials.
The Switzerland-based brand has only been around for a decade, but they've quickly gained a following. Their distinctive cushion system, called CloudTec, is engineered to provide soft cushioning while reducing weight and bulk.
*Previously we stated that On donated close to 8,000 pairs of shoes. We recently received an update that the total exceeds 10,000 pairs.