How do you dress for cold weather?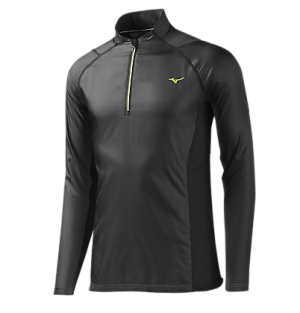 Many experienced runners, when asked about dressing for winter, will rattle off a series of well-worn tips of the trade: Wear layers, dress as though it's ten degrees warmer so that you won't overheat, make sure you've got a good hat and gloves, etc.
It's all good advice, but I ignore it, because I have a secret weapon: my wind shirt. A wind shirt is a technical shirt made of wicking material that features a wind-resistant panel covering the front half of the torso. It's much lighter than a jacket, and simpler than piling on three or four layers, but it's extremely effective at cutting down the icy chill that can make winter runs miserable. At the same time, because the sleeves and the back are normal wicking material, it doesn't make me overheat.
One of my favorites is Mizuno's Breath Thermo Wind Top ($90). We carry both men's and women's styles.
A couple of confessions:
I do wear gloves on cold days. I'm not crazy! My favorites are Mizuno's Breath Thermo Gloves.

I also wear a layer under the windshirt, mainly so that I don't have to wash it on every use. Most days, I just wear a normal short-sleeve running shirt. If it's especially cold, I'll sometimes go long-sleeve.