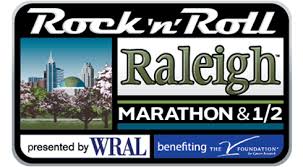 We're excited to announce that we'll be staffing a water stop at the inaugural Rock 'n' Roll Raleigh Marathon & Half, which takes place Sunday, April 13th. We'll be doling out water, high fives, and encouragement at the final water stop on the course, near the 12-mile marker for half marathon participants and just after the 25-mile marker on the full marathon course. But we need your help!
See below for details and information on how to register as a volunteer:
VOLUNTEER FOR THE RACE CREW!
Fleet Feet Raleigh is going to be Rockin' Out
Sunday, April 13, 2014
(Shift time: 6:00 a.m. - approx. 2:30 p.m.) 
 VOLUNTEER at our WATER STATION
 South Boylan Avenue between McCulloch Street & Mountford Avenue
(View the course map)
 Register on-line at: runrocknroll.com/raleigh/volunteer
Click on the Blue Race Crew button
Select: "An individual registering to volunteer as part of a group"
Select: Fleet Feet Raleigh
Click: Add selected group
Click: Join selected group
Select Shift(s): water station
Click: Next Page
*Follow instructions to complete registration
 * To help with Expo Set-up or an Expo shift on Friday or Saturday, click - additional shifts (the menu of other shifts will appear)
BENEFITS OF VOLUNTEERING
Official Race Crew T-shirt
Race Crew drawstring backpack
Support a great cause
Fulfill community service hours
Have a great time! 
ABOUT THE RACE
The Rock 'n' Roll Raleigh Marathon & 1/2 Marathon presented by WRAL benefiting the V Foundation for Cancer Research is rockin' through your neighborhood April 10-13. Nearly 12,500 runners will race to the finish.
Volunteering for the Race Crew means you will not only be supporting thousands of aspiring runners and walkers, but also the community of Raleigh. We need your help to make this event spectacular. Our 2014 Charity Partners are: The V Foundation for Cancer Research; the Leukemia & Lymphoma Society; the American Diabetes Association; STOMP the Monster NC; Sixty Feet-Run for Justice.
For more information contact Team Captains:
Jacob Dagger - jacob.dagger@fleetfeetraleigh.com
Sharon Kyner – sharon.kyner@fleetfeetraleigh.com