The Karhu Ikoni is a revolutionary development in the world of running shoes. First, the last was shaped by foot-scan data from over 100,000 Fleet Feet fit id images (learn more about fit id here). That means real-live feet dictated the specific design of the shoe, and that Fleet Feet customers, owners and employees (even you!) are a part of development process. What's more, every detail is developed in-house in Asolo, Italy, with some of the world's most experienced shoe designers (watch the video to learn more).
 
The Deets:
Weight: 11 oz. (men's size 9); 9.9 oz. (women's size 7)
Heel-to-toe drop: 8 mm
MSRP: $130
Surface: road, track
Fit:
No break-in required. Unanimously, testers agreed the shoe feels velvety soft upon step in. That's because the seamless engineered mesh upper with 3D-printed overlays is soft and hotspot free, and a plush around-the-ankle cuff of cushioning adds even more luxury (seriously, we wore these shoes comfortably around the office [sans socks!] all day as soon as they arrived in the mail).
Deb Doyle, of Pittsburgh, Penn., has already logged over 300 miles to date in the Ikoni. She says, "I noticed the cushioning right away. And it's not that sink-into-marshmallow cushioning feeling; it's a nice, responsive cushioning, like a performance shoe."
The forefoot may appear narrow from the outside, but most testers were pleasantly surprised with the amount of wiggle room they experienced after just a few strides. Still, low-volume to normal-width feet will feel the most at home here.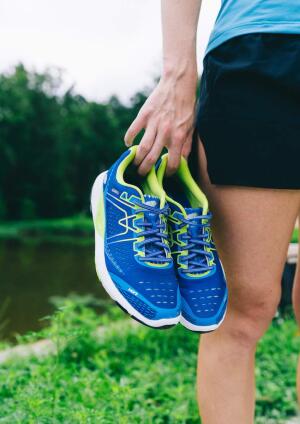 Ride:
This is where Karhu shines. The ergonomically-shaped Ortix last combined with an Aerofoam midsole and forward-propelling fulcrum technology mean that the Ikoni rides smooth. Real smooth. In fact, we found that the transition from footfall to toe-off truly felt like rolling. And we never once heard the "slapping" sound often associated with footstrike. So, they're quiet, too! 
Conclusion:
They are instantly comfortable and offer a smooth ride. Doyle says she would be comfortable putting just about anyone in this shoe—whether they're a beginner or seasoned speedster.
They're best suited to road running in any condition—we gotta tell you: they drain water pretty darn well.
If there's any drawback to the Ikoni, it's the weight. They're a little on the heavy side to be a true performance shoe. Ounces aside, according to Doyle, they still run like one. "I honestly forgot how much they weighed," she says. "That surprised me because they still felt like a performance shoe."
In short, they run like a race shoe and stand up to mileage like a burly trainer. So maybe that is the best of both worlds? We'll leave it to you to decide.