There is going to be blood, sweat, and tears while trying to lose weight. But is it worth it? Absolutely!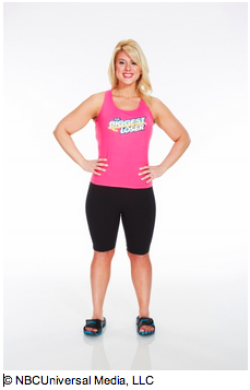 As a contestant on Season 15 of NBC's popular weight-loss reality show The Biggest Loser, Raleigh native Chelsea Arthurs shed 95 pounds, dropping from 241 pounds during her initial weigh-in, to 146 at the show's finale, which aired live on February 4. Since that time, she's continued to work out and eat a healthy diet. In two weeks, she'll compete in her first half marathon, at Rock 'n' Roll Raleigh. But she's also dedicated to motivating others to make healthier choices. This spring, she'll be a mentor in Fleet Feet Raleigh's No Boundaries Beginner 5K training program.
Q: I read that you fell in love with running while on the show. What was your first run like?
A. I actually went to the Biggest Loser ranch telling myself "I am going to learn how to run." I had always disliked running so much. I wanted to make it something I could enjoy. I remember the first day I went on my first run and got the "runners high."  We had a hiking trail that we called "Inspiration Point" and I ran the whole trail that day! I remember feeling so empowered and alive afterward!
Q: How long did it take for you to really enjoy running, to feel disappointed when you missed a day?
A: I think once I got to the point where I could run a few miles at a time, that is when I really started to enjoy it. I also started getting to the point with running where I would challenge myself. Each day, or few days, I would see if I could push myself to go a little farther, and then a little farther, and it was just a competition with me, and I loved that.
Q: The Biggest Loser first aired ten years ago. Have you been a fan for a long time?
A: I actually have been a fan of The Biggest Loser for a very long time! I can remember watching it a long time ago while I was struggling with my weight. The contestants inspired me so much. I lost 35 pounds one time while watching the show. I absolutely loved Bob Harper, so it was cool that he turned out to be my trainer!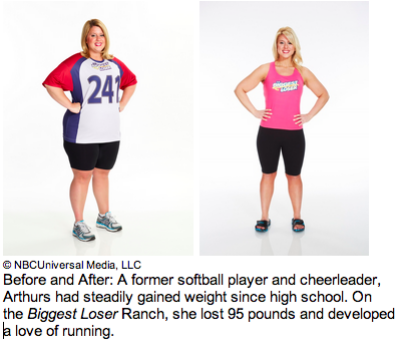 Q: Looking back, what do you think made the show interesting or intriguing for you? Why do fans watch it?
A: I think the show was so intriguing for me because I was watching people that were going through the exact thing I was. All of the feelings and emotions of being overweight and how hard of a struggle it can be. I could relate to them and could see them transform their lives and it gave me hope that I could do the same thing too.  I think fans watch it because it is a positive show. It  shows contestants doing something great for themselves and completely changing their lives.
Q: How did you decide to apply to be on the show? What was the selection process like?
A: I heard that The Biggest Loser was coming to Raleigh for an open casting call. This is when they were casting for Season 14. I told my best friend, Carla, about it, and she encouraged me to go try out. Well, I was thinking of the lines and how it would be hard to stand in line for 10-plus hours, and ironically, I heard a radio ad on 94.7 QDR, the country station, that said they would be giving away front of the line passes for the casting call. So, I went online to QDR's website and applied for the drawing and I won! So, I got my butt to the front of the line at the casting call! I remember being so nervous and scared while I was driving there. I went into the building [where the casting took place], and they took us in groups of about 10 people, and you only had about 15 seconds to say why you wanted to be on the show.  I got a callback, and had to meet the casting director for an on-camera interview at a hotel in Chapel Hill. I ended up making it a few more steps in the process and then I got cut from Season 14. In May 2013 my boyfriend and I were driving to the mountains, and I got a random phone call asking me if I was interested in Season 15! I told them I definitely was, and it just went from there. I had to send in lots of videos, applications, etc., and then I finally got a call that they would be sending me to Hollywood for casting finals. During casting finals I met with lots of producers and had lots of meetings and even worked out with Jillian Michaels at the hotel. That was the hardest workout of my life! But after two weeks of casting finals, they let me know I made it!
Q: When you finally got to the ranch, what was your first impression?
A: When I got to the ranch, first thing was first, we had to work out! We literally got there on the first day, got out of the van, put on our workout clothes, and then had to work out with Bob, Jillian, and Dolvett. I was terrified! As far as the actual ranch, it was gorgeous! It is in a state park in California. The actual ranch house was very old. It's a historic ranch called King Gillette Ranch, in Calabasas, CA. Everyone wants to know about the pool. It was pretty, but we never got to use it because we were working out all the time! Well, unless we were doing a pool workout, of course!
Q: What surprised you most about being on the show?
A: I think what surprised me most about the show is how much work really goes into "reality" TV.  We had wardrobe staff that worked so hard to keep us in new clothes and make sure we looked great on camera; we would have on-camera interviews with producers that lasted hours sometimes; hard work went into building the challenge sets. There is just so much that I never thought about that goes on with a reality TV show!
Q: What were the workouts like?
A: I would say they were scary and rewarding! I was on the ranch the whole season, and it didn't matter what workout it was, I knew I was going to get my butt kicked.  But at the same time, after the workout was done, I would feel so amazing and strong and say to myself "Wow, look what I just did and how far I have come."

Q: Tell me about your trainer, Bob Harper. What was your relationship like? How much do the trainers tailor their approach to the individual contestant?
A: Bob has always been my favorite trainer on the show, so when I got him, I was ecstatic! Bob and I had a great relationship with one another. I was his "firecracker" and worked so hard, and he knew it. I felt comfortable talking to Bob and opening up with him about all my concerns and goals. They definitely do tailor their approach to each contestant, because we are all different and we have all gone through different things. Although Bob was my trainer, I actually got to work out with Jillian a lot too, on and off camera, and I have to say, she is amazing! She looks so tough on TV—and she is, there is no doubt about that!—but she is also extremely compassionate.
Q: At what point did you start to feel like you were getting used to this type of lifestyle—the exercise and the healthier diet?
A: I think it took me about a month to really start feeling like I was getting used to the lifestyle. I remember week three just being in complete pain. I had blisters on my feet, and my calves were so sore. I hadn't worked out in so long that my body just wasn't used to it. I remember once I made it through that week, I started to feel so much stronger, and honestly I really enjoyed the food they provided us on the ranch! We had tons of organic fruits, vegetables, meats, nuts, grains. There were so many yummy and healthy options!
Can't Lose? Try This
Not everyone will get a chance to compete on The Biggest Loser.
Click here for some tips from Chelsea for losing weight, and more importantly, getting fit. 
Q: You were eliminated during the last show before the finale. As you left, how did you feel about your chances at maintaining the diet and exercise habits you'd learned on the show?
A: I remember feeling great my last night on the ranch, but it was also bittersweet. I felt so blessed for the journey I had been given, but felt it was time to get home. I was gone for almost four-and-a-half months and I missed my family, boyfriend, dog, and friends terribly. I knew that I had been given the tools to go home and be successful, although I'm not going to lie, it was a bit scary! On the ranch we were so isolated and didn't have access to junk food, etc., so I knew being out in the "real world" again that there would be tons of temptations. I just have to remind myself every day of the hard work I put into losing all the weight, and that the junk food isn't worth it. Of course I still indulge now and then, but I try to stick to the six day-one day rule. Six days a week I am on track—I eat clean and exercise—and then one day a week I allow myself to indulge in treat foods that I like, like frozen yogurt bars or Mexican food. it gives me a day to look forward to and makes me feel like I've "earned" my treat!
Q: Do you have any favorite moments from your time on the show?
A: There are so many awesome moments I've had on the show. I have to say that makeover week was one of my highlights. Getting to meet Tim Gunn and Ken Paves, and having my brother surprise me all the way from South Korea was so cool! It was also the first time I really got to stop and look in the mirror and see how far I had come, which was emotional, but so amazing at the same time.
Q: What do you hope that viewers take from your experience on the show?
A: I hope that viewers can look at me and know that there is hope for them too. I struggle with emotional binge eating due to events that have happened in my past, and I know it is something I will suffer from for the rest of my life. Putting that out there to the world and sharing my story has made me so much stronger. I want viewers to know that anyone can do this! Yes, it's hard! Yes, there is going to be blood, sweat, and tears while trying to lose weight! But is it worth it? Absolutely! There is no way I ever want to go back to the dark place I was in when I weighed 241 pounds. I think it's also important for viewers to know to just take baby steps in achieving their goals and to celebrate even the small accomplishments!
Q: Do people on the street recognize you?
A: Every now and then I will have people recognize me, but not very often. Or if they do, they don't say anything. Haha.
Q: I know there has been some controversy surrounding the show—people questioning whether it's healthy to lose as much weight as some contestants do as fast as they do. Some contestants coming forward with stories about dehydrating themselves and fasting for the scales, or about failing to keep the weight off after taping ends. How do you respond when you hear those stories?
A: I think everyone's experience on The Biggest Loser is different. I gave up my life back home and my job back home, so I looked at being on the show and losing weight as my job. I tried to not take a day for granted.  People have to understand that we got the opportunity of a lifetime to do nothing but focus on ourselves. That meant having every day to cook healthy meals for ourselves and work out for multiple hours during the day. Of course by getting to do this, we lost weight faster than the average American. For me, I was extremely healthy and did nothing but eat clean and work out hard to lose my weight. I'm proud of my journey on The Biggest Loser and have no regrets at all. I think all of us, when going home, struggle to keep the weight off, as does anyone who has lost weight before. It has to be a lifestyle change and a commitment to yourself to keep taking care of yourself. It's hard, and I'm sure everyone's weight will have ups and downs, but the important thing is to never give up and always love yourself.
Q: You're running the Raleigh Rock 'n' Roll 1/2 Marathon in a couple of weeks. When did you decide to run it? What inspired you?
A: Before I went on the show, my best friend, Carla—who is also the one that encouraged me to try out for the Biggest Loser—would always do 5Ks, 8Ks, 10Ks, and half marathons. I remember feeling so out of shape and thinking that I could never do one with her, and it made me really sad because she is my best friend and I wanted to be able to participate in activities like that with her. When I got off the plane back in October, a bunch of my family and friends were waiting at RDU airport for me with signs. Carla was there too, and she and I decided then that she would run my very first half marathon with me! I decided on the Raleigh Rock 'n' Roll half marathon because I love my hometown and I love Rock 'n' Roll music—my dad and brother are both drummers—so I thought it would be great!
Q: How is training going so far?
A: Training is going good so far! It definitely isn't easy, and I really have to pay attention to my body and what it needs during the long runs. I have also been dealing with a little bit of foot pain, but I'm not giving up!  I love it and I love challenging myself! I can't wait for race day and to cross that finish line! I did a sprint triathlon on the show, but for me, this half marathon is going to mean so much more, and to get to run it with my best friend by my side is going to be amazing!