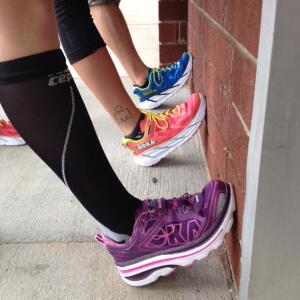 This month, we welcome a new brand to our shoe wall. HOKA ONE ONE's midsole geometry "features a higher volume, softer density, and greater rebounding foam than standard running shoes. Along with maximal cushioning, this provides runners of all types with an energizing, stable ride." We'll be carrying three models: the Clifton, the Bondi 3, and the Stinson Lite. Below, Fit Specialist Kathryn Lindquist reviews the Clifton. Kathryn is currently training for next month's Marine Corps Marathon.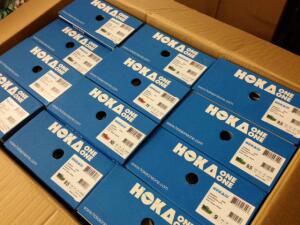 "The Next Big Thing"
Hoka One One Clifton
$130 
The Clifton is Hoka One One's newest addition to its line of trademark highly cushioned shoes. It is the lightest pair of Hokas ever made and features a 5 mm heel to toe drop, meta-rocker geometry that helps propel the runner through the gait cycle, and a seamless upper.
I have to admit, I was curious about Hoka One One but never thought it would be the shoe for me. Then I put a pair of Cliftons on my feet. The first thought that crops up was, "How can such a highly cushioned shoe weigh so little?" It weighs in at just 6.6 oz and running in it felt as though I was moving barefoot over a layer of clouds!
Possibly my favorite thing about the Clifton is its versatility. I have worn it for over 100 miles on a variety of surfaces. It has responded well on trails, for track-work, tempo workouts and on long 20+ mile training runs. It is easy to maintain a high cadence in these shoes while feeling natural and efficient. The Clifton has become the go-to workhorse for my training routine and I plan on racing in it this Fall.
The Clifton would be a good go-to shoe for anyone interested in experiencing a lightweight, cushioned and responsive shoe. It is the next big thing for us at Fleet Feet Raleigh.
For more information about Hoka's history, check out the video below: