"Have fun, pace yourself, love Raleigh—and bring allergy medicine!"
   --Ted Metellus, course director for the inaugural Rock 'n' Roll Raleigh Marathon & 1/2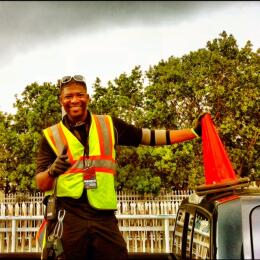 No one knows the course for the inaugural Rock 'n' Roll Raleigh Marathon & ½ better than Ted Metellus. As the event's director, Metellus was responsible for designing it. Over the past year, he's spent countless hours poring over city maps, coordinating with vendors, and generally thinking about how best to funnel 12,500 runners through the streets of Raleigh. Earlier this month, Metellus, a 15-year veteran of the race-planning business who has worked on hundreds of events ranging from the the ING New York City Marathon, to Ironman Lake Placid, to the Avon Walk for Breast Cancer, sat down to chat about how he got into the business, what goes into planning a race, and what makes Rock 'n' Roll Raleigh special.
Q: You've been working on races for 15 years, including some truly international events. How did you end up in this business?
A: I got into event production when I was in college at SUNY Oswego. I graduated with a degree in PR and broadcast communications, and went into the broadcast entertainment industry. I was working at a radio station in New York when I landed a job working on a cross-country cycling event that benefited the American Lung Association. It was 15 states in 48 days, cycling from Seattle, Washington, to Washington, DC. I never looked back.
Q: Were you involved in endurance sports at all before that?
 A: I ran cross-country when I was in high school and I was a horrible runner. I did not run my first organized event until 2007, when I ran the Philadelphia Half Marathon. And it was the greatest experience; I had the greatest time. I ran it in honor of a friend of mine who was battling cancer.  Twenty half marathons and two marathons later, here I am today.
Q: So you were already producing races before you'd run one?
A: Oh yeah.
Q: What was that like running your first race? Was it hard not to think about all these things going on behind the scenes?
A: It wasn't because it was the first one, and I was so focused on the actual running piece. I wasn't really paying attention to the logistics as much as taking it mile by mile for the very first one.
Q: You're now a course director for Competitor Group. What does that mean?
A: There are five of us total. We're called course operations leads, or course directors. And we handle various regions around the country. I'm the director of course operations, so I'm the lead guy for the entire team, but I have a handful of events that I am the course lead for as well: The Rock 'n' Roll series races in Virginia Beach, Raleigh, Savannah, and Brooklyn; and the St. Petersburg Women's Half Marathon & 5K.
Q: This is the inaugural year for the Raleigh race. What are the big things you think about when you come into a city like Raleigh for the first time?
A: You want to produce the most logistically sound, operationally sound, beautiful course that you can. You want to make something that's functional and fun at the same time. You have to take into account good old-fashioned logistics of producing a road race: not having very many turns, including lots of straightaways, trying to avoid major climbs and things of that nature. But you also think about managing the impact on the community at large.
I see the smile on your face, 'cause you're like, "Then there's Raleigh, where there are some climbs."
Q: Over the winter, before the course was announced, we had a lot of people coming in to Fleet Feet saying, "I hope this is a flat one."
A: It's Raleigh! You'll be climbing some hills, but the cool thing about this course that what you climb, you get back on the descent.
Q: Were there any specific things that excited you about Raleigh that you didn't have elsewhere?
A: The incredible amount of support we've received in the market has been unreal. Everything from having some of the best brand ambassadors in the country—and that is something that's being said by my team at large—to the fact that in Raleigh we've had the largest number of band applications in the history of Rock 'n' Roll.  We had over 80 bands that requested to be part of the event for 12, 13, 14 spots along the course. The support from the police, the support from the City Council. It's been tremendous to see that.
Q: When you thought about giving the course an identity, were there specific landmarks or neighborhoods that you wanted to be sure that you would go through?
A: Absolutely. And that was something that was brought to my attention even before I came into the market. The governor's mansion is a huge plus. Running by the North Carolina Museum of Natural Sciences is a huge plus, and that's early in the course. The historic Oakwood neighborhood, Chavis Park, the Raleigh Rose Garden, the N.C. State Memorial Belltower. There's also the fact that you have a course that's urban and rural. You're literally running by and there are horses. You don't get that in very many races. I'm going to be very excited to see when the trees and the flowers start blooming along the route. That's going to be really beautiful. I was here a year ago, and it's breathtaking.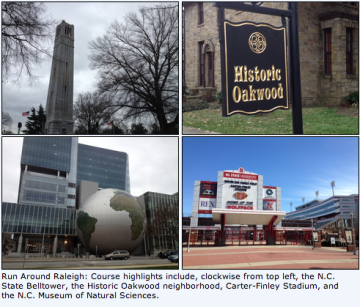 Q: As you were designing the course, did you run sections of it?
A: I did. I actually ran a race in town, and I ran parts of the course as well. I didn't get to run as much as I wanted to because of a knee injury.
Q: During races, it always seems like there are a couple of spots where the race photographers congregate, where there's a great backdrop. And as a runner, you don't want to be caught off guard. So where do people have to make sure they look good?
A: The shimmer wall is a really cool look near the convention center. The governor's mansion obviously is a great backdrop. The photo of you coming up between PNC Arena and Carter-Finley Stadium and having the stadiums on both sides, that's going to be great. But the icing on the cake is going to be Dorothea Dix Park. That view of the city is epic.
Q: What do you think are the best places for spectators on the course?
A: The downtown area is a plus, because it's an out-and-back course. You can walk between the start and finish. You can make your way north to Jones Street and catch folks there as well. You can see a loved one at multiple points along the route there.
Q: Are there any places you think the crowds will be thin and runners will need extra support?
A: The top of my list is over the by the stadiums. The cool thing about that location is it's accessible. There's parking, and there's an out-and-back with a loop so you can get there and see folks at multiple points.
Q: What will you be doing on race day?
A: On race day I wear a couple of hats. I'll be out on the course anywhere between 2:00 and 3:00 a.m. just checking things out. Making sure the roads are intact, there hasn't been a water main break or an earthquake. Making sure that all my vendors are getting equipment and supplies set out along the route. Working alongside police. I will do the course loop multiple times before the start of the race itself. And then an hour out, I'm checking in with race command and police to let them know, we're sixty minutes out. It's starting to get to be crunch time. I will be out on the route about 15 minutes before the start of the race as the last set of eyes to make sure all the pieces are in place. The runners are good to go.
Once the gun goes off, the race is in progress. The beast is in motion. It's like water. You want to make sure you have everything lined up so it flows well. I cruise the course, make sure everything's fine. Do a little troubleshooting, work with the crews that clean up and remove things and get things reopened properly.
Q: After a race that you organize, someone comes up and says, "My GPS measured 26.7 miles! This course was long!" How do you respond?
A: It's funny. Having run races and produced races and managed races, the GPS coordinates are always going to be a little bit off because you're working with a satellite that's in space. There's the fact that you're running parts of the race in a downtown area with tall buildings. Then you're dealing with 10,000 other people who are trying to get the same signal that you're trying to get as well.
Q: So people can be confident that this course is the right length?
A: Absolutely. Both the full and half marathon courses were certified by USATF officials.
Q: Is there anything else runners need to prepare for?
A: My biggest piece of advice to runners on race day, whether you're from these parts or not, is make sure you have some allergy medicine. There's a really good chance there will be a high pollen count, especially with the winter that we've had. If you have an allergy issue during the springtime, bring your medication and check with your physician.
Q: Do you have any final thoughts for runners?
A: The biggest thing is just have fun, enjoy it. Have a good time. Pace yourself. Explore, see the city. And love Raleigh!
###