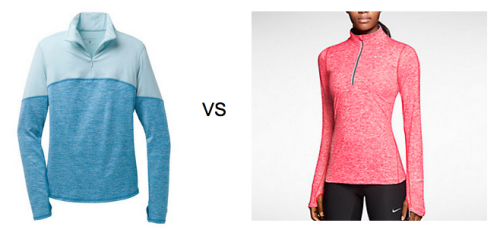 It is fall and the main question for runners before they step out the door is: What should I wear? With temperatures swinging by the day, it is difficult to choose a piece of apparel that is suitable for all conditions. The answer for most is the reliable half-zip; a warm, long-sleeved shirt with a zip running halfway down the front for added ventilation.Two of the most popular choices in this category come from Brooks Running and Nike: the Essential Half Zip and Element Half Zip, respectively. Similar names, and similar features. Our goal today is to decide which is the best by putting them through a series of test runs.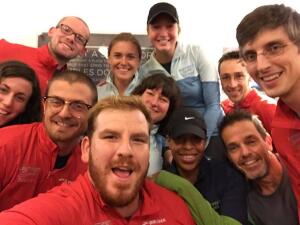 First, we have the Brooks Essential Half Zip. Featuring an extremely soft, four-way stretch fabric, the Essential is known for its comfort. It is semi-fitted and stylish with a wide variety of color options and ruching on the back for a distinctive feminine look (in the women's version). If you are currently training for a race and need to carry gels with you on your long runs, or need a place to stash your keys, Brooks has a placed a hidden side pocket. This shirt also has thumbholes to keep your fingers warm.
Next comes the Nike Element Half Zip, a long standard piece in the Nike apparel line. The main goal of this piece is to be comfortable and allow a wide range of motion no matter the conditions. Made with sweat wicking fabric that moves with you, it certainly hits its goal. Nike's signature Dri-FIT fabric keeps you dry and comfortable, while the shirt's mock neck and thumbholes keep you warm.
Now for the decision! Which Half Zip is the best? On one side is the Brooks Essential Half Zip, on the other is the Nike Element Half Zip. After hours of testing both shirts, many miles logged in all weather conditions, the winner has been decided. It is...a tie! Needless to say, both of these Half Zips are tried and true, and would fit great in anyone's running wardrobe.
Find both the Essential and Element Half Zips at Fleet Feet Sports Raleigh!