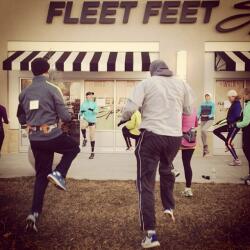 Summer's not over yet, but we're already gearing up for fall races. If you're interested in training with us this fall but you've got questions, join us for one of our training program info sessions this week:
No Boundaries Beginner 5K @ Wade Avenue
Monday, July 28th, 7 p.m.
Half Marathon & Marathon @ Wade Avenue
Tuesday, July 29th, 7 p.m.
Half Marathon @ North Raleigh
Thursday, July 31st, 7 p.m.


Note: While these info sessions can be a great opportunity to meet coaches and other participants before the program starts, they are not mandatory. If you can't make it to the info session but still have questions you want answered, please stop by either store or email our training programs coordinator, Natalie, at natalie.smith@fleetfeetraleigh.com.