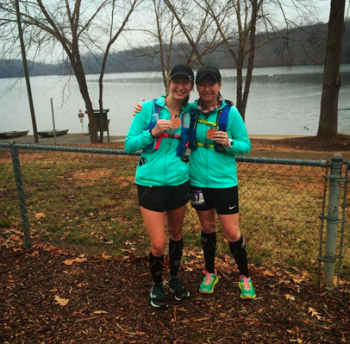 Before I began working at Fleet Feet last July, I could have only imagined what it would feel like to finish a race longer than a marathon. But now, thanks to a supportive work environment and an amazing group of cheerleaders, I know exactly what it feels like...and my legs are still sore.
I had just completed the Marine Corps Marathon when I began talking to several co-workers about how I was mentally and physically tired of road running. My love for the sport was forged during hours of running on single-track trails deep in the woods, in water-crossings, and on mountain runs. I had gotten away from it, and desperately wanted to return.
Then Emily, a co-worker, mentioned that she was planning on training for her first Ultra-Marathon, the Frosty 50K on the wide-track at Salem Lake, in Winston-Salem. She invited me to join her. I initially declined, afraid of the big 31.06 mile jump. But after some positive peer pressure, she convinced me to sign up. Now there was no turning back.
It was a leap of faith, and training for the race was one of the hardest endeavors I have encountered in my life. The 20-mile training runs I had been accustomed to for marathon training now became preludes to 30-mile weekends made up of two stacked long runs. With little to no rest days, I tore up my pantry and the trails and Umstead State Park and the American Tobacco Trail.
Christmas passed and 2015 arrived. On January 3, race day dawned. A heavy rain had soaked the course the night before and rain was still falling as a light mist when Emily and I arrived in Winston-Salem. We went to pick up our numbers and race shirt, and this meager moment provided some of my motivation for the day.
We were patiently standing in line when a group of men filed in behind us. We heard them laughing and say, "We should have known all the women would be in the line for the 25K." We immediately realized what he was implying and also that we were in the wrong line. Emily and I both turned to them and asked, "This is the line for the 25K?" They nodded. "Whoops, we are in the wrong place!" And then we promptly moved to the 50K line.
Many people told me that I might not finish the race. A lot of people do not finish their first Ultra. It's normal. And that actually seemed like a possibility when the weather, course, and our minds started to get the best of us. We hit our wall, hard. But the volunteers on the course and our fellow competitors rallied us. In fact, we rallied each other. Six hours later, with a small crowd cheering and our weary legs expending every ounce of energy left, Emily and I crossed the finish line side by side: as a team.
No, we had not won the race. But we defied the little voices in the back of our minds saying that we might not make it, and the people who said it would be too difficult. We were victors in our own right.
Running an Ultra is difficult. But runners are tougher, stronger, and more determined than the distance set before them. I encourage anyone to attempt an Ultra. It tests the heart, body, and mind, and you definitely come out of the race a changed person. It was also one of the most rewarding experiences of my life. I've already signed up for the next one!