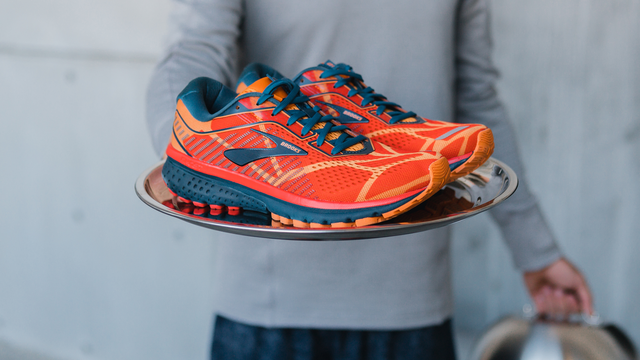 For runners all across the country, Thanksgiving just isn't Thanksgiving without first logging miles at a local turkey trot.
Whether you're in it to win it or you're running to burn extra calories before the big feast, the Thanksgiving morning race is a right of passage in the running world. More than one million people participated in more than 1,000 turkey trot races around the country in 2017, according to Vox. The races range in length from local one mile fun runs to massive 8K events, like the YMCA Turkey Trot in Buffalo, New York.
This year, in collaboration with Fleet Feet, Brooks delivers a special shoe for your turkey trot, too.
"We wanted to give life to one of the biggest running days in the country," says Fleet Feet Production Designer Caleb Wilkie.
The Brooks Ghost 12 Gobbler edition is the Thanksgiving-themed running shoe to complete your race-day kit. Painted to mimic fall colors, the Gobbler delivers holiday spirit in a proven package. It will be available tor purchase in-store on November 1st.
REGISTER FOR THE TURKEY TROT NOW!