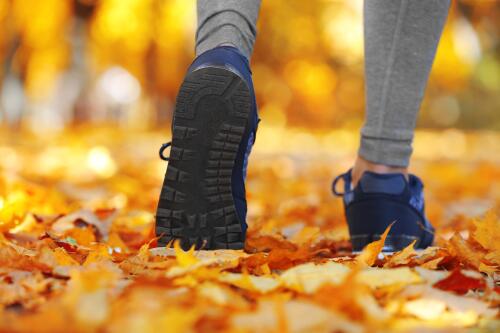 Fall for Running
In a very scientific study (i.e. we asked our friends) we found that an overwhelming majority of runners prefer fall to any other season. Cooler weather, beautifully changing leaves, and an abundance of races every weekend make the Autumn months a ideal for any runner. Whether you're new to running or you've been at it for decades, here are a few ways to get the most out of your fall running.
Start doing it!
If you've been thinking about running for the first time, or if you've taken a break and want to get back into it, fall is a great time to do so. We all know weather can make or break a run; one fall on an icy sidewalk or a miserable slog through the July humidity can be enough to put a new runner off for good. But a few crisp, comfortable October romps down a greenway strewn with autumnal color will get you hooked enough to build a routine and stick with it through less desirable conditions.
Work on speed
If you've been running through the summer, you're likely to see an increase in performance from the drop in temperatures alone. Why not run with that (ha!) and use this season to focus on speed training? Runners frequently see their biggest PRs in the fall. Even if you're not training for anything, try picking up the pace a little for 10-20 minutes on your regular run and see if you can't push that just a little more each week.
Or work on distance
Now that you don't have to cut your run short or get out the door at 4AM just to beat the heat, it's easy to log longer miles. This is the best time to attempt a new distance and increase your endurance. Be careful of overdoing it, though; don't increase distance by more than 10 percent each week.
Eat
Ok, obviously you need to eat in all four seasons. You're not hibernating. But fall is pumpkin season, and they're not just decorative! Pumpkins, like many squash varieties, sweet potatoes, and other ubiquitous Autumn produce, are incredibly nutrient-rich and perfect for fueling your runs. Full of vitamin A, omega-3s, fiber, potassium, and protein (in the seeds), pumpkin is a runner's dream food. Yes, even in pie form - the fat and calories make for a great recovery food!
Be seen
We all focus on safety and visibility in winter, but it's important to get in the habit of wearing lights and reflective gear now, especially for after work and evening runners. Pick apparel with built-in reflective features or clip on a couple small, unobtrusive strobe lights, so even if you set out in daylight you can extend your run into the evening safely.
Sign up for a race
From 5ks to marathons, you are guaranteed to find a handful of races every weekend from September through November. If the weather alone isn't enough motivation to get out there and run, knowing you've already paid for a race usually is. If you're training for a long-distance race, running a few local 5ks or 10ks before your main event will help you nail down your race day routine and get in a little extra speed work. Want to get away? Try a race-cation! There's no better way to see a new city than on foot, and traveling is a nice excuse to splurge on your post-race meal.