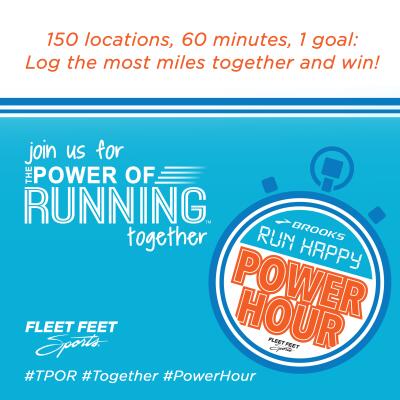 It's time to get out and run! In support of our Power of Running Campaign, Brooks has organized a Run Happy Power Hour contest pitting us against other Fleet Feet Sports locations nationwide.
They're challenging us to log as many miles as we can during a one-hour period, and we want all of you to join us. Whether you run a 5-minute mile or a 20-minute mile, your miles count!
You'll have three chances to join us! At each run, we'll be counting miles, and Brooks will be awarding prizes for things like most miles logged and most creative outfit, so come prepared to give it your all...
Tuesday, September 22nd, 6 p.m.
Ridgewood Shopping Center
JOIN NOW 
Wednesday, September 23rd, 6 p.m.
Park West Village
JOIN NOW 
Thursday, September 24th, 6 p.m.
Market at Colonnade
JOIN NOW 
We'll also have a special prize for runners who join us for all three runs!