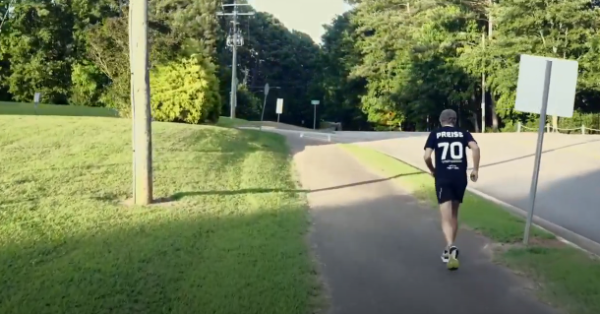 Raleigh runner Kirk Preiss has an increasingly grueling way to celebrate major birthdays: Since the age of 40, he's run his age in miles when he reaches every new decade. Kirk turned 70 in June and, naturally, he ran 70 miles to mark the occasion. This year's run bore special significance, serving simultaneously as a memorial for Kirk's late father and a demonstration of support for the Black Lives Matter movement. We talked to Kirk about the origin of his decennial tradition, what this year's run meant to him, and how he plans to approach 80.
Some answers have been edited for brevity.
You started with 40 miles when you turned 40. What prompted the first run, and why did you decide to make it a tradition?
Decade birthdays cause you to reflect on what you have done and where you are going in your life. In 1977, I ran the Boston Marathon in 2:42 at age 27. At age 40 I realized that my physical peak was past and no matter how hard I worked out, I would never be able to better 2:42 and set a PR for myself in running.
I wanted to do something special on that day—set some kind of personal record. I thought I would run 40 miles which would be the longest distance I ever ran in a single day. I ran 50 at 50, 60 at 60, and now 70 at 70. The rule I set was: you have to run or walk your decade age in the 24 hours of your birthday regardless of weather conditions or your personal health.
So far the chain has not been broken.
What's your training like?
I am active and generally run 20 - 30 miles per week (down from 90 - 100 miles a week back in the 1970's). I am an aerobic junkie and need to get an aerobic fix at least every other day. I like to swim, surf, and bike to balance my workouts. I have not had a formal training program since the 1970's. I just run when I feel like it.
How did you plan your route? Did COVID complicate any of the logistics (stopping for food, bathroom breaks, etc.)?
I did not have a planned route for my 40th, 50th, or 60th. I just used a Garmin to make sure that I ran the total number of miles. I had a few of my running friends to run different legs with me.
On my 60th , I started at 3 am, ran 10 miles through downtown Raleigh, then ran the American Tobacco Trail from New Hill to the Durham Bulls for another 25 miles, then 10 Miles on the YMCA track, and the remaining 15 miles in and around the neighborhood to finish at 11:58 pm.. 2 minutes to spare.
On My 70th, I knew I would have to be very focused and organized to get it done in 24 hours. I set up a 70 mile route using AllTrails. I also let all my friends see my planned route and expected times. I used MapMyRun and allowed them to track me on the day.
We had a great team of friends and family that brought stuff to my rest stops and ran and walked with me along the way... kind of like Forest Gump.
I left at midnight. Ran 30 miles through lighted streets and then the Falls of Neuse trail at sunrise to arrive at Falls Lake by 8 am, took a 1 hour rest at the lake, then ran 20 miles back down the trail to Anderson Point and then 10 miles back to my house by 6 pm (60 miles). [I] rested and took a bath at my house, then walked the final 10 miles on a large loop down around NCSU to complete the 70 at about 10:30 pm.
Part of your motivation [this year] was to support the Black Lives Matter movement. Can you tell us more about that?
On my 40th, 50th, 60th decade birthdays, the run was just a personal thing. I really just wanted to run on my birthday for my own personal validation.
The 70th was different. It was really a group event with my friends, and I felt that I wanted to have a deeper reason than just personal validation.
In April of this year (2020) my father passed away, COVID came along, and there was a rise in awareness of racism that still exists. We all protested about racism and the war back in the '60s and I really thought our nation was over those days but I became aware though discussions with many friends that there is still more to be done, so I dedicated the run to my dad and BLM. It was also serendipitous that my birthday is June 19th and that is Juneteenth, celebrating Emancipation Day.
What does your normal running routine look like when you're not training to run 70 miles?
I have a 10K run (6 miles) that I like to run from 5 points down Whitaker Mill Road to the Crabtree Creek Greenway and out to Hwy 1 along the creek. It's an out and back.
I also have a longer 20K run from 5 points to Shelley Lake and back. I run every Tuesday with a group of friends. We meet at Reedy Creek and run 7 miles out and back in Umstead park.
We are a running shoe store, so I have to ask: What shoe do you run in?
Fleet Feet has been my "go to" store for the last 10 years. The staff is always so friendly, fun, and knowledgeable about the different running shoes.
I ran Boston in 1977 using Nike Elite "Waffle Bottom and light weight" shoes. Almost like running barefoot. My focus was on the fastest and lightest shoes. Today I am very careful to find shoes that protect my feet, arches, knees, hips, etc. since all these have a lot of miles on them (100,000 = 33.3 miles/week x 50 weeks/yr x 60yrs). Lately I have shifted from New Balance to Brooks. Both of these brands focus on protection over speed. I just want to be able to keep running until I'm 100.
Do you think you'll do 80?
Yes! I Plan to do it but I will probably walk most of it and will not take any breaks. You can walk 10 miles in 3 hours at a normal walking pace (18 minutes per mile). That means that I can walk 80 miles in 24 hours. Unless technology can rejuvenate my legs, I will probably not be able to do 90 at 90... or 100 at 100...
Check out the video of Kirk's 70 mile run!