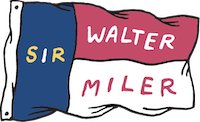 The 2019 Sir Walter Miler is Friday, August 2! Come cheer on elite runners and local run club members alike at this annual track event. The event starts at 8PM at the Meredith College track, with a pre- and post-party across the street at Raleigh Brewing Company. Check out the event schedule below:
6PM - Pre-event festivities at Raleigh Brewing Company including food trucks and special runner-friendly beers from Raleigh Brewing and Wicked Weed.
8:00 - Racing starts at Meredith College
8:10 - Croc-o-mile (yes, it's a mile while wearing Crocs)
8:20 - 4x400 Run Club Relay
9:00 - National Anthem
9:05 - Women's Elite Mile
9:20 - Men's Elite Mile
9:30 - Awards Ceremony
9:45 - After-party at RBC
This event is free and open to everyone. For more information and to see who's running, check out the event website.