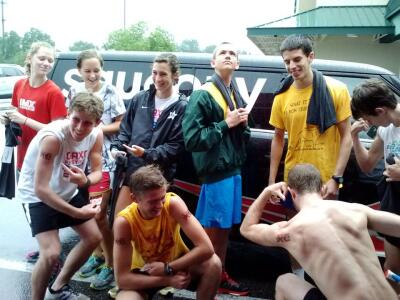 For the past five years, we've hosted an end-of-summer XC Fun Run designed to kick off the fall season in style. This year we're adding a fun, competitive twist.
Announcing the first annual Fleet Feet Team Mileage Challenge...
What is it? A challenge between all of the local high schools to see who logs the most mileage in the offseason.
How does it work? We'll score this the same way as a Cross Country meet: the top 5 runners get their mileage added together; in the event of a tie, we'll add the mileage of the 6th and 7th runners into the mix. This will be scored on a weekly basis for the four weeks leading up to the XC Fun Run on August 8th.
When does it start? The challenge begins July 6th. It is open to all local high school teams.
What do we win? The winning boy's and girl's teams will each receive a Golden Shoe trophy to take home for bragging rights. The trophy will be presented at the XC Fun Run
Sound fun? Have your coach contact our training program coordinator, Brian Fowler, at brian.fowler@fleetfeetraleigh.com to sign you up!