The inaugural Raleigh Half Marathon, organized by Sir Walter Running, takes place Sunday, April 14th. The race kicks off at 8 a.m. Runners will follow a flat and fast out-and-back course along Raleigh's Neuse River Greenway.
We'll be out there cheering them on and handing out water, gels, and high fives! Want to help us support the runners? Sign up below!
DETAILS:
Date: Sunday, April 14th
Time: The race begins at 8 a.m. We'll plan to arrive at 7 a.m. to begin setting up. Runners should all be through by 11 a.m., and we should be done breaking down and cleaning up by 11:30 a.m.
Location: Our stop is located at miles 5.25 and 7.75 on the out-and-back course. Download course map here.
Parking: Our stop is conveniently located adjacent to the WRAL Soccer Park, where there is ample parking. Find on Google Maps here.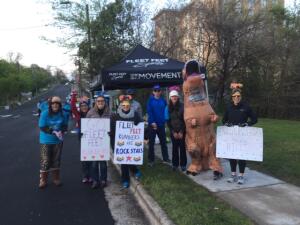 What to bring: The race will be providing water, cups, tables, and all necessary supplies. We'll bring music, snacks for volunteers, cowbells, and poster board and markers to make inspirational signs. All you need to do is show up ready to cheer! Keep and eye on the weather, and plan to dress appropriately. We'll send out reminder emails with tips and more info as race day approaches.
Contact: If you have any questions, please contact Jacob Dagger at jacob.dagger@fleetfeetraleigh.com.
Can't wait to see you out there!