This is a perfect DIY table for a backyard party or event! Grill fruit and vegetables in advance and allow guests to create their own skewers made with their favorite ingredients!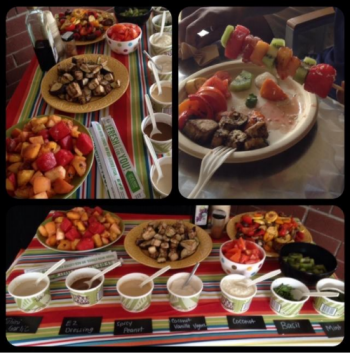 ingredients:
Fruit:
Watermelon
Peaches
Strawberries
Apples
Kiwi
Pineapple
Vegetables:
Grape tomatoes
Eggplant
Yellow squash
Mushrooms
Red bell pepper
Yellow bell pepper
Dips:
Tahini garlic dressing
Balsamic dressing
Spicy peanut sauce
Coconut vanilla yogurt
Toppings:
Shredded coconut
Chopped basil
Chopped mint
Cinnamon

Directions:
Chop fruits/vegetables into chunks of roughly equal size.
Spray a grill pan (see picture) with non-stick cooking oil. Place pan on grill and allow to heat up.
Place chopped fruits and veggies on hot grill pan. Stir continuously to avoid burning. Fruits especially will cook quickly.
Remove cooked fruits and veggies from grill pan and place in bowls.
All guests to assemble skewers and garnish with their favorite toppings.