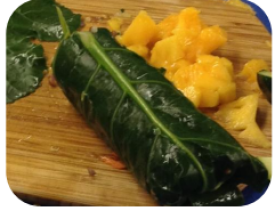 Ingredients:
1 bunch of collard wraps
chopped vegetables of your choice (see example below)
dressing, guacamole, or hummus
Example Wrap Filling:
zucchini
red bell pepper
shredded carrots
cilantro lime quinoa (from Whole Foods' prepared foods department)
mango
guacamole
Directions:
To prep the collard greens, slice off the stem and remove, with a sharp knife, the large vein. Drop in a pot of boiling salted water and soak for about 45 seconds. Remove and place in a bowl of ice water. Then blot dry.
Fill the wraps with your ingredients of choice. Fold the sides over and roll tightly like a burrito.
Serve with your favorite dressing or guacamole.