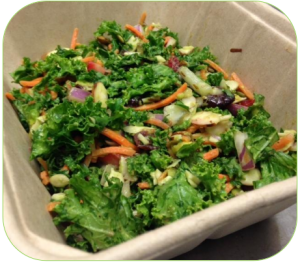 Ingredients:
1 bunch kale, stemmed and finely chopped
2 cups grated carrots
1/2 - 1 avocado, peeled and pitted
1/4 cup thinly sliced red onion
2 Tbsp. lemon or lime juice
2 Tbsp. pumpkin seeds
2 Tbsp. cranberries
2 Tbsp. sliced almonds
1 cup strawberries, sliced
salt and pepper to taste
Directions:
Toss all ingredients, except for strawberries, together in a large bowl.
Use your hands or the back of a spoon to thoroughly mash avocado into kale.
Set aside at room temperatures for 30 minutes to allow kale to soften.
Add in strawberries and toss before serving.
Add salt and pepper to taste, and enjoy!