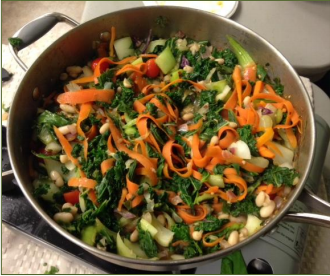 Ingredients:
2 baby bok choy
1/4 cup red onion, chopped
3 carrots, slivered
2 cloves garlic, minced
1 inch grated ginger
1/4 teasp. red pepper flakes
1 cup red cabbage, sliced
1/2 teasp. dried basil
1/2 teasp. dried oregano
1/4 cup water
4 cups sliced kale
1 cup cooked great northern beans
salt and freshly ground black pepper, to taste
1 Tbsp. fat-free or low-fat balsamic dressing
Tip: You can add more veggies and spices to taste. A Thai spice mix works really well in this recipe.
Directions:
Wash the bok choy well and slice into thin strips or dice.
Preheat a non-stick wok or deep skillet. Add the red onion and cook until it begins to soften.
Add the carrots, garlic, ginger, and red pepper flakes and cook for another minute.
Add the bok choy stems, cabbage, basil, oregano, and 1/4 cup water. Cover tightly and steam for about 3 minutes, stirring several times.
Stir in the bok choy leaves, kale, and beans and add another splash of water if it's too dry. Cover and steam until the kale is tender and bright green, about 3 minutes.
Season with salt and pepper and stir in salad dressing or vinegar just before serving.