IT ALL BEGINS ON NOVEMBER 24, 2023.

WHATEVER THE WEATHER, WE RUN TOGETHER!
WINTER WARRIORS IS HERE!
The season of gloomy days, colder weather and good, hearty meals is upon us. This season also brings the hardest time of year to get out and do what we do: RUN!
Every year, the Winter Warriors season arrives, providing a fun way to stay active when the weather would otherwise keep us inside. We want running to continue to be a practice that helps you overcome, stay mentally and physically healthy and connect you to your community even during the winter months.
We're here to make it fun. Play the game with us: join Winter Warriors!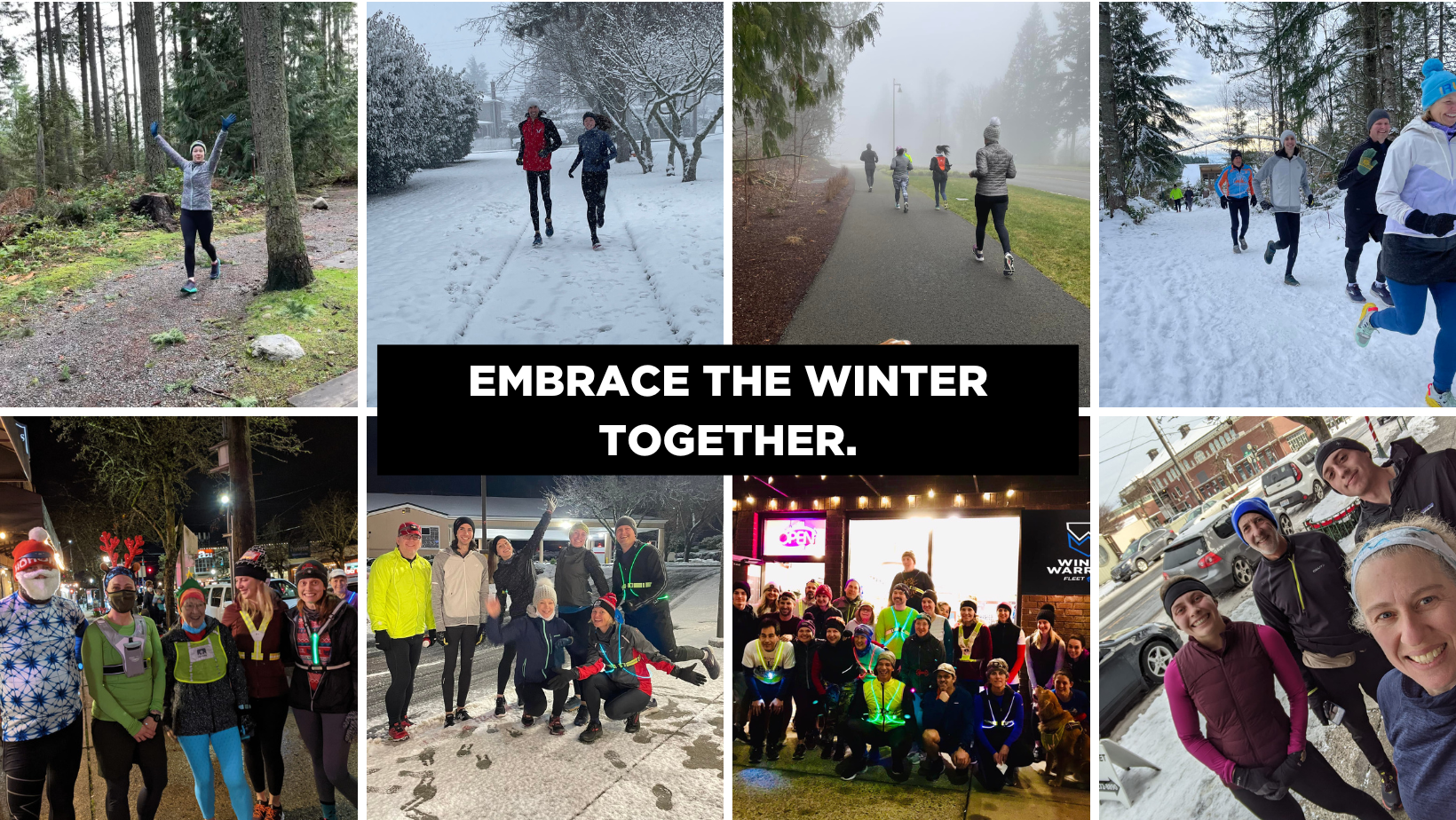 HOW IT WORKS:
Attend group runs (3 scheduled per week) and you'll earn POINTS
Show up when it is raining, snowing or in cold weather and earn more POINTS
The more POINTS you earn, the better your reward
The one with the most POINTS wins!
We track your POINTS through

Fitvil

If you haven't noticed, it's all about the POINTS!
The last run for the season is Saturday, February 17, 2024, after which we will crown our overall Winter Warriors champions!
WHO IT'S FOR:
EVERYONE! Walkers AND runners, exercise beginners and exercise fiends. We really mean it when we say Winter Warriors is for everyone. The goal of the program is to give you incentives to keep moving, whether in darkness, rain, snow or cold weather. We want everyone to stay active this winter.
WHAT WINTER WARRIORS INCLUDES:
12 weeks of point-eligible social runs and themed runs
Our Annual Donut Run on November 24, 2023
Three weekly runs (rain, snow or shine)
A great group of people to hold you accountable
WINTER WARRIORS RUN SCHEDULE:
DETAILS:
Registration:

October 1- October 31: $35
November 1- December 31: $40
Duration: 12 weeks from November 24, 2023 to February 17, 2024
FAQ's:
How do you qualify for extra points based on weather?
Simply put, if it is raining, snowing or precipitating of any kind when your run starts, a bonus point is awarded. Another bonus point is earned if the weather is below 40 degrees when the watch starts. Both of these metrics will be ultimately determined by the coach that is present (no negotiating allowed!). With that being said, there is an opportunity to earn a maximum of 3 points each run.
Winter Warriors 2023- 2024
Program Start: Friday, November 24, 2023
Program Schedule: Three weekly in-person runs
Program Fee: $35- $40
Description: Join us this Winter Warriors season! Earn a point every time you attend a run, with opportunities to earn extra points along the way. Our top 50% of point earners win prizes at the end of the season, and our overall Winter Warriors champion will each receive a head-to-toe running outfit from Brooks!