Fleet Feet Running Club Bonney Lake (FFRC) allows you to tailor your workouts to this year's goals. Choose what you want to attend and our Run Leaders will provide you the workout at each group run to help you accomplish the goals you have in 2019.
TRAIL  -  MONDAYS 6PM
Whether you crave the nature running experience or want to learn how to navigate the local trail systems, we will take you there.  Each week we will discover a new trailhead throughout Bonney Lake & surrounding areas. Beginner to advance levels welcome.  Average run distances range between 3 to 5 miles.  Be prepared to fall in love with Puget Sound's beauty from a new vantage point...the views are amazing.  Trail running will challenge your body but will open your world to new experiences in our beautiful backyard.
SPEED & STRENGTH - WEDNESDAYS 6PM
Let's find your new fast! Whether you're training for a faster 5k or your first marathon, we will help you focus on increasing your paces through targeted speed and strength training workouts.  Your Run Leader will utilize both urban settings and local tracks to carry out these strategic speed drills as well as hills, stairs and drills.  Come ready to challenge yourself!  Beginner to Advanced levels welcome.  Workouts will be  one hour in duration including warm up and cool down.
LONG RUN - SATURDAYS 8AM
Time to settle in for that Long Slow Distance (LSD).  We will provide course support, routes, coaching and lots of running buddies to finish the long miles of training for endurance running.  Most runs will originate from Fleet Feet Bonney Lake.  Beginner to Advanced levels welcome.  Runs will range from 5 to 22 miles with options to run your preferred distance within the given route.  Run/walk interval methods welcome. 

3 coached workouts each week...you choose what you want to attend.
Course support at all workouts
FFRC racing singlet or shirt
FFRC water bottle
FFRC member only shopping events throughout the year
Optional training plans available via Training Peaks.
$15 a month

We launch on February 25, 2019. 
ARE YOU READY?  LET'S GO!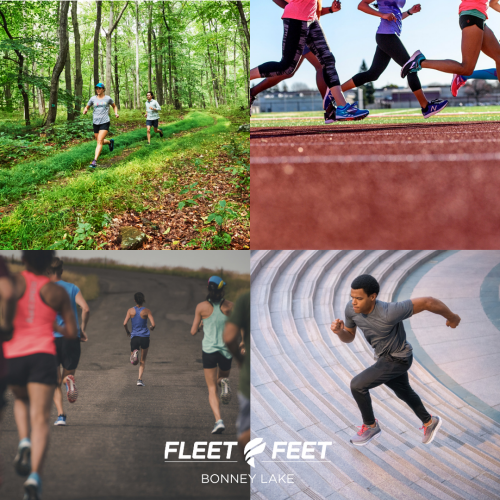 FFRC Membership Bonney Lake More Info »
Program Start: February 25, 2019
Program Schedule: Varies
Program Fee: Monthly Membership