We asked an expert about bra fit. And she gave us her full support.
Christa Huot has worked at Brooks Running for 6+ years, beginning her career as the Moving Comfort hype girl on the east coast servicing sports bra needs for people in Boston, New York, Philadelphia, and Washington D.C. She then went on to become a Brooks Running Event Guru, and worked multiple Rock N Roll Marathon expos each month, fitting countless women around the country. She gained an understanding for regional preferences for support and modesty, and was able to learn from real people about their real needs. Eventually, she ended up on the Bra development team at Brooks. Christa is now an Associate Bra Product Developer, working on a team of equally passionate and active women, with a range of support preferences and bra sizes, who studied technical bra construction in their University days. Christa studied Psychology at Rhode Island college with a statistics focus, and feels this has hugely impacted the way she approaches bra development – focusing on the needs of runners, the feelings that come with bra shopping, and implementing the scientific method of problem solving. This is her perspective and a few short lessons on finding the right bra for you.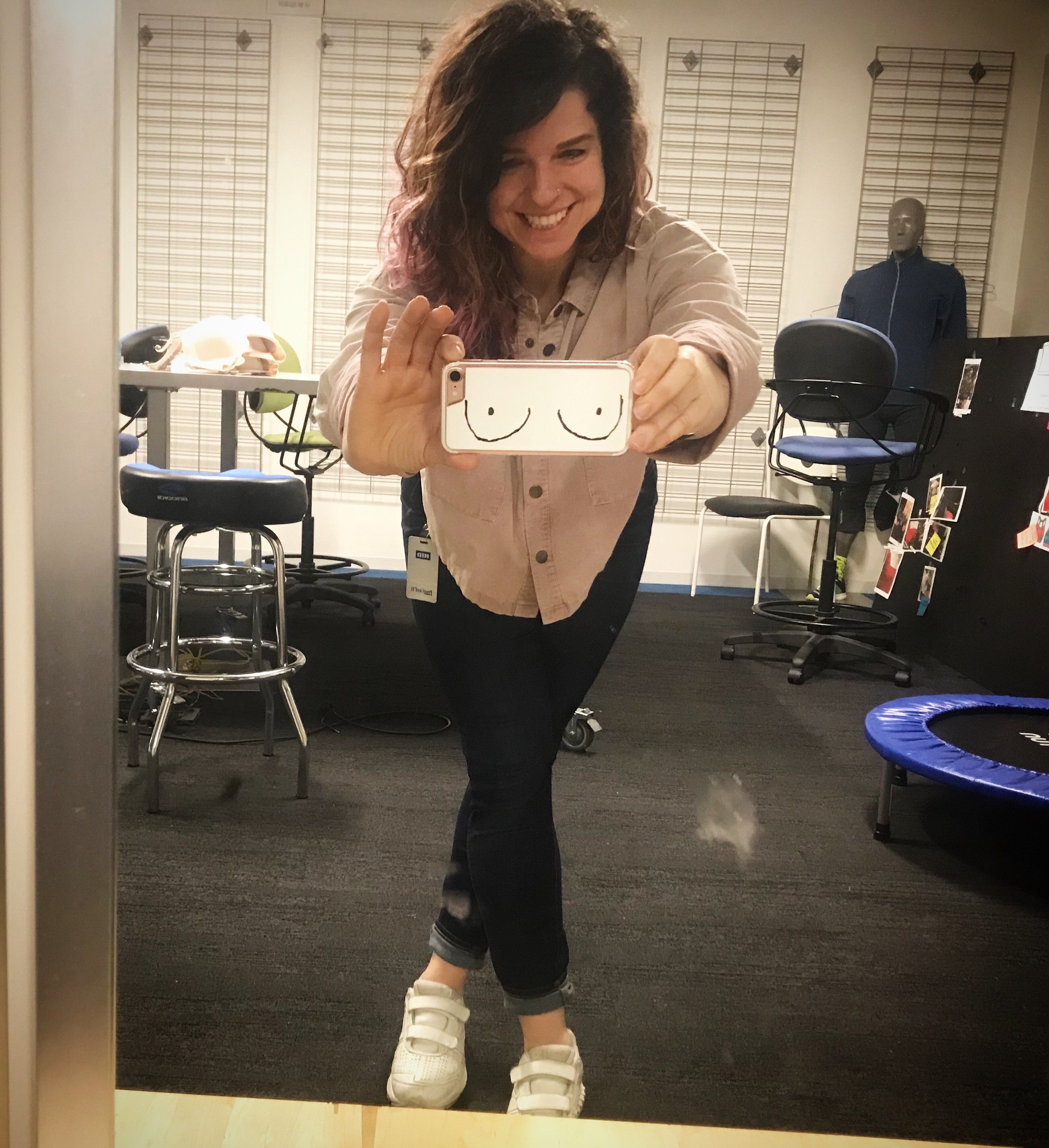 Christa at work at Brooks HQ
Lesson number one: your boobs don't define you
In my 10+ years of experience working in the running industry, I have been met with countless people who say, "runners don't have big boobs." I like to challenge that statement with a question, do runners not have big boobs OR do people with big boobs stop running because it's uncomfortable? Personally, one of my best friends is a DD/E cup and she has run at least one sub 3-hour marathon and has won a few half marathons without specifically training for them. She is a runner with a breast size that most would consider big. I am on a mission to educate everyone on options for support so that they don't have to think twice about considering going for a run.
I've been a very active person my entire life. My dad is a lifelong runner. He took my older sister and I to the track with him when we were kids. In between climbing on and under the bleachers, she and I would do 100m sprints to see who was faster. Running has always been something I cared about, but I did not participate in until well after college. I grew up a dancer, I have a black belt in Jeet Kune Do, I've played pretty much every sport I could, and am really into Olympic lifting – but running was not an activity I enjoyed. My breasts are the first place I gain weight and the last place I lose it. My size constantly fluctuates between a DD and F cup. I have seriously considered breast reduction surgery and always thought of my endowment as a curse. That is UNTIL I found the bra that changed my perception of support, the Moving Comfort Rebound Racer. Complete with hook and eye bottom band adjustability, strap adjustability, and compression that made me feel sleek and sporty, there were no more excuses for why I couldn't do whatever activity I wanted to. I had found a bra that strapped me down but was still comfortable and cute.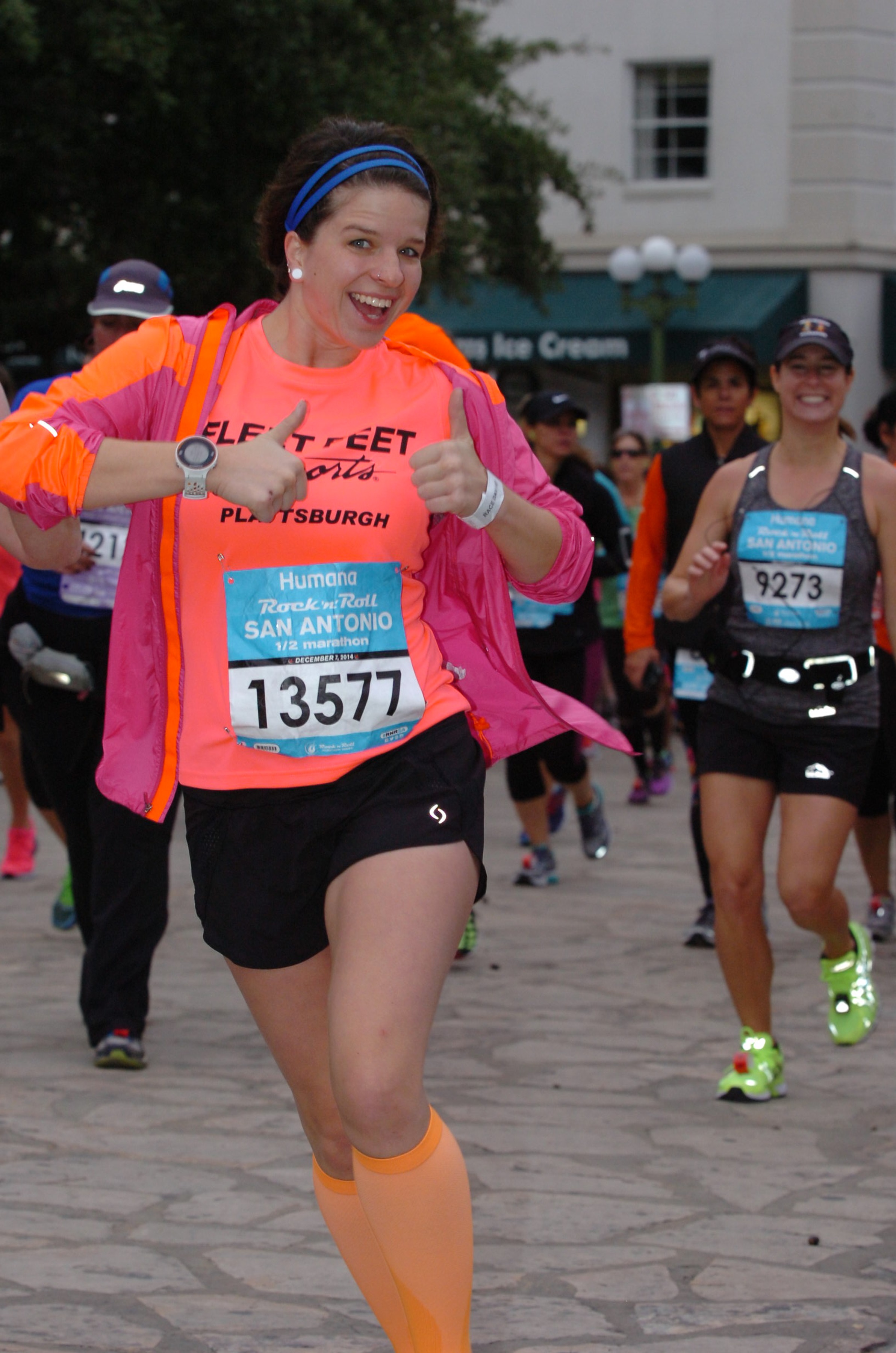 Christa, clearly not thinking about her bra, during RnR San Antonio
Lesson number two: "support" is totally subjective
The most common question I get when it comes to support for running is, "which bra is the most supportive?" The real answer to this is that it is totally subjective. The kind of support you want can depend on your size, breast density, breast weight, and the shape of your breasts. Your best friend's favorite Run Bra may not be your favorite. Just like running shoes, pillows, and mattresses, everyone has a different preference that works best for them. Helping people to find the support that works best for them is my passion. I know that finding the right bra can be a truly transformative moment. There are enough things to think about when running/working out – breathing, form, awareness of your surroundings – your Run Bra should not be another thing you have to think about while getting your sweat on.
Runners around the world are looking for different kinds of support. There are people who would run without a bra if they could. These include the ones who remove their bra as soon as humanly possible – like pull it out of the sleeve of their shirt once their workout is done. Then there are runners who would be happy to ace bandage themselves down if it wasn't such a hassle. There are people who want to look sexy in their sports bras with some cleavage showing, and there are people who do not want anyone to look at them while they are dripping with sweat. The first step is identifying where you are on that spectrum for support and aesthetic.
At Brooks, we have learned through consumer research and biomechanics testing that there is a sweet spot many runners have when it comes to finding comfort and support. If a bra is too comfortable and not supportive, it may be painful to run in. I personally tend feel a painful pulling at the top of my pectoral muscles if a bra isn't supportive enough, and also digging of straps over my shoulders causing every muscle to tense up. On the other hand, if a bra is too structured and supportive it may feel restricting or claustrophobic, causing people to feel like they can't breathe while running.
Lesson number three: find the right bra for you by evaluating your closet
I recommend that when shopping online for a new run bra, take stock of what you like and don't like about the bras in your closet. Decide what you want ahead of time so you make a thoughtful decision. You can learn a lot about what you are looking for or want to avoid by referencing your current selection.
Things to evaluate:
Where the band sits on your body. Does it roll up? Chafe? Do you like a wider or thinner band?

Do you prefer a bra that pulls over your head or is a bit easier to get on? Think racerback versus scoop back or front closure.

Do you like being able to adjust the straps and the bottom band?

What do you want your bra to cover? How much cleavage do you want to show?

Padding or no padding?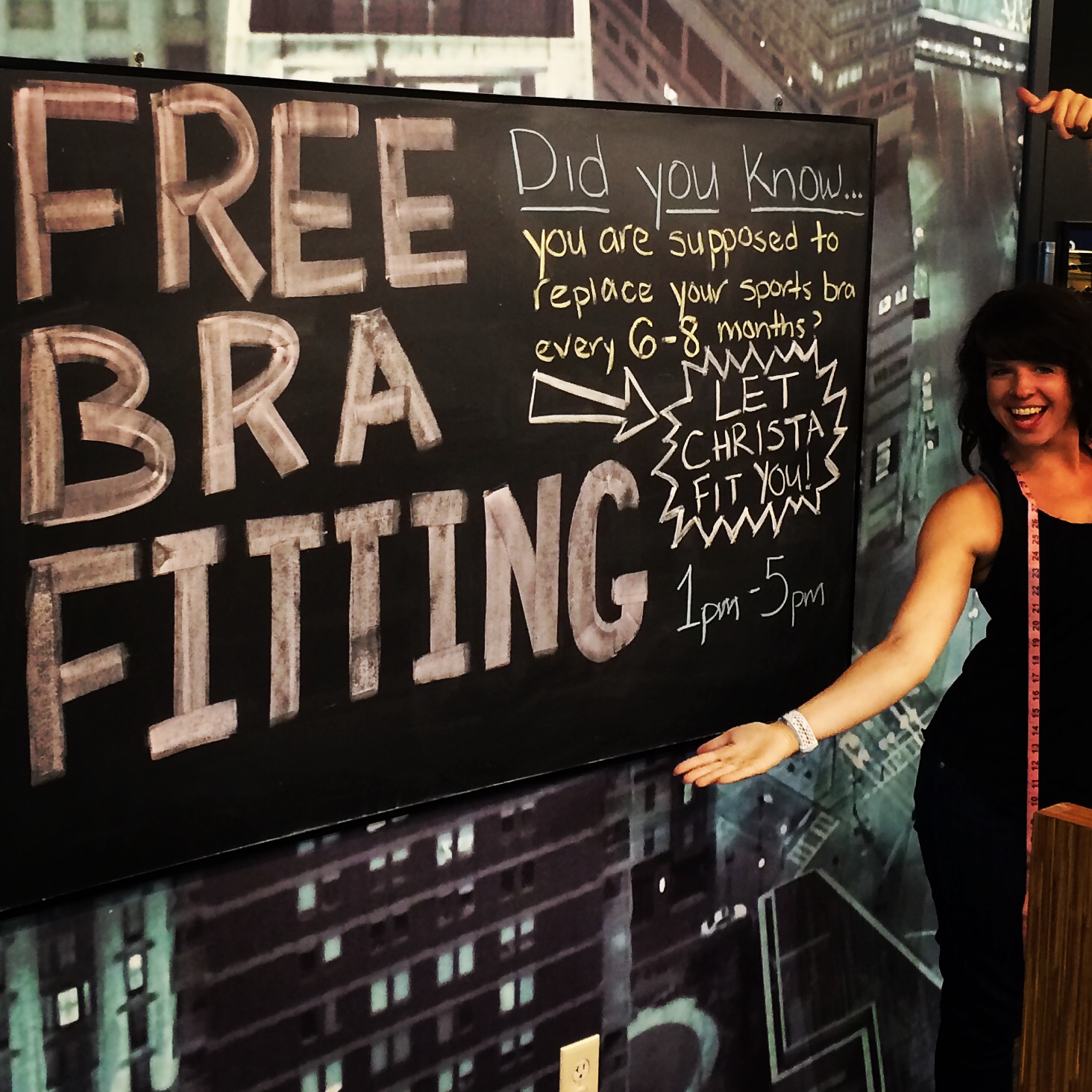 Christa doing her thing: helping fit for bras on the road!
Lesson number four: how to size yourself in a pandemic
When it comes to finding your bra size without being measured by a fitter, this can be tough. Resources exist online that can walk you through how to find your own bra size. Brooksrunning.com has a whole bra finder where you can find your size and identify the issues you would like for your bra to solve.
These tools are helpful, but you can also use the size of your favorite lingerie bra as a starting point. There is a formula to find your true bra size, but if you don't like how that size feels then you will never wear the bra anyway. Usually people end up in a sister size to their true bra size, which solves for comfort.
To oversimplify sister sizing: this is when you go up or down in the band, but the cup holds the same volume of breast tissue. For example, a 32DD and a 38DD are completely different size cups. But a 32DD cup is the same size as a 34D cup or a 36C cup (see what I did there? Going up a band size, and down a cup size is a "sister fit.") People can easily get overwhelmed by the bra size they are measured and think that it sounds huge. Bra size is nothing more than a number and letter, and it should not affect your love for your body.
Once you have ordered bras in your size, there are lots of check points you can do to make sure it is a good fit. These are checkpoints we use when fitting bras on our runners:
Do the straps lay comfortable over your shoulders? Are they snug, but not digging? Too much room in the straps can lead to more up and down motion while running and a looser strap can put pressure on your shoulders while in the downward motion of your stride. This kind of discomfort can directly affect your running form.

Does the band feel like it is sitting flat on your body? Sometimes women go down a cup size to add compression, but that can pull the band away from your body, or even cause that dreaded roll up situation. If the band is not laying flat, this can be a recipe for chafing. If you feel the center front of that bottom band is sitting away from your body, you might want to go up a cup. If it just feels loose, try going down a band size (but go up a cup if you want the same volume. Remember sister sizing?).

Does it feel supportive? This is going to vary from person to person based on the composition of your breast tissue. It is very hard to tell if something is enough support without running in it, but I challenge you to challenge your own perception of support. I have had many bras that I thought, "this is comfortable but I would never run in it." But then there is that situation where you forgot to grab your favorite running bra, or it's time to do laundry, so you end up running in that bra that you never wanted to run in and you forget which bra you are wearing. If you forgot you were testing the support of the bra when your run is over, then this bra has enough support for you.
When in doubt, ask for help from your local specialty running store! Some people feel self-conscious going into running stores because they don't identify themselves as serious runners. The truth is that running store employees LIVE FOR people like you! They love nothing more than helping you make the most of your running experience. They know that the right running shoes, apparel, and bras will make or break your experience. Don't hesitate to ask for advice.