The Fleet Feet team is comprised of the most passionate individuals in running specialty. Our focus is centered around giving our guests the best possible experience time after time as well as ensuring you achieve your needs in lifestyle, fit, customer service, training and product.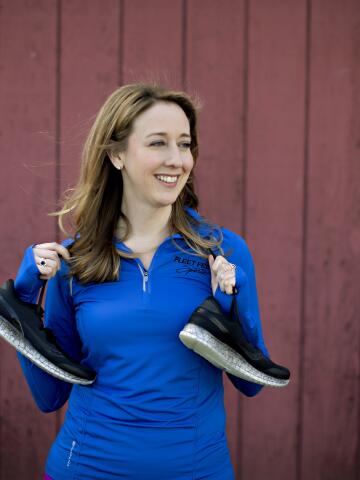 Kim Caruso
Owner
Owning Fleet Feet Poughkeepsie is a dream come true for store owner Kim Caruso. After 15+ long and tedious years spent in advertising and media, Kim decided to 'run in a different direction' and finally bring a run specialty store to Dutchess County.
Kim is an avid runner and overall fitness enthusiast. When she isn't running, you may catch her at a local Orangetheory class or sipping on a green juice concoction. She is almost always training for something and loves the structure that training programs provide. A "late in life" beginner, Kim began her running journey in 2014 when she decided to train for a local 5k with virtually zero running experience. She loved the experience and the feeling of accomplishment and decided to keep increasing her distance, training for her first half marathon (the Dutchess County Classic) in September 2015. After running numerous half marathons and countless shorter distance races, Kim tackled her first full marathon in November 2017, then went onto run the New York City Marathon in 2018, the Disney Dopey Challenge in January 2019 and the 2019 Chicago Marathon.
She enjoys meeting new people within the community and is passionate about helping individuals meet goals that they never thought possible. She is fortunate and grateful to go to work every day and do what she loves!