Make 2021 the year you crush your fitness goals!!
We have completely overhauled our entire structure to ensure each and every Fleet Feet Pittsburgh runner gets the most out of their experience with us. Whether you are a walker, first-time runner or veteran marathoner, we have a program to suit your needs. Based on a monthly, a la carte system, you can pick and choose the program that most closely matches your needs. Even better, you can move between tiers as you please throughout the year! All programs begin January 1st, 2021.
Our programs are:
Led by passionate and knowledgeable coaches
Championed by dedicated and magnetic mentors
Guided by the most relevant safety standards
Supported by the coolest partners and brands
Fueled by the determination of its participants
Choose from three different options, each offering a unique bundle of services:
If you are looking for support and accountability, choose "Healthy Habits" and work with Coach Kisa on sustainable fitness practices.
If you need a daily workout plan to follow, choose "Training Programs" for brand-new, comprehensive programming for each of Pittsburgh's premier running events.
If you want a completely customized plan, individualized workouts and expert coaching from our Head Coach Timothy Lyman, choose "One-on-One Coaching."
All content is delivered directly through a private Facebook group and the Final Surge app. Runners participating in training-based programming can choose their preferred level (Finish, Improve or Perform), and also qualify for an in-store discount!
We have partnered with Case Specific Meal Prep to help promote a holistic approach to your fitness journey. All paid program participants are eligible for two free meals. Healthy Habits and Training Program members receive a 5% ongoing discount for the duration of the membership, while Coaching Program participants receive 10%. Delicious meals, crafted by registered dieticians delivered right to your door!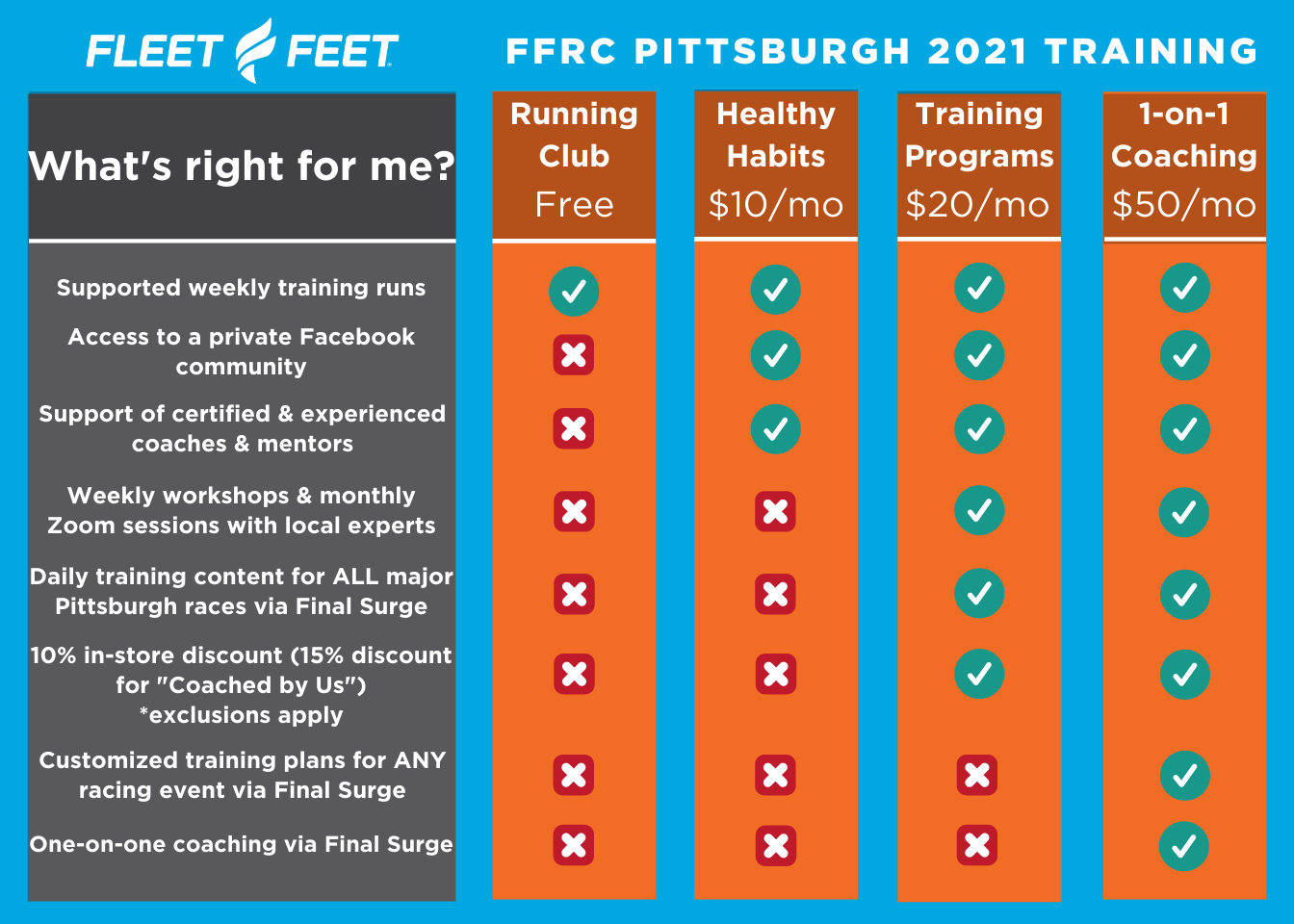 Choose the appropriate program, and take the first step in making your new year a success:
Still have questions? Email Timothy Lyman, our Director of Training Programs, at training@fleetfeetpittsburgh.com.