Make 2020 the year you run your best Pittsburgh Marathon!
We have completely overhauled our spring training program to ensure that each and every Fleet Feet runner gets the most out of their experience. Whether you are a first-timer or a veteran, we have a program to suit your needs that is:
Led by passionate and knowledgeable coaches
Championed by dedicated and magnetic mentors
Guided by the most relevant safety standards
Supported by the coolest partners and brands
Fueled by the determination of its participants
Runners can choose from three different packages, each offering a unique bundle of services. If you are looking for accountability, choose "Run With Us." If you need a training plan to follow, choose "Train With Us." If you want one-on-one coaching to hit that big PR, choose "Coached By Us." Both half and full marathon programs are 18-weeks long (beginning Dec. 30th), and each offers Beginner, Intermediate and Advanced levels.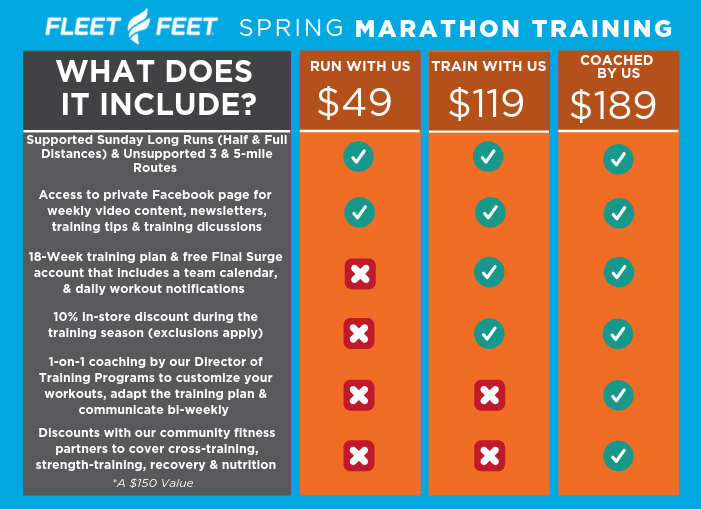 Every package offers the same basic perks:
Supported weekly group long runs (Sunday at 7:30 AM from various locations Downtown)
Detailed maps with turn-by-turn directions
Aid station at the Start/Finish point, and along any route longer than 6 miles
Post-run "Coffee with the Coach" Q & A session
Mentored weekly group runs (Thursdays at 7:00 PM from the Galleria or 6:30 PM from lululemon Shadyside)
Coached track workouts (Speed Demons, Wednesdays at 7:00 PM - Jefferson Middle School)
Free "Tools of the Trade" workshop series
Weekly "Tools, Tips & Tricks" newsletter and "Training Tip" video blog
Online support through a private Facebook community
Still have questions? Email Tim, our Director of Training Programs, at training@fleetfeetpittsburgh.com!!