Use your runs to complete a virtual 'thru-hike' of the Appalachian Trail as part of our Fleet Feet X Saucony 2019 Rock Runners challenge. The goal is simple, cover the entire distance and total elevation of the Appalachian Trail between 12:01 AM on 1/1/19 and 11:59 PM on 12/31/19. Sounds simple, right? Here's the math...a weekly average would be covering 42 miles and 8,932 feet. Are you up for it?!
Participants will traverse 14 states on their 'north-bound journey' from Springer Mountain in Georgia to the summit of Mount Katahdin in Maine. Along the way, runners will also compete in two additional challenges...the Perfect 10 and the Strava segment Triple Crown. You'll attempt to summit each one of the ten tallest peaks along the Appalachian Trail by accumulating ten different weekly elevation gains of between 5,516 and 6,643 feet. Participants will also compete for the crown on three Strava segments with an average distance of 0.27 miles and a 13.33% grade.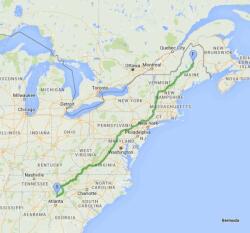 The challenge is 100% free, with successful 'thru-hikers' and challenge winners receiving special prizes from Saucony and Fleet Feet. All your statistics will be tracked through Strava, so charge your Garmin, fill up your hydration pack, kiss your loved ones goodbye and get outside to play in 2019!
Click the links to join the challenge: