This summer, Mizuno and Fleet Feet Sports asked America a question: Who are the runners in your community that you find the most inspirational?
Fleet Feet Sports recognizes five runners nominated by you. They are individuals who have overcome challenges to improve their lives and the lives of others. Fleet Feet Sports Pittsburgh has the honor of presenting the 2015 Power to Inspire award to Mike Bruno, Mary Amrhein May, Raven Patragas, Frank Sulzer and Elaine Budner.
Join us at Fleet Feet Sports at 7 pm on January 6 to celebrate the winners. RSVP here: http://bit.ly/1l9TzsU
Take a minute to read about these incredible runners and how they are harnessing the power of running to do amazing things.
 Mike Bruno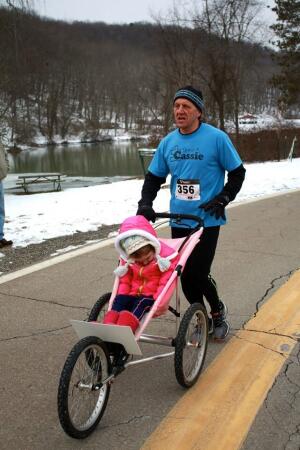 An all-conference college runner with two Northeast titles, Mike Bruno doesn't run just for himself. Today his frequent running partner is his beautiful daughter Cassie who is blind and autistic.
Mike has run the Pittsburgh marathon twice, blind-folded to spread awareness and understanding of autism, vision impairments and children with disabilities and has raised thousands of dollars for the Vision Research ROPARD Foundation and Autism Speaks. Along with his family, he also founded Team Cassie, part of the Pittsburgh Foundation.
Kelsey Veydt, who Mike coached in collegiate volleyball, looks to her former coach for inspiration. "He has a drive and heart like no other; Coach, as I prefer to call him, has showed me that you are stronger than you think—your strength comes from within," she says.
Kelsey adds that if she ever feels like quitting, she thinks about Mike and the accomplishments he's made through the power of running.
"I think of Coach Bruno, and all the strength he has for himself, his family and his players," she says. "When I think of giving up, when my legs start to give in on me—I focus on that strength alone, which inspires me to keeping going because that is what Coach Mike Bruno would do—he would keep running."
Mary Amrhein May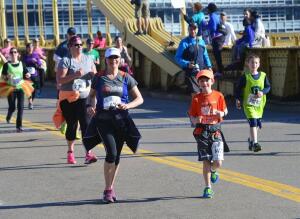 Mary Amrhein May became a runner after her son Patrick was diagnosed with Crohn's disease. When that happened, she and the rest of her family became heavily involved in supporting the Crohn's and Colitis Foundation of America.
Ever since, Mary and her entire family run together, as it has become an integral part of their lives on their mission to raise awareness and funds for CCFA.
Her friend Louise Farbman remembers being recruited by Mary while she trained for her first half marathon.
"I had been a runner for many years but never with any goals in mind," Louise says. "Mary inspired me by how quickly she became focused, committed and driven toward training for a half marathon."
Louise compares Mary's dedication to the work of a postal service worker. Bad weather and the daunting hills of South Park never stopped Mary from training.
"I admire and am inspired every day by Mary's fierce dedication and determination to running and to finding a cure for Crohn's and Colitis," Louise says.
Raven Patragas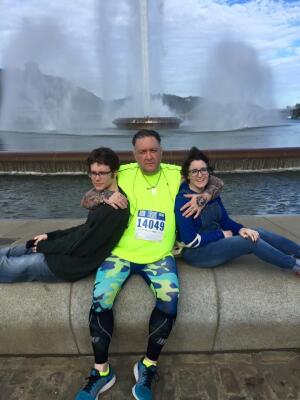 Raven Patragas has faced many hurdles in her life, and she continues to overcome each of them.
Raven has incurable, drug-resistant Crohn's disease. In addition to her illness, last May marked many hardships in Raven's life, including a sudden death in the family.
When her dad, Jason, began Fleet Feet Sport's No Boundaries program, Raven joined with him to support his effort to lose weight and become healthy. At one point, Raven's own weight dropped to 70 lbs. and she was hospitalized. As soon as she was discharged, she was back at No Boundaries supporting her dad and the other walkers and runners in the program. Wearing a backpack that fed her intravenously, she walked whatever distance she could. As long as she could physically be there, Raven showed up to the No Boundaries group runs.
Sometimes she ran, sometimes she walked, and sometimes she had to cheer from a chair, but it never stopped Raven from rallying for her dad and the group.
"She clearly defined No Boundaries," her dad says. "She is my hero."
Frank Sulzer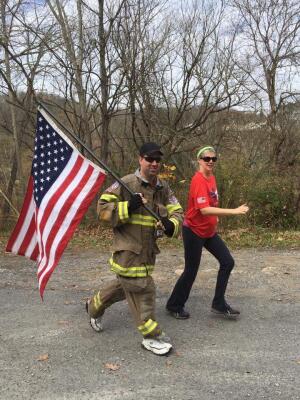 Frank Sulzer never lets anyone finish a race alone.
He runs all his races in full firefighter gear to honor those who lost their lives on the job, even on the hot and humid days.
When Frank finishes his race, it isn't over.  Then he turns around and goes back to walk or run with the last person to cross the finish line.
Tammy, who nominated Frank, met him last year at the Biggest Loser Run/Walk races. "[Frank] shows how caring he is with these actions," Tammy says. "This guy is amazing and inspiring."




Elaine Budner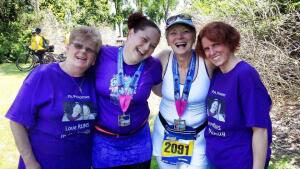 Elaine Budner has struggled with more health problems and surgeries than most.
She had a bypass surgery and after complications, she had to have the surgery reversed and go in for a second bypass. Then Elaine was unable to walk for a time after she had her feet operated on.
Elaine fought through medical struggles and weight issues and still began running because, as her friend Dawn says, she decided she deserved more from life. She started with 5Ks and eventually completed Erie's Biggest Loser Half Marathon. Her friend Dawn says Elaine inspires her every day.
"I have been obese as well," Dawn says. "It is a struggle and Elaine and I support one another as friends, adopted family, and now running buddies."