The weather is finally starting to break… just like all of your PR's are about to this summer. In the winter you're logging miles and trying to stay in shape, but this is the time that all that hard work pays off. This is racing season. This is the time for 5ks and 10ks.  This is the time for the Liberty Mile. This is the time when you really get to stretch your legs and see how fast you can get them to go.
There are five shoes that standout on my radar for all the fast short races lined up this summer. Although they all fit and feel a little bit different, which is why I recommend trying them on and seeing which ones work best for you, they are all built for speed.
---
 1. Brooks Launch 4 (10mm offset, 9.0 oz men / 7.5 oz women)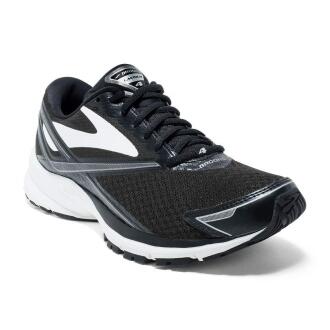 I'm starting with the Brooks Launch because it's the perfect gateway shoe. It hits that sweet spot between being a viable everyday trainer and a solid racing shoe. It offers a great blend of cushion and support, but still maintains a fast feel. It's designed to have a little bit extra pop in the forefoot, but still has enough under the heel to keep you running comfortable.
---


2. Adidas Adios Boost 3 (10mm offset, 8.0 oz men / 6.8 oz women)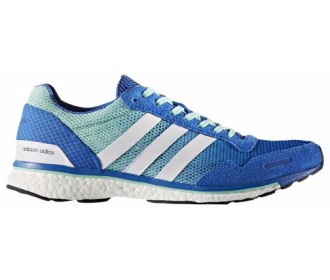 Billed as "The World's Fastest Shoe," this is what Dennis Kimetto wore when he set the world record in the marathon with a 2:02:57. The Boost midsole is what makes this shoe so sweet. It has so much cushion mixed with so much bounce that it's perfect for everything from that summer 5k all the way up to the marathon. Will this shoe make you an elite marathoner? Probably not, but it's bound to help you get that PR.


---


3. On Cloudflow (6mm offset, 7.8 oz men / 6.7 oz women)

 The Cloudflow is the newest shoe to make the list, but it's quickly (no pun intended) becoming one of my favorites. On is a Swiss company that hasn't been in the US running mainstream for too long, but their CloudTec cushioning makes them stand out. The hollowed out pods on the bottom of the shoe give you a lot of shock absorption without a lot of weight


---


4. Hoka One One Clayton 2 (4mm offset, 8.3 oz men / 7.0 oz women)

The Clayton was a big hit when Hoka introduced it last year, and with version 2, they made the fit even better. Although their shoes may look big and bulky at a glance, their low density EVA foam (in this case PRO2Lite) gives you a ton of cushioning with a deceivingly low weight. The ride of the Clayton 2 transitions from soft in the heel to a nice responsive forefoot. If that's not enough, their signature Meta-Rocker Geometry will make sure that you have a smooth roll from impact to toe-off.


---


5. Nike Zoom Elite 9 (8mm offset, 7.9 oz men / 6.7 women)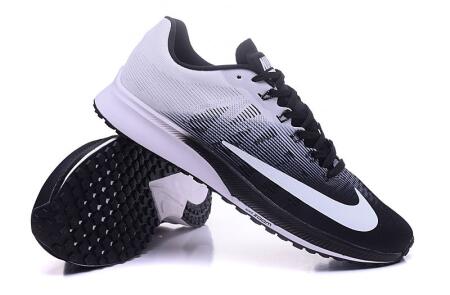 Offering a single Zoom Air unit in the forefoot, this shoe is built for running on your toes. The Flywire technology that wraps the midfoot and arch will keep you locked in without having any pressure points. And as an extra insurance factor, it has asymmetrical lacing which will help even more with reducing lace pressure. So if you want a lightweight shoe with a snappy ride that fits like a glove, you're definitely going to want to check this one out.
---
About the writer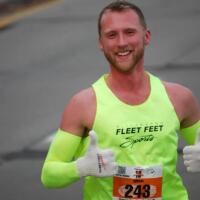 Alex is the Fleet Feet Sports Footwear & Accessories Buyer, Assistant Store Manager and Speed Coach.
Stop in at Fleet Feet Sports to learn more about our Five Fastest Shoes, or email alex@fleetfeetpittsburgh.com to learn more about the Fleet Feet Speed Squad weekly track workouts.