RunFIT/WalkFIT, HealthFIT & StrengthFIT - Dare to Be a Better You!
12-Week Program: Sunday, March 19th-Sunday June 11th
Sponsored by:

What is stopping you from being the best version of you? We dare you to be...a runner or a walker, healthier, stronger and FIT! Join our beginner fitness program to get in on the camaraderie and fun.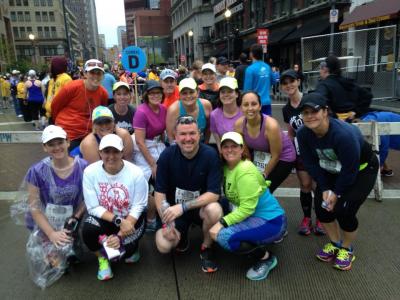 ---
Important Dates:
KICK OFF - Saturday, March 18th @ 9am at Fleet Feet Sports
Info Sessions at Fleet Feet Sports:
Saturday, February 18th @ 10am
Wednesday, March 1st @ 6:30pm
Saturday, March 4th @ 10am
RSVP to one of these sessions
HERE
---
Dare to Be FIT participants will receive: 
Support throughout the 12-weeks (& beyond) by their coaches and mentors
Three supported events each week - HealthFIT/StrengthFIT (Monday) & RunFIT/WalkFIT (Wednesday & Saturday)
Membership to our Flyers Run Club for the 2017 year ($40 value)
Detailed 12-week 5k training plan for runners and walkers
Helpful information in Weekly eNewsletters about health & fitness
 Private Facebook page to support each other and ask questions
Tech Shirt exclusive for our participants
Seminars about total wellness with Kelly Harvey-Jones, Wellness Coach
Interactions with a local Dietitian 
12-week membership to Collier & Bethel Park Curves for the duration of the program
Small group strength training opportunities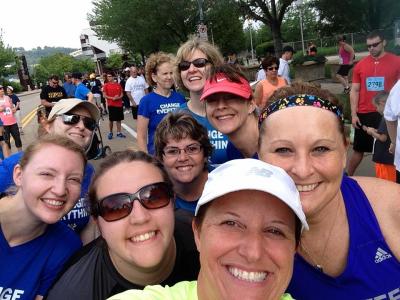 ---
Price:
$125 New Members
$85 Current FRC Members (Use Promo Code FRC40 at Checkout)
---
RunFIT/WalkFIT
RunFIT is a 5k run/walk interval training program for beginner runners and those wanting to get better at 5k training. WalkFIT is a walking program for all levels of walking. We can help you get across the finish line, regarless of your starting point! Join us in the South Hills on Wednesday evenings and downtown on Saturday mornings. Meet people of your ability level and embrace the camaraderie of the group! In our final week, join us at our Global Running Day 5k and be inducted into our Flyers Run Club!
---
 HealthFIT
The HeatlhFIT component will teach you about the healthy habits, weight management and nutrition. Learn how small changes can have big results. We will use the book, The Small Change Diet: 10 steps to a Thinner, Healhier You by Keri Gans, RD. Get additional support as you learn about the psychological side to weight loss at our exclusive seminars for our group and understand how total wellness affects weight loss. Get accountability through weekly weigh-in sessions and support meetings on Monday evenings.
---
 StrengthFIT
The StrengthFIT component will teach you the importance of core strength in an exercise program. We will work with Curves (for the ladies!) to learn how to safely incorporate strength training exercises that target different muscle groups.
---
Still have questions? Attend one of our Info Sessions OR email Coach Kisa.