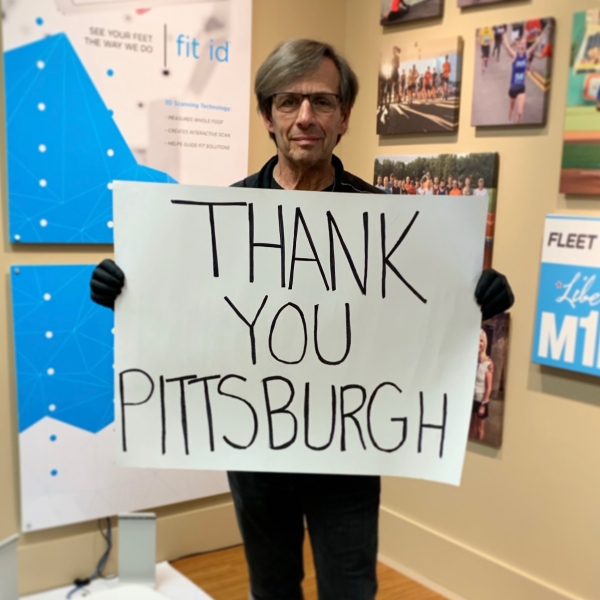 Where to begin...

As we enter our fifth week of closure of in-store retail operations due to the COVID-19 pandemic, I wanted to update you as to where Deb, my leadership team and I see things going in the future, and to say thank you for your unwavering support and loyalty during these unprecedented times.
We are developing new and innovative ways to serve you our loyal customers, which prior to this would not have even been imagined. Once we reopen our retail store, some of the things we've been doing including curbside pick-up, virtual fittings, local deliveries, scheduled appointments, virtual workplace fittings and other new initiatives will become a part of our ongoing business model. These will supplement our updated in-store experience.
But the primary purpose of this note is to say thank you. We are dedicating long hours, having tough conversations, making difficult decisions and doing everything within our power to ensure that Fleet Feet Pittsburgh continues to thrive now, and will flourish and grow again when our store can open fully to all of you. I cannot thank you enough and express how grateful I am to each of you for your support, your loyalty and kind words of encouragement through all of this.

If there is one thing in which I find solace, it is that we're all in this together. No one is escaping the crush of stress and anxiety. So we must keep trudging up the steepest climb of our lives, one foot in front of the other. Sometimes we will slip backward, but if we stay together, there will always be someone behind us to stop the slide and help us start climbing again. That is the magic of Fleet Feet and the Pittsburgh running community.

The past few weeks have been a huge wake-up call. We have an incredible community full of incredible people like each of you. In this era of social distancing, people are walking and running more than they ever have been. Running is not canceled, and we need each other more now than ever before. We are in the middle of a dark tunnel, but I can see a glimmer of light ahead. How long and when we will come out, I do not know. But what I do know is that when we do come out, we will emerge looking different and stronger than we were. There will be a new reality, and we will evolve to meet that reality head on and be here for each other.

In the words of Joey Pointer, CEO of Fleet Feet, a person for whom I have deep admiration "………...we no longer need to think outside the box. The box is gone. It got shredded. We are now at the point that we need to build a new box". That is the spirit with which Fleet Feet Pittsburgh will continue to evolve and serve you. Thanks to you, the foundation of our business is solid and strong, as is the resolve of the unstoppable Pittsburgh running community. Together we will overcome setbacks and obstacles, and move forward into the future.
Stay healthy and safe,

Bob