The Fleet Feet Liberty Mile is back for 2021, and we are here to help you prepare for it...
We have created the official training programs for the Liberty Mile for first-time participants, recreational runners AND competitive athletes. Our programs include eight weeks of workouts, two weekly in-person sessions, access to a team of coaches and an in-store discount (exclusions apply). All programs begin on May 31st.
Scroll down to learn more, and join our team today!
Three different training levels:
Cross Your First Finish Line
What is it? A time-based program designed for first-time participants/exercisers that progresses from a period of easy walking all the way to jogging an entire mile. This program includes four workouts each week (ranging in duration from 10 to 30 minutes), and utilizes the walk-jog method. Participants can expect to develop the ability to jog from the start line on Penn Avenue all the way to the finish on Liberty.
Who is it for? This program safely and effectively takes you from the couch to the finish line in eight weeks. The program is modeled around a time-based design, and uses the principles of progressive overload and heart rate recovery to ensure participants will develop the ability to jog an entire mile safely.
Set Your Best Time
What is it? A program for regular/consistent runners who want to incorporate speed workouts in order to set a personal best time. This program utilizes five workouts each week, two of which are done at a harder/faster effort. One of these speed workouts is distance-based, while the other is time-based. Participants can expect to develop the ability to increase both their overall cardiovascular endurance and their top speed for the mile distance.


Who is it for? This program is ideal for individuals with a basic level of fitness and/or consider themselves to be recreational runners looking to improve their performance. The blend of time-based and distance-based workouts means there is an opportunity to see marked, linear improvement over the course of the eight-week cycle.
Crush The Competition
What is it? A program for competitive runners who are looking to set a lifetime record, and attempt an age-group placement finishing time. This program contains six workouts each week, two of which are speed-based sessions and a third which helps to improve running efficiency and economy. Utilizing both time and distance-based parameters, runners can expect to see a noticeable improvement in their cardiovascular fitness, running form, top-end speed and force/power production.
Who is it for? This program is geared toward the competitive athlete who wants to train to be at the absolute top of their game. Designed for experienced runners, this program will help maximize the eight-week training block and prepare athletes for peak performance on race day.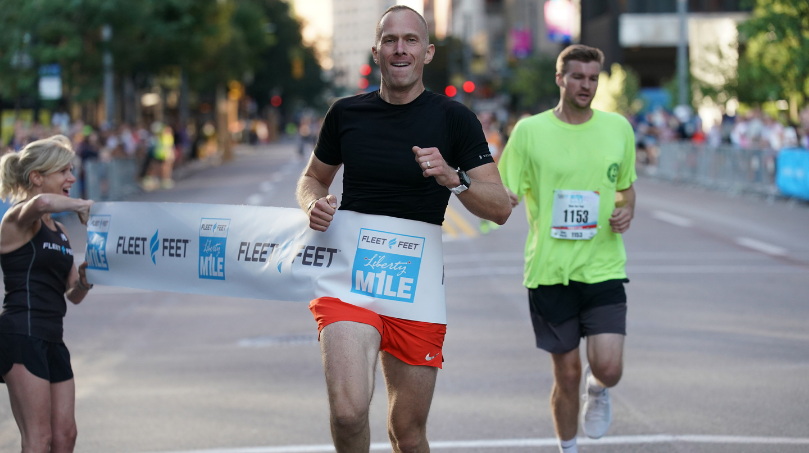 Two weekly in-person, coached workouts:
Wednesdays at 6:30 PM (South Park Fairgrounds & Schenley Park Sportsplex)
Sundays at 7:30 AM (rotating Downtown locations)