We live on a big, beautiful planet, and at Fleet Feet Pittsburgh we believe it's important to take care of the place we all call home. This summer, we are collaborating with Mizuno, the Pennsylvania Environmental Council (PEC) and the Bonneville Environmental Foundation (BEF) to host a three-part challenge-based series focused on sustainability. It is important to "Reach Beyond" running, to ensure our sidewalks, streets and trails remain a clean, safe place for us to enjoy the sport we love.
In addition to teaming up with partners who emphasize environmentally-friendly practices, we have also offset the entire carbon footprint created by participants traveling to and from these events. We have neutralized three metric tons of carbon dioxide emissions, through a program provided by BEF. This is part of a more widespread, long-term initiative to make the Fleet Feet Running Club a completely carbon-neutral, climate-positive organization.
These offsets are tied to a national clean energy, career-connected education program. Together with schools, educators and industry, BEF is striving to build a clean energy future to ensure that our communities and the environment are thriving and resilient. BEF works to expand access to opportunities for all students regardless of their geography, gender, ethnicity, or socioeconomic status.
PEC will have a local presence at each of the events, to provide education on state-wide sustainability initiatives and talk about how we can help make Pittsburgh a cleaner and greener place to both live and run.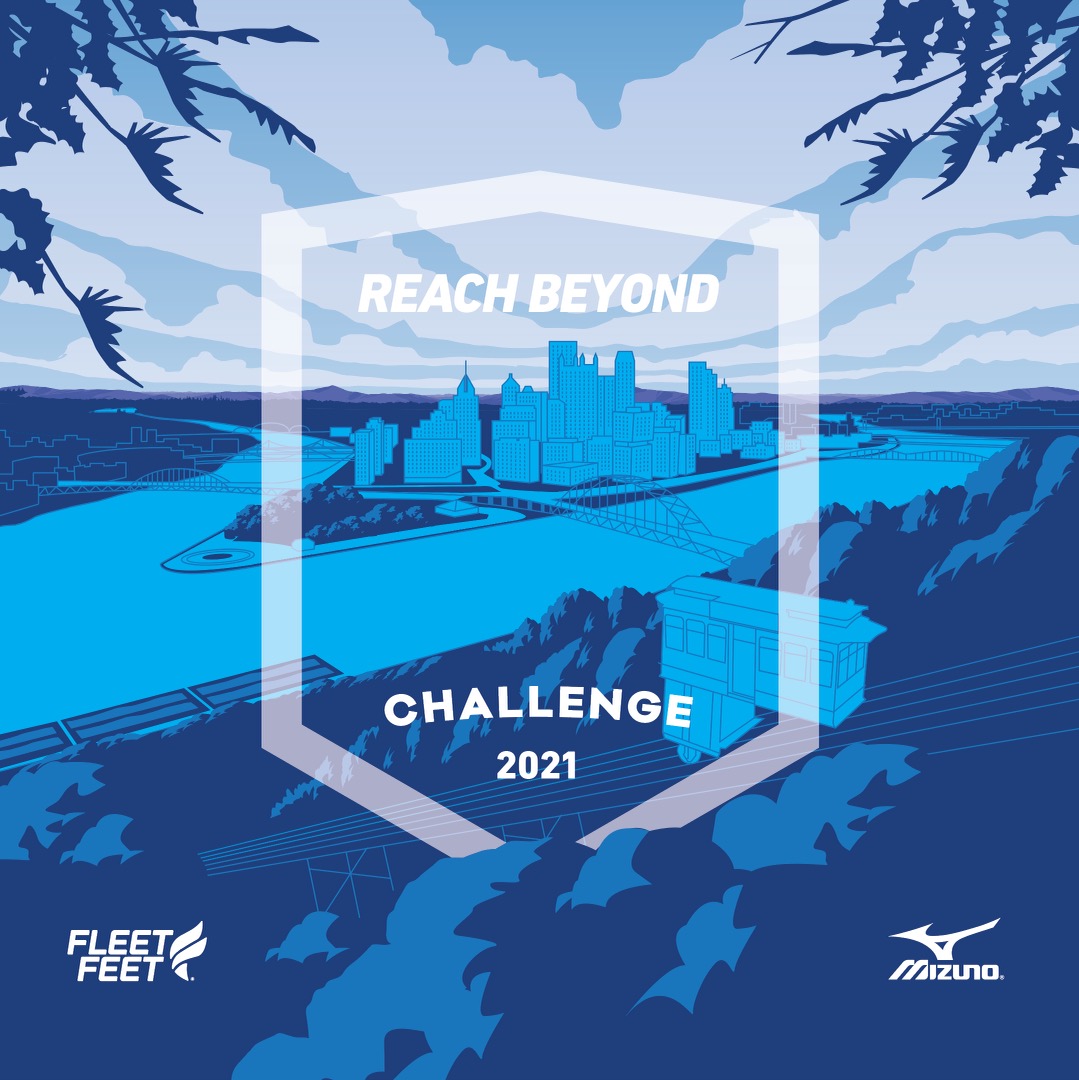 The challenges take place at Federal Galley in the North Side Commons (200 Childrens Way, Pittsburgh PA 15212) and pre-registration is required. The first 20 participants will receive a free Fleet Feet x Mizuno Sili Pint glass! All runners will receive a re-useable tote bag, and $2 off their first draft beer after each event. Runners who successfully complete the challenges will earn a raffle ticket for the chance to win a swag bag from Mizuno.
Mizuno has set an audacious goal to become carbon neutral by 2050. In order to achieve this goal, the brand must assess how each of its products can reduce their individual footprint. The three main footwear stories we will be highlighting in the Reach Beyond series are:
Wave Rider 25: The brand new Wave Rider 25 receives a silver platter overhaul on its special anniversary. With a revamp from top to bottom, this shoe will surely not disappoint runners, walkers, and casual customers looking for a do-it-all shoe. From a sustainability perspective, this shoe has three major components helping promote our carbon neutral goal. The Wave Plate (Mizuno's secret sauce) is made from castor beans which helps reduce carbon emission by 25% versus the previous Wave Plate. Additionally, both the laces and sock liner in this shoe are from recycled PET (polyethylene terephthalate) which reduces emissions.


Wave Sky 5: The Wave Sky 5 elevates our luxury cushioned option for 2021. This is one you'll want to try on during our demo night, with new technologies to provide a plush underfoot feel without sacrificing springiness. It may quickly become your favorite running, walking, or kick-around shoe. It also contributes to our sustainability initiative by utilizing recycled PET material in the laces and sock liner.


Wave Rebellion: Mizuno's latest addition will propel you towards new personal records this fall. This shoe highlights Mizuno's drive for the advancement of sporting goods by creating a shoe that is light, propulsive and durable due to innovative technologies and materials. This new model will be an excellent option from the 5K to the marathon, in addition to a great speed training companion. The Wave Rebellion will have recycled PET laces and sock liner (like the Sky 5 and Wave Rider 25) in addition to a glass fiber wave plate that will help reduce carbon emissions.
Reach Beyond Challenge Schedule & Registration Information
July 22nd:
Clean Water: Mizuno Wave Rider
Challenge: Run 5.0 miles along the Pittsburgh Riverfront trails
(route provided electronically)

August 12th:
Clean Air: Mizuno Wave Sky
Challenge: Run 3.5 miles to the highest point in Pittsburgh and back
(route provided electronically)

September 23rd:
Clean Streets: Mizuno Wave Rebellion
Challenge: "Plog" for an hour, and collect as much garbage as you can!
(we'll provide bags & gloves)
CLICK HERE TO REGISTER FOR FREE
Suggested $5 donation to Pennsylvania Environmental Council at checkout