Bob Shooer - President/Owner

Following a career in department store retail, Bob has been part of the Fleet Feet organization for fourteen years, and has owned the store since 2007. Bob is committed to providing a premium in-store experience and ensuring that Fleet Feet Pittsburgh is the destination for all things running and walking in the tristate area. In a recent interview Bob stated "What sets us apart here at Fleet Feet Pittsburgh is our relentless pursuit of excellence and commitment to our community". He went on to say "everyone who works here at the store has a passion for what we do. We all get a tremendous sense of fulfillment from knowing that in our own way, we are helping to change lives". He is very proud that Fleet Feet Pittsburgh has been voted one of the Top 10 Running Stores in America in 2018.
Bob is the Chairman of the Fleet Feet National Franchise Advisory Council and serves on many committees and boards. He has lived in Mt. Lebanon for most of his adult life.
Deb Doyle - Vice President, General Manager, Apparel Buyer

Deb first became a part of the Fleet Feet Pittsburgh family when she participated in our Half Marathon Training Program in the spring of 2011, and she became hooked. She then became a Mentor for other Fleet Feet training programs and eventually joined our team as the apparel buyer in April 2012.
Now VP/General Manager and part owner, Deb oversees all store operations, and brings a wealth of experience in this regard. Deb thoroughly enjoys being connected to the Pittsburgh running community, and is passionate about ensuring that our customers receive a memorable and premium experience each time they are in our store.
Deb ran her first full marathon in Columbus in October of 2013, qualifying for Boston. She has since run a number of marathons, half marathons, and local races of varying distances. Deb lives in Mt. Lebanon with her husband and two daughters.
Emily Sagun - Marketing Manager, Track Coach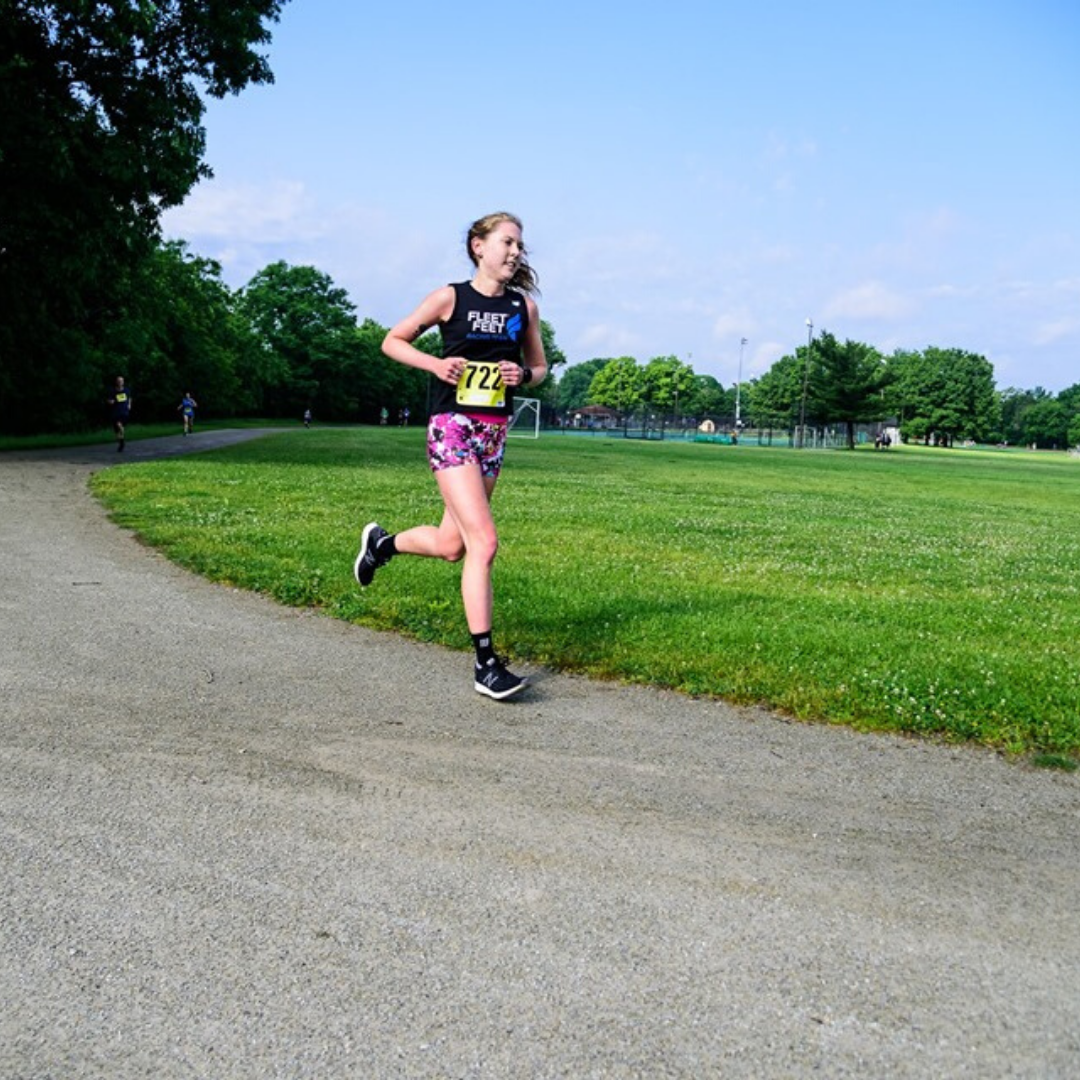 Emily began running track and cross country in high school, and continued to run for Franciscan University in her hometown of Steubenville, Ohio. Today you can find her running with the FFRC, and coaching the Speed Demons on the track every Wednesday night!
Tim Lyman - Director of Training Programs

Timothy Lyman is a competitive middle-distance runner, fitness professional and coach. He is a certified NASM Performance Enhancement Specialist and ACE CPT, with extensive experience in training program development and management. He has coached cross-country teams at both the collegiate and high school levels, as well as first-time runners and competitive sub-elite athletes. His training specialties include running economy, strength-training and sports psychology.
Ian Katz - Assitant Store Manager - Operations, Accessories Buyer

Ian graduated from California University of Pennsylvania with a degree in Sports Management. He started running towards the end of high school with the goal to lose weight and start a healthy lifestyle. Since working at Fleet Feet, he is getting back into running his casual routes around the Mt. Lebanon area.
Kisa Snyder - Training Coordinator, No Boundaries Coach

Kisa returned to running in her late 30s after not running since high school. She joined Fleet Feet for their No Boundaries Path to 10k training program in the fall of 2011, and hasn't looked back since. She went on to complete training with Fleet Feet for her first half marathon the following spring in Pittsburgh. To date, she has run the Pittsburgh Full Marathon, eight Half Marathons, and many other races.
After mentoring with No Boundaries and the Pittsburgh Half Marathon programs, Kisa joined the team at Fleet Feet in the fall of 2013. She is now the Head Coach of the No Boundaries Path to 5k & 10k Program, the one that gave her the push she needed to get back into running. This program is dear to her heart and brings her the most joy, as she gets to help others on the journey to become runners and part of the Fleet Feet Family. Kisa also oversees our weight loss program, The Movement, and works on many of our other training programs in various capacities.
Jackie M. - FIT Professional, Team Lead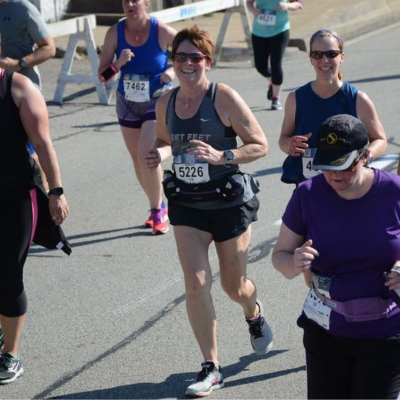 Jackie found distance running thanks to hungry Fleet Fleet runners who frequented Houlihan's every Thursday night after their runs, where she had been a manager. With their encouragement she joined the No Boundaries program in 2012. She ran her first 5k at the Great Race on her birthday. She was hooked. She got involved in various Fleet Feet Sports training programs and has completed 5ks, 10ks, 15ks, 10 milers and 3 half marathons. She has been actively involved as a mentor in the No Boundaries program, where she shares her love of running and inspires others to start their own training, no matter what their ages! As Jackie's passion for running grew she said goodbye to the restaurant business and joined the Fleet Feet Pittsburgh team so she could share her love of running with others within the community. Jackie and her husband Michael live in Greenoch with their two spoiled dogs, Beardsley and Wottle.
Travis M. - FIT Professional, Team Lead

Travis began running when he was in 8th grade to get in shape for basketball. Little did he know, that running would become his passion and a major vehicle in his life. Travis is an alumnus of Canon McMillan High School and Slippery Rock University, where he was on the cross country and track teams and earned degrees in Psychology and Public Health. His running focus has since turned to road races and marathon, where he is hoping to participate in some major races and keep improving. He is excited to be working at Fleet Feet Pittsburgh because he wants to make a difference in the community by providing people with the motivation, tools, and resources to live healthier lives. Travis currently lives in Mt. Washington with his' wife, Hopi, and their cat, Gatsby.
Stu J. - FIT Professional 

Stu joined the Fleet Feet Pittsburgh Team after working for four years as a youth running coach. He is a graduate of Wheeling Jesuit University, where he was a three-time Collegiate All- American Athlete. Additionally, he is an eight-time WVIAC conference champion, two-time West Virginia state champion, and a USATF level one certified coach. Stu's favorite part of working at Fleet Feet is ensuring that customers have a pleasant experience.
Malcolm E. - FIT Professional
Malcolm is originally from Twickenham, a suburb of London. In 1976, after accepting a track scholarship from the University of Arkansas, he moved to the United States. He is a well-known marathon runner, with a personal best 2:11:35, which landed him 5th place in the Boston Marathon. He has placed first in the Pittsburgh, Copenhagen, and Columbus Marathons. Additionally, he placed 2nd in the San Diego Marathon, 3rd in the Rio de Janeiro Marathon, 5th in the Beppu Marathon in Japan, and 7th in the London Marathon. Previously, he was the British Record holder for completing a 30K in 1:32:00. In addition to working at Fleet Feet Pittsburgh, Malcolm spends his time coaching the Fleet Feet Running Club.
Bob P. - FIT Professional

Bob joined the Fleet Feet group in February of 2014 after retiring from a sales position with Nestle USA. Bob has been involved with the local running community for the past 28 years and can be seen at quite a few of the local races. He has run over a dozen marathons and was a part of the pacing team for the Baltimore Marathon. He was a part time cross country coach at Canon-MacMillan in the late 1990's and still likes to work with anyone looking to improve their running. Bob lives in Canonsburg with his wife Anna and they both enjoy traveling, photography and exploring new areas of the country. He also enjoys playing golf, music, and the guitar in his spare time.
K.C. - FIT Professional

K.C. is a mom, wife and freelance writer / editor as well as a cheerleader for Fleet Feet and its training programs. With no prior running experience, she joined Fleet Feet's No Boundaries 5k training in 2014 to set a good example for her then 5-year-old son. Completing the program was such a great experience that she has trained and mentored in Fleet Feet's 5k, 10k and marathon relay programs ever since. K.C. loves that through mentoring and working part-time in the store, she meets lots of people who are making positive changes and gets to help them turn "I can't" into "I did". She regularly joins fellow Fleet Feet trainees and mentors for the Fleet Feet Running Club and other short-distance runs, getting in some miles and exploring beautiful Pittsburgh with great companions.
Jen C. - FIT Professional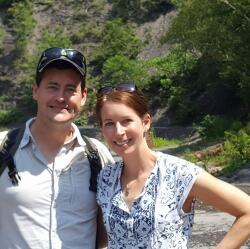 Jen started running in college as a way to stay fit after retiring from competitive gymnastics. It's been a part of her life ever since, which has made her a firm believer that running changes everything. Beyond supporting a healthy lifestyle, running has provided a mental escape, a social platform, and opportunities to engage in the community. Racing distances from 5K through marathon, Jen loves to compete against the clock and is always looking for that next PR. She's excited to turn her passion into a career at Fleet Feet, and share experiences with runners and walkers at all stages of the sport. In the meantime, you may see her running the hills of Mt. Lebanon, where she lives with her husband, Christian, and three daughters.
Vianna S. - FIT Professional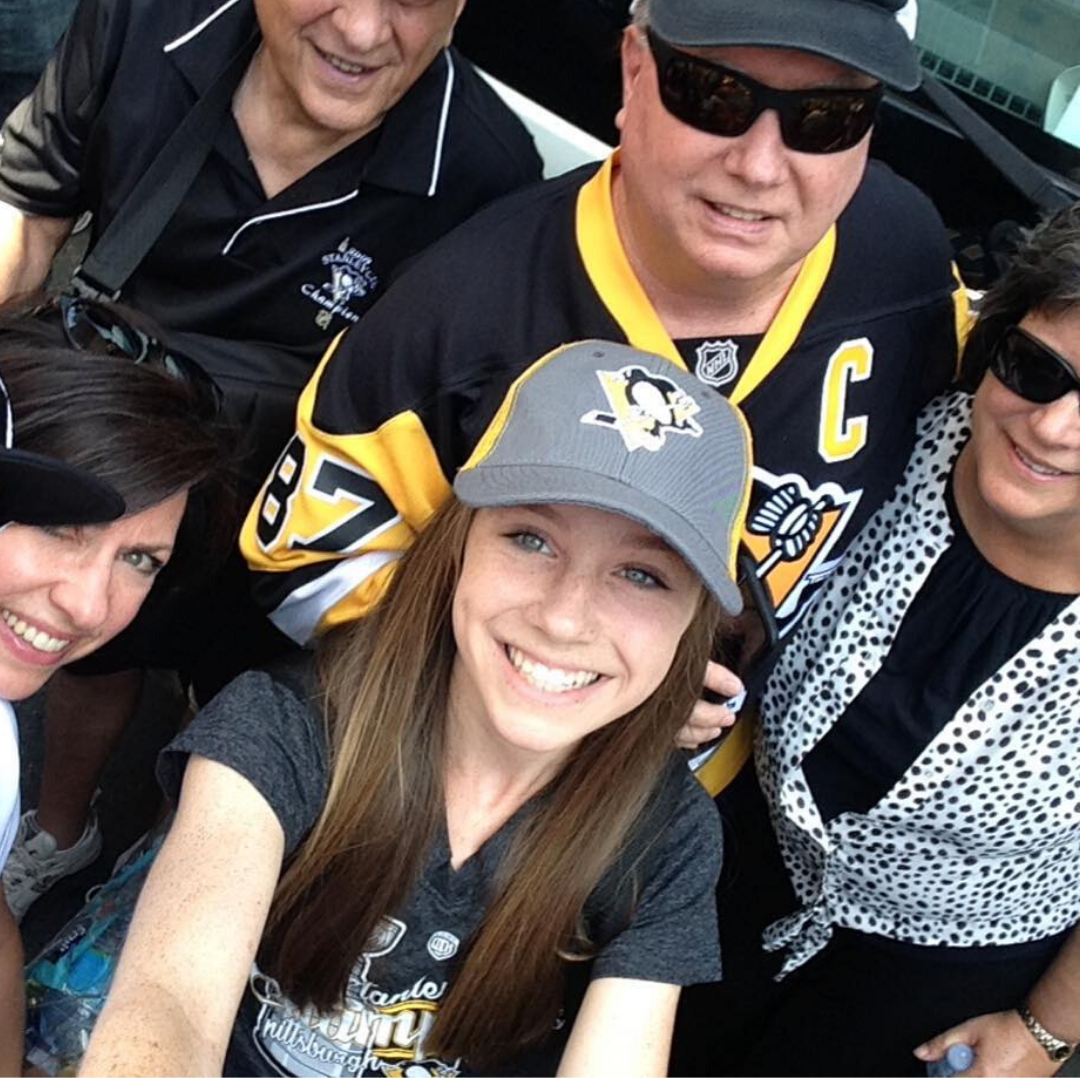 Vianna is a Senior at Upper St Clair High School. She started working at Fleet Feet because she has a passion for running and loves to help others. Some of her other passions besides running include traveling, spending time with her family, and volunteering for others who are less fortunate.
Eva D. - FIT Professional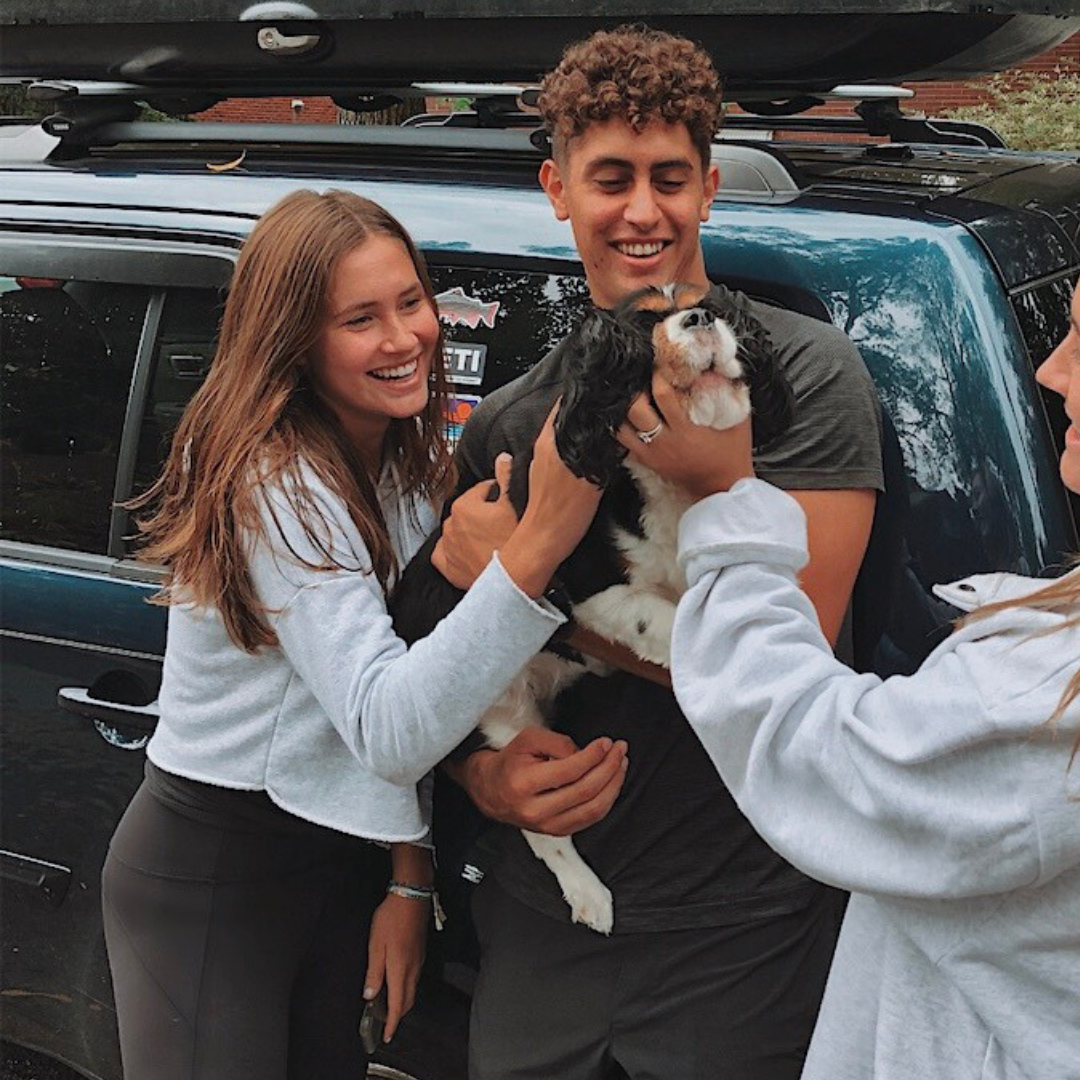 Eva is a senior at Mt. Lebanon High School. She started working at Fleet Feet Pittsburgh because she loves to be active, the environment of motivated and inspired individuals, and seeing people leave with a smile. She also loves to play ice hockey, field hockey, and lacrosse, teach these sports to younger children, and spend time with friends and family. Eva plans on playing women's ice hockey next year in college and is learning how she can help others prevent injury and stay active.