Deb Doyle - District Manager

Deb first became a part of the Fleet Feet Pittsburgh family when she participated in our Half Marathon Training Program in the spring of 2011, and she became hooked. She then became a Mentor for other Fleet Feet training programs and eventually joined our team as the apparel buyer in April 2012.
Now Operating Partner, Deb oversees all store operations and brings a wealth of experience in this regard. Deb thoroughly enjoys being connected to the Pittsburgh running community, and is passionate about ensuring that our customers receive a memorable and premium experience each time they are in our store.
Deb ran her first full marathon in Columbus in October of 2013, qualifying for Boston. She has since run a number of marathons, half-marathons, and local races of varying distances. She set her marathon PR of 3:42:47 in Chicago in 2019. Deb lives in Mt. Lebanon with her husband and two children.
Katie Nicholson - Operating Partner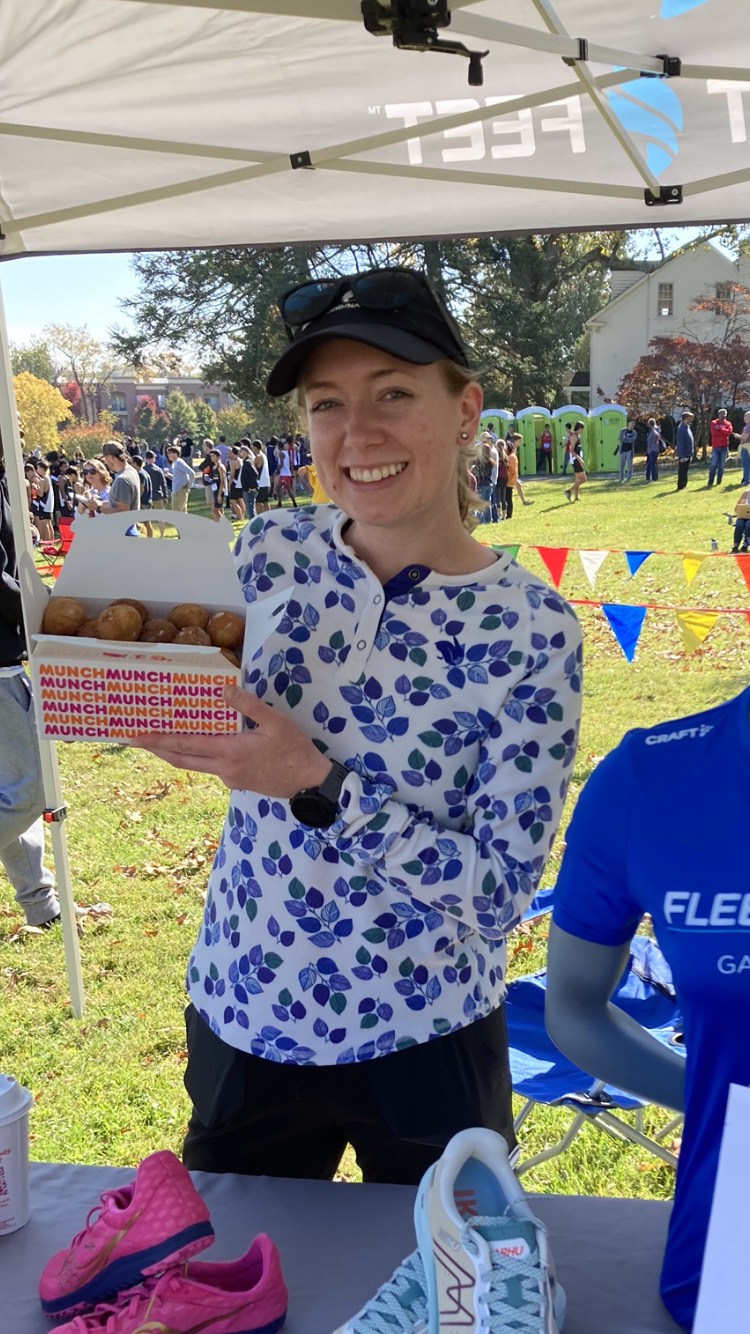 Katie began her journey with Fleet Feet in Nashville, TN in 2018. After moving to Nashville to pursue a career in the music industry, she began working at Fleet Feet to have a fun part-time job. She immediately felt like she was at home in the Fleet Feet community, and knew this was not just going to be a part-time summer job. In Nashville, she trained with Fleet Feet for her first half marathon and was introduced to her favorite form of running - trails!
In 2021, Katie relocated to Carrboro, NC to train in the Operating Partner Development Program at Fleet Feet's headquarters. From there, she moved to Gaithersburg, MD to operate Fleet Feet Gaithersburg from February 2022-April 2023.
Katie is proud to be home now in the Pittsburgh area to operate Fleet Feet South Hills and Bakery Square. She is passionate about helping others reach their goals through training programs, staff development, and community outreach.
Timothy Lyman - Director of Training Programs

Timothy Lyman is a health & wellness professional specializing in fitness program development, management and coaching. He is an ACE-certified Health Coach, Personal Trainer and Fitness Nutrition Specialist, in addition to being a NASM-certified Performance Enhancement Specialist. He has coached cross-country teams at both the collegiate and high school levels, created and coached both large and small group fitness programs in a facility setting and has worked with individuals at all levels across all disciplines. His training focuses include health coaching, strength training, and running performance. He has been a resource for VeryWellFit, Elite Daily, NBC News, Insider, Shape, Byrdie, LiveStrong, PopSugar, Real Simple, Yahoo!, USA Today, Reviewed and Runner's World.
Jen Cox - Retail Experience Manager - Fleet Feet South Hills

Jen started running in college as a way to stay fit after retiring from competitive gymnastics. It's been a part of her life ever since, which has made her a firm believer that running changes everything. Beyond supporting a healthy lifestyle, running has provided a mental escape, a social platform, and opportunities to engage in the community. Racing distances from 5K through marathon, Jen loves to compete against the clock and is always looking for that next PR. Jen has been a part of the Fleet Feet Pittsburgh team since 2019!
Jen is excited to turn her passion into a career at Fleet Feet, and share experiences with runners and walkers at all stages of the sport. In the meantime, you may see her running the hills of Mt. Lebanon, where she lives with her husband, Christian, and three daughters.
Brittany Bisceglia - Retail Experience Manager - Bakery Square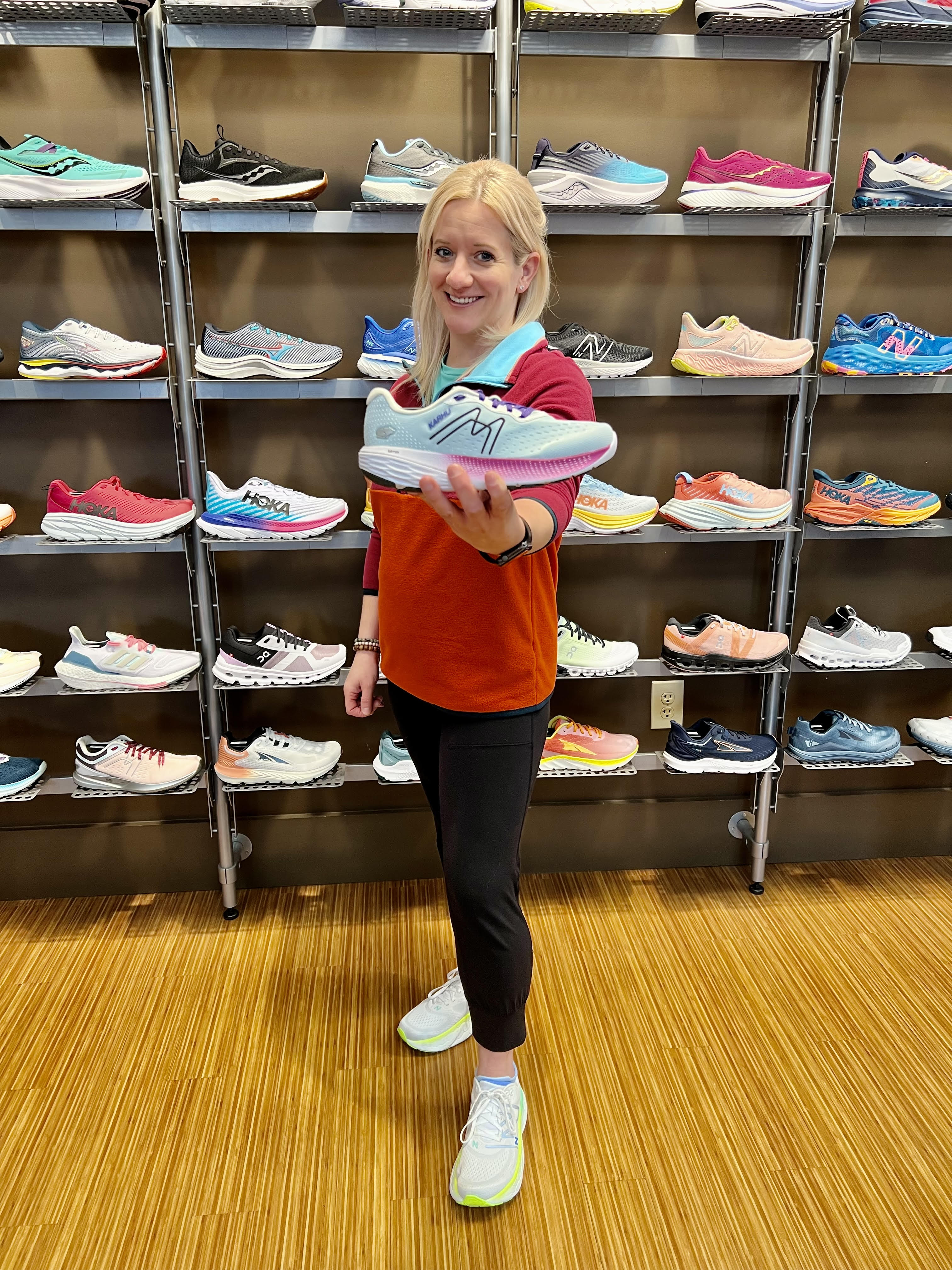 Brittany is a Pittsburgh native with an extensive background in Retail Management. Brittany couldn't be more excited to serve, encourage, and empower the East End community to take their goals and crush them!
As a firm believer in cultivating kindness and creating a sense of community, she truly stands behind the quote, "We run better when we run together!" Brittany discovered the benefits of running in her 20's. She loves running for enjoyment and also as a healthy outlet to relieve stress. She believes in taking time to reset, refresh, and recharge through yoga, hiking, stretching, and meditation.
You may find Brittany out and about in the city running, catching a yoga class, or grabbing a quick coffee at a local coffee shop.
Jackie M. - Outfitter / Inventory Coordinator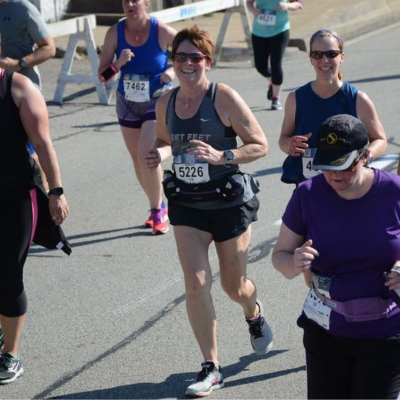 Jackie found distance running thanks to hungry Fleet Fleet runners who frequented Houlihan's every Thursday night after their runs, where she had been a manager. With their encouragement she joined the No Boundaries program in 2012. She ran her first 5k at the Great Race on her birthday. She was hooked. She got involved in various Fleet Feet Sports training programs and has completed numerous road races of various distances.
Jackie has been actively involved as a mentor in the No Boundaries program, where she shares her love of running and inspires others to start their own training, no matter what their ages! As Jackie's passion for running grew she said goodbye to the restaurant business and joined the Fleet Feet Pittsburgh team so she could share her love of running with others within the community.
Jackie and her husband Michael live in Greenoak with their four spoiled rescue beagles Chessey, Beardsley, Wottle and Petey.
Malcolm East - Outfitter
Malcolm is originally from Twickenham, a suburb of London. In 1976, after accepting a track scholarship from the University of Arkansas, he moved to the United States. He is a well-known marathon runner, with a personal best 2:11:35, which landed him 5th place in the Boston Marathon. He has placed first in the Pittsburgh, Copenhagen, and Columbus Marathons. Additionally, he placed 2nd in the San Diego Marathon, 3rd in the Rio de Janeiro Marathon, 5th in the Beppu Marathon in Japan, and 7th in the London Marathon. Previously, he was the British Record holder for completing a 30K in 1:32:00.
Bob P. - Outfitter

Bob joined the Fleet Feet group in February of 2014 after retiring from a sales position with Nestle USA. Bob has been involved with the local running community for the past 32 years and can be seen at quite a few of the local races. He has run over a dozen marathons and was a part of the pacing team for the Baltimore Marathon. He was a part-time cross country coach at Canon-MacMillan in the late 1990's and still likes to work with anyone looking to improve their running.
Bob lives in Canonsburg with his wife Anna and they both enjoy traveling, photography and exploring new areas of the country. He also enjoys playing golf, music, and the guitar in his spare time.
K.C. Wise - Outfitter

K.C. is a mom, wife and freelance writer/editor as well as a cheerleader for Fleet Feet and its training programs. With no prior running experience, she joined Fleet Feet's No Boundaries 5k training in 2014 to set a good example for her then 5-year-old son. Completing the program was such a great experience that she has trained and mentored in Fleet Feet's 5k, 10k and marathon training programs ever since. K.C. loves that through mentoring and working part-time in the store, she meets lots of people who are making positive changes and gets to help them turn "I can't" into "I did."
Erica V. - Outfitter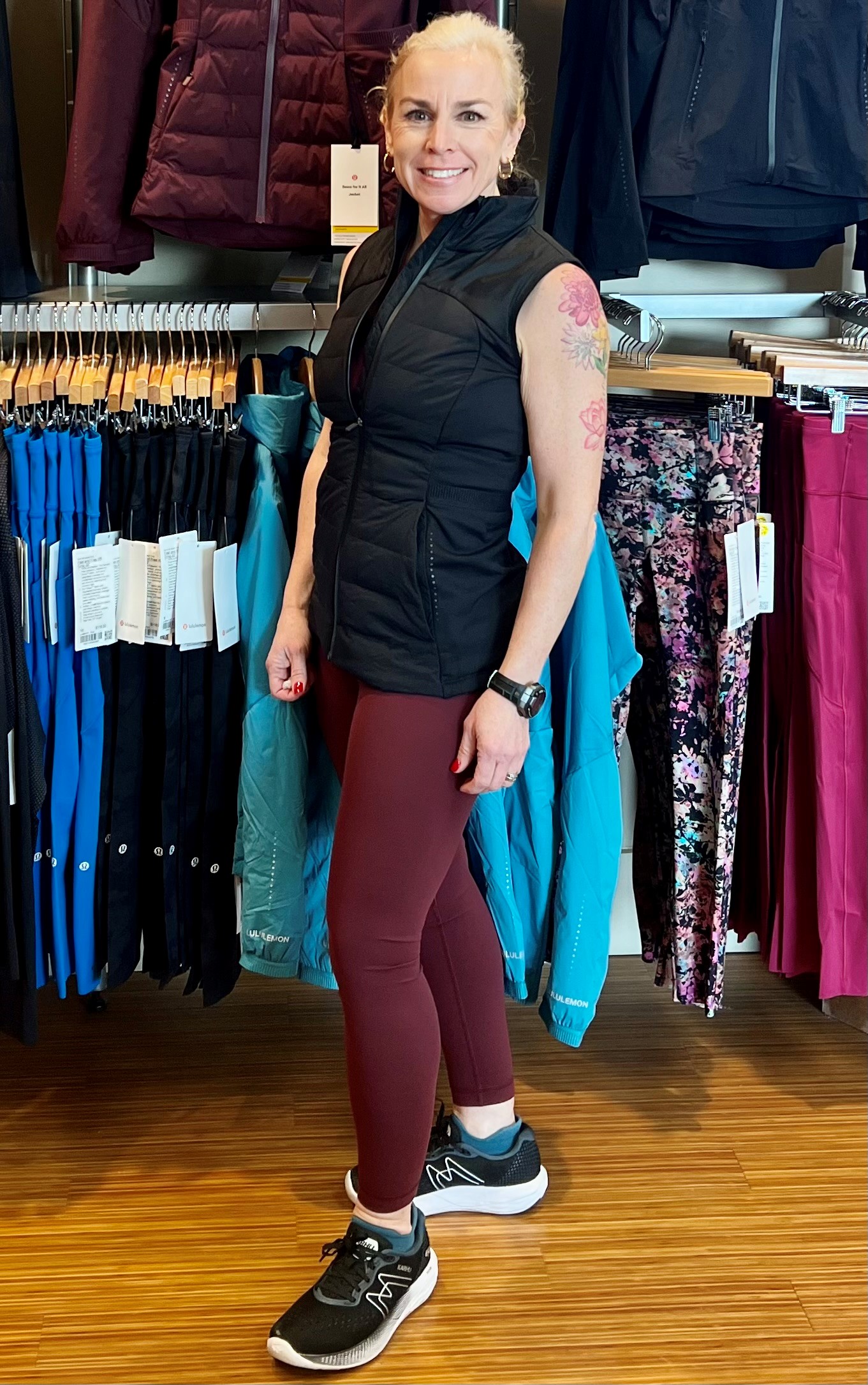 Meet Erica! Erica was a part of the Fleet Feet Pittsburgh team from 2010 – 2014. After 8 busy years of raising her three lovely daughters in the South Hills of Pittsburgh, she was ready to join the Fleet Feet Pittsburgh team again. We couldn't be happier to welcome Erica back to our team! Erica started running in college for fun and she eventually fell in love with the sport. She has been competitivity running since 2004.
Erica's favorite time of the day to run is morning and her favorite place to run is the Montour Trail! Outside of running and working at Fleet Feet South Hills, you can often find Erica playing tennis with her friends. Erica is also a dog lover; we are dog friendly at both Fleet Feet Pittsburgh locations!
Tim M. - Outfitter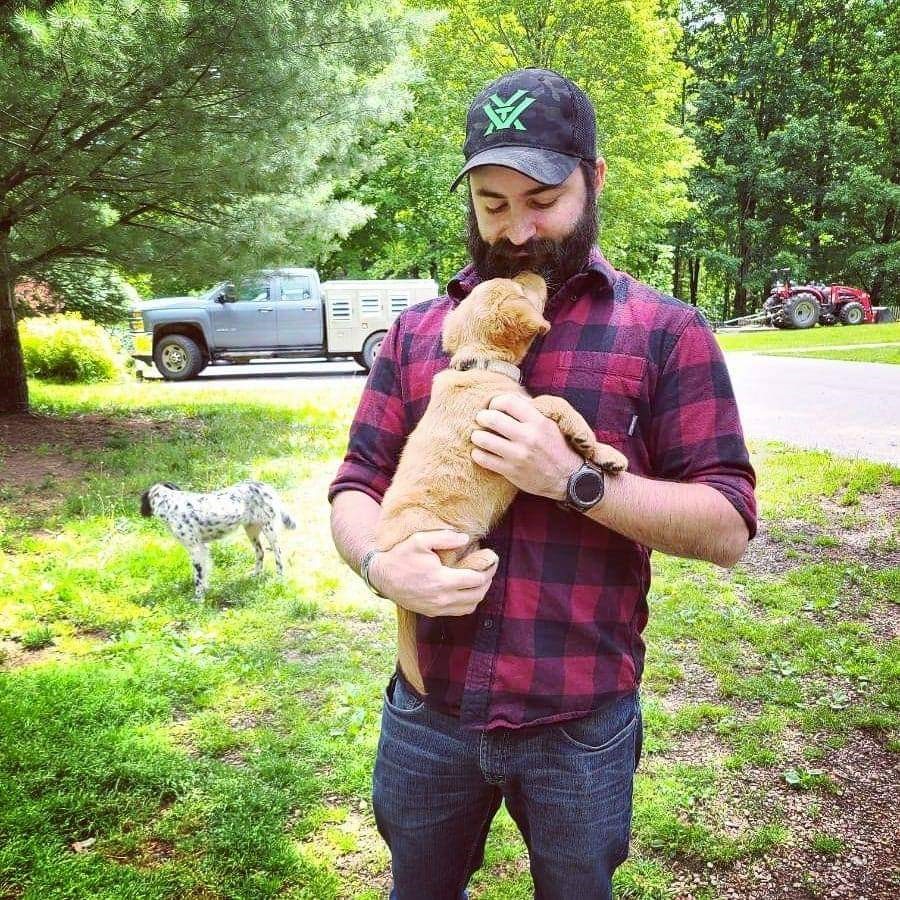 Meet Tim; a Marine Corps Veteran. Tim was in the Marines from 2008 - 2015 and earned a purple heart in Afghanistan in 2011. Tim is from Mount Lebanon and was a sprinter at Mount Lebanon High School. He shifted towards distance running while he was in the Marines and now truly enjoys long runs. Tim is currently a college student studying Cyber Security and is excited to continue his education here in Pittsburgh.
Outside of working at Fleet Feet Pittsburgh and attending college classes, Tim enjoys night runs, gardening, cooking, and any excuse to be outside! Tim also has two golden retrievers, Skadi and Tally, who also run with him!
Tim has two goals he wants to achieve by the end of 2023; The Pittsburgh Half Marathon and The Chicago Full Marathon.
Leslie S. - Outfitter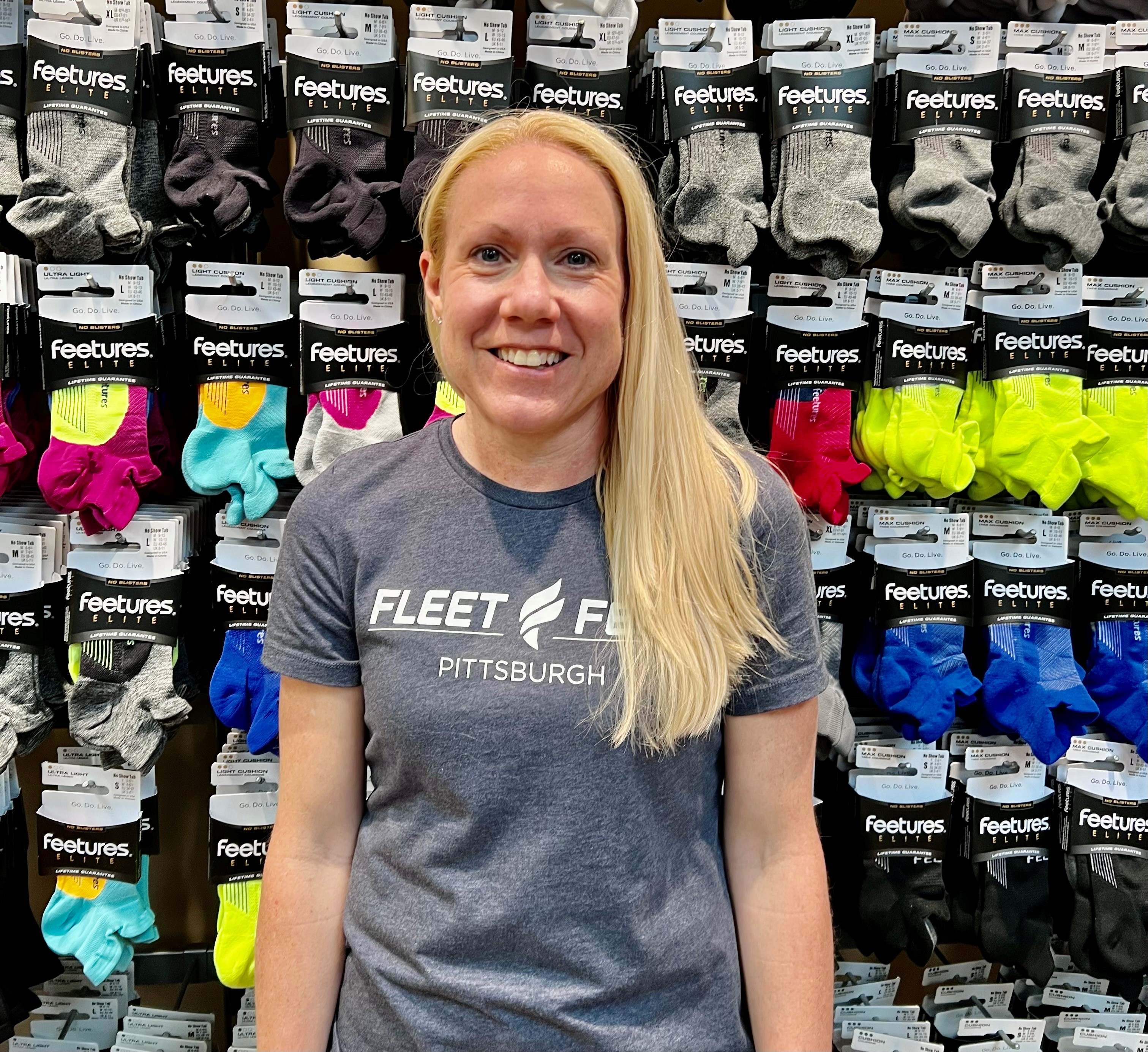 Leslie was heavily involved in sports growing up and running was her go to workout to stay in shape. In college, Leslie began running with friends and truly enjoyed the social aspect of running with friends. Leslie is a morning runner and loves to run on roads and trails! She is a huge soccer fan and her favorite team is the USA Women's National Team. Outside of working at Fleet Feet and being a mom, Leslie is an avid book reader and spends a lot of her free time at her favorite book store or favorite local coffee shop.
Leslie has never ran an official timed race - that will be changing this upcoming fall; she will be running in an event at the Holland Haven Marathon in Michigian! Leslie's favorite thing about Fleet Feet Pittsburgh is that she can express her passion for nutrition not only in her personal life, but also at work! Do you have nurtition questions? Come see Leslie and discuss nutrition with her!
Mike B. - Outfitter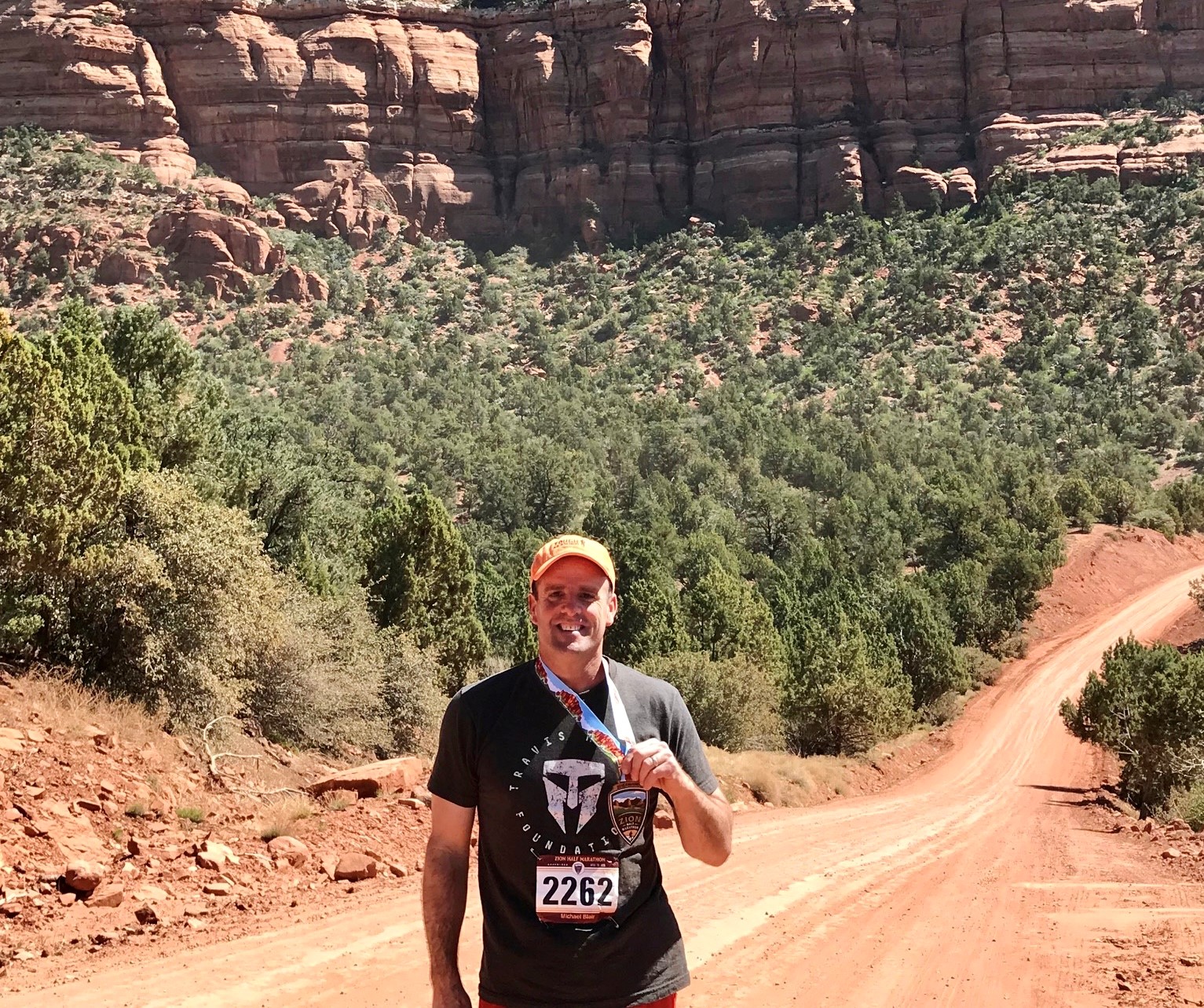 Meet Mike! Mike is excited to join the Fleet Feet Pittsburgh Team after retiring from a long career at Comcast. Prior to his "Cable" career, he also served in the United States Army.

Mike has been an avid runner much of his adult life but especially over the last 15 years. Mike and his wife can usually be found running on the Montour Trail, which is where they were married, or at a half Marathon in one of the United States National Parks. Mike likes to say he was born a "Mudder" so if the weather is bad you can rest assured he is running somewhere on the dirt!

When he is not running, he can be found at Angel Ridge Animal Rescue where he is a volunteer Dog Walker.
Jon Fisher - Running Club Coach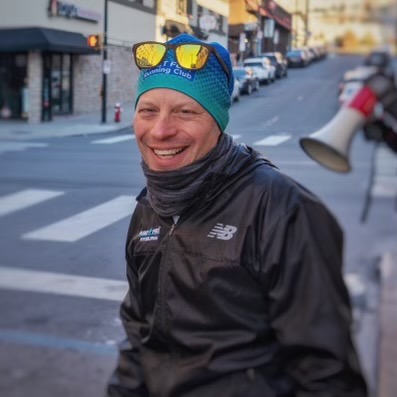 Jon's running adventure began a decade ago when the 5K race some friends asked him to join ended up being five miles long. He was hooked. He moved to Pittsburgh in the summer of 2014 with his wife Jody, and began running with Fleet Feet soon after. In addition to countless half-marathons and other road races, Jon has completed the Pittsburgh Marathon three times. He is both an RRCA and USATF-certified coach with a passion for helping runners not only fall in love with the sport, but conquer new goals whether it's their first 10K, half or full marathon.
Locations
Fleet Feet Pittsburgh - South Hills
1751 N. Highland Road
Pittsburgh, PA 15241
M-F: 10 - 7
S: 10 - 5
Su: 12 - 5

View Store
Fleet Feet Pittsburgh - Bakery Square
186 Bakery Square Blvd
Pittsburgh, PA 15206
M-S: 10 - 7
Su: 12 - 5

View Store