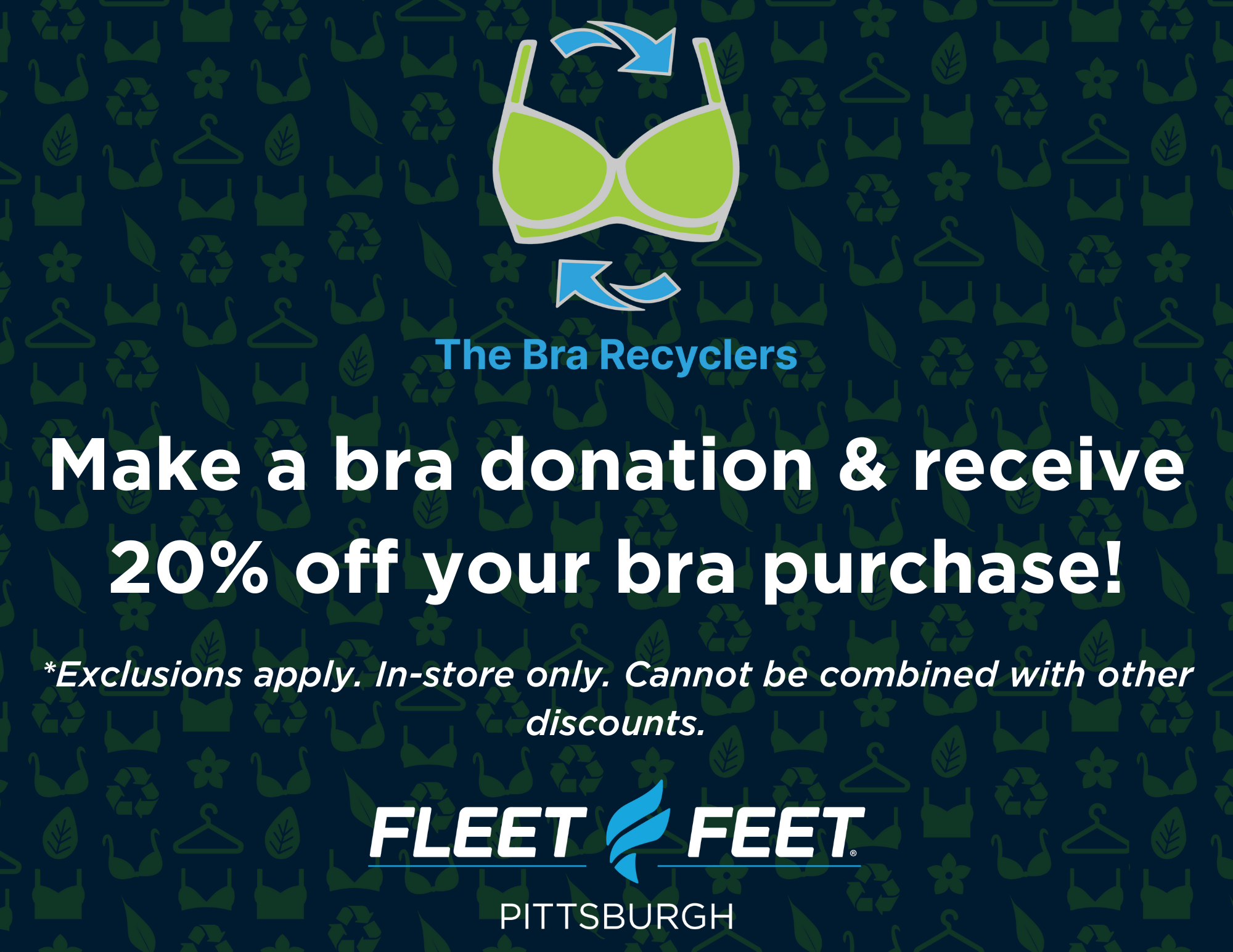 We are now Bra Recyclers! We accept all categories of new and preloved bras, your regular everyday bra and sports bras!
"The Bra Recyclers is a clothing recycling social enterprise, specializing in the reuse of new and pre-loved bras. Together with your help, our mission is to educate retailers and consumers on the positive social and environmental impacts of recycling lingerie. Our goal is to inspire them to take action."
Learn more about The Bra Recyclers
Donate a bra and you will receive 20% off your bra purchase! *Exclusions apply.
When was the last time you were fit for a sports bra? Come see us for an expert bra fitting!
Finding The Right Size
Finding the right sports bra can be a challenge. We fit hundreds of women every year for sports bras so they can run and move comfortably.
Your breasts move in a figure-eight motion while you run; not only do they bounce up and down, but they move from side to side, as well. This movement can cause pain or discomfort, which according to one study, can be a barrier to, or discourage physical activity in girls and women.
Not only can breast movement hurt, but it can also hinder performance. Research done by Brooks and the Research Group in Breast Health at the University of Portsmouth showed women lose four centimeters per stride due to breast movement. Over the course of a marathon, researchers found the extra four centimeters can add up to an extra mile's worth of steps.
So, finding the right sports bra not only keeps you more comfortable, but can actually help improve your running performance, too. We know that finding the best sports bra is just as important as finding the right pair of running shoes and here are some tips and our top picks for the best sports bra for you.
The first step to finding the right sports bra is figuring out what size you need. And that takes some measuring. You should also be sized every couple of years because sizes change—weight loss/gain, pregnancy, fluctuations in hormones, muscle loss/gain and more can all make a difference in your bra size.
Visit us to meet with one of our highly trained and knowledgeable Outfitters to find the best running bra for you, or use our guide below to measure yourself.
Find your band size. Wrap a measuring tape around your back and above your bust line in the front. If you're in between inches, round down to the nearest whole inch. The measurement in inches is your band size.
Measure your bust. Find your bust size by wrapping the tape measure around your back and across the fullest part of your bust. Round to the nearest inch.
Figure out your cup size. After doing steps one and two, finding the right cup size for a sports bra takes a simple math equation: Bust size - band size = cup size. The difference between your bust size and band size (in inches) will be your cup size.
How to Choose the Right Style Bra
The days of shopping from only one style of sports bra—cotton, pulls over your head, gives you a uniboob look, makes you chafe—are over. All major brands now make sports bras with a variety of different styles and support. That means there's a sports bra out there for every shape and style.
Here are a couple of factors to look at when choosing your perfect sports bra:
Encapsulation vs. compression. There are two different types of support your breasts can have in a bra, either encapsulation or compression. Encapsulation supports each individual breast, normally in some sort of molded cup. Compression, on the other hand, compresses the breasts closer to your chest. There is no data on whether one or the other is better for you—it's a personal preference. While we put all of our bras into one category or the other, many use both types of support.
Type of enclosure. This is the next big decision you need to make. There are three main types of enclosures for sports bras, although some may combine these for additional support:

Pullover. This style is similar to the traditional sports bra that pulls over your head. It could have traditional racerback straps or a variety of other strappy designs.
Back Enclosure. These bras are secured by a hook-and-eye enclosure in the back, similar to your traditional everyday bra. Tip - when trying on a bra for the first time, the hook and eye should be in the loosest eye loop. The elastic will eventually wear down in your bra and you can get more life out of it when you then use the other eye loops.
Front Enclosure. Some bras close in the front. This is a great option for people with mobility issues or nursing moms that need quick and easy access.

Activity. Traditionally there have been different support levels for different types of activities. Some of this has been changing (for instance all of the Brooks bras are made for running), but you will need more support for running or HIIT classes than you will for yoga or hiking because your breasts move more. All of the bras listed here are high-impact bras that are perfect for running unless otherwise noted.
Underwire. Some models have underwire, although most do not. We've added a separate section for our thoughts on the best underwire sports bras.
Storage. One of the newer features of sports bras is adding pockets or other ways to store nutrition, phone, keys or other essentials while you run. Typically, these are worn by people who run in just their sports bra without a shirt, but anyone can wear them.
Locations
Fleet Feet Pittsburgh - South Hills
1751 N. Highland Road
Pittsburgh, PA 15241
M-F: 10 - 7
S: 10 - 5
Su: 12 - 5

View Store
Fleet Feet Pittsburgh - Bakery Square
186 Bakery Square Blvd
Pittsburgh, PA 15206
M-S: 10 - 7
Su: 12 - 5

View Store