It all begins on November 27, 2020.

Do it in the rain. Do it in the snow. Do it in the cold. But don't do it alone.
COVID-19. Smoke. Division, uncertainty, and struggle. But then you head out on a run. Your mood lifts. You return better, more relaxed, more focused, more ready.
Every year, the Winter Warriors season arrives, presenting a fun way to stay active when the weather would otherwise keep us inside. This year, "warrior" takes on special meaning. We want running to be a practice that helps you overcome, stay mentally and physically healthy, and connect you back to your community.
We're just here to make it fun. Play the game with us: join Winter Warriors!
Register NOW.
Earn points, earn product
Three opportunities each week to check in virtually for a run; some of these runs will also be offered in-person* and socially-distanced! (*Our in-person meetups are suspended until small group meetup restrictions are lifted. Stay tuned to your email for updates!) Each run you attend earns you a point. Small group meetups are region-based.You'll receive an email every Sunday night with links to register for meetup times for the following week. There are no extra points for attending a run in-person.
Join our Spokane, Portland, Tacoma, or Meridian Facebook groups and earn bonus points each week by participating in virtual challenges.
We track points each week and post them to the leaderboard.
Top tier points earners will receive Brooks gear at the end of the season.
The Winter Warriors season ends February 14, 2021, after which we will crown our top four overall Winter Warriors champions! Our champions win a head-to-toe Brooks outfit, including shoes.
This year's schedule
30 minute Winter Warriors orientations for newbies or returning warriors on Thursday, November 19th at 12 pm or 5 pm PST
Virtual Pancake Run kickoff on November 27, 2020
Bonus challenges posted every Monday on Facebook
Other surprise opportunities to earn points throughout the season

Leaderboard

is updated every Wednesday at 8 am
Our in-person meetups are suspended until small group meetup restrictions are lifted. Stay tuned to your email for updates!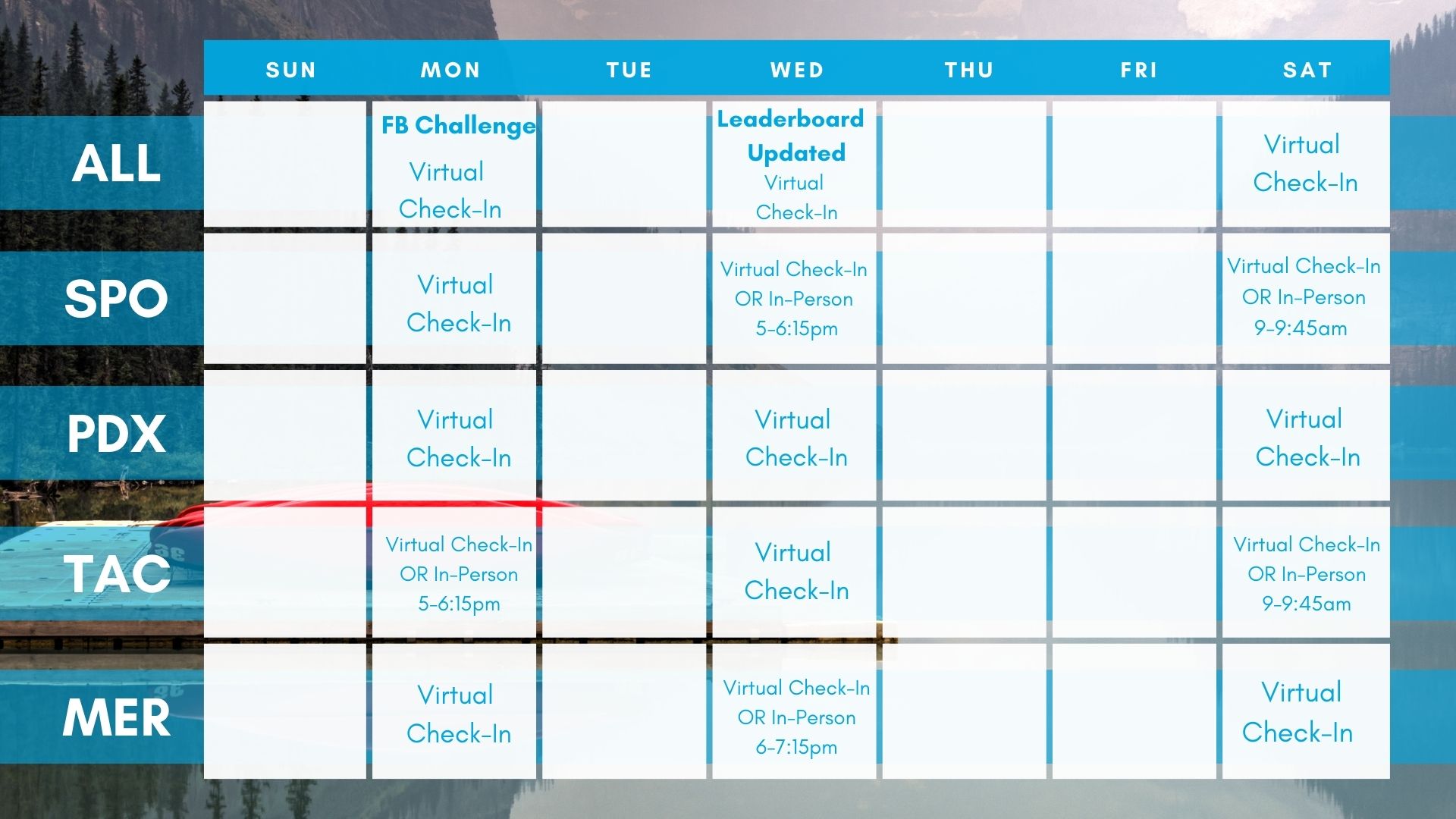 All the fine print
Cost: $30
Duration: November 27, 2020-February 14, 2021
Always gotta have a FAQ
How do you make sure people are actually going on a run after they check in virtually?
Trust is a core value for us, and we trust each of our participants to respect the game and only check in and out virtually if you actually do your run.
I'm not comfortable showing up for in-person meetups. Is this OK?
Yes, you can check in and out virtually three times a week. We did want to create some small group, in-person opportunities for those who are seeking community and feel comfortable meeting up. For those who choose to meet up for our runs, we will be very careful about limiting the size of these groups in line with local and state government regulations, and will pause in-person meet ups if these regulations change or for any other circumstances related to COVID-19. If you choose to join us regularly in person, we ask that you are masked whenever you are inside our stores, wash your hands frequently, do not attend if you are feeling ill, and work to maintain six feet of distance between you and others in your small group.
Due to COVID-19, ewe ask that you choose a run meetup and time if it's offered for your home store, and stick to it to ensure we keep everyone safe and healthy. You'll receive an email every Sunday night with links to register for meetup times for the following week.
Are in-person meetups worth extra points?
Heck no! We didn't want to privilege the healthy and young over those who are in higher risk categories. Whether you show up in person or virtually (or a combination of the two), you can earn up to three points each week for attendance. All additional (bonus) points are virtual.
What will weekly Facebook challenges look like?
Each week we'll provide a different, fun way to earn an extra point. Think scavenger hunts, themed runs, and so on! It will be easy to find the challenge post on our local Facebook groups, and easy to follow the instructions.
Who is Winter Warriors for?
We really mean it when we say Winter Warriors is for everyone. The goal of the program is to give you incentives to keep moving, even in darkness, as well as in wet and cold weather. If you'd like a more structured program toward an end goal, consider joining our winter session of Ignite! 5k training. Find all that information here.
I've participated in Winter Warriors in the past. What happened to extra points for cold or wet weather?
It was logistically too difficult to award points for cold and wet weather this year, since so much of what we'll be doing is virtual. We've added virtual challenges as a way to make up for that.
I don't have Facebook. Can I still earn points?
Yes, you can still earn points by checking in virtually or in person up to three times a week. However, we do require that you join our Facebook group to participate in any of the bonus point challenges. We live in an age of COVID, and we had to create a central place for us to track participation. Love it or hate it, Facebook is what we've chosen. Thanks for understanding as we've tried to make this program as fun as possible and use digital platforms that work for the majority of our community.

Winter Warriors 2020-2021 More Info »
Program Start: Friday, November 27, 2020
Program Schedule: Three weekly virtual runs and digital challenges as well as weekly in-person meetup opportunities
Program Fee: $30
Description: Join us for our first virtual Winter Warriors season! From Black Friday 2020 to Valentine's Day 2021, earn a point every time you attend a run, virtually or in-person, with opportunities to earn extra points along the way. Our top 50% of point earners win prizes at the end of the season, and we'll crown four overall Winter Warriors champions; each will receive a head-to-toe running outfit!