Registration for our Ignite! Winter Session is now closed. Our next session will begin in early 2021. Sign up for our email newsletter to stay updated.
Our winter 2020-2021 Ignite! session is designed to keep you healthy and fit through the holiday season. Our coaching and curriculum is created with the winter season's temptations and schedule interruptions in mind, culminating in a sparkling and extra special race day on January 2, 2021!
Program Details
Tiered approach: eight week program with three tiered training approach

—

5k run/walk, 5k run, and 5k faster.
Accountability: one weekly virtual call led by Fleet Feet Northwest owner and coach, Wade Pannell, in addition to one in-person, socially-distanced session each week. Weekly calls are Tuesday evenings at 5 pm PST, and Saturday morning meet ups are at 9 am PST from four shop locations across our region (see our FAQ below for location details). Learn more about your local training leads here!
Education: weekly educational emails to provide you with a more holistic approach to running through the holidays.
Cost: $30
Session dates: November 9, 2020 - January 2, 2021
Frequently Asked Questions
I saw that you have a Winter Warriors program. What's the difference, and how should I decide which to join?
Winter Warriors is a points-based program geared around social runs. There are a few key differences: there's no coach (and no education or coaching calls), and there's no target race or race distance. As an Ignite! participant, you can join Winter Warriors for free, and can get points on Saturday for completing your Ignite! workout at the same time of the Winter Warriors run. If you're an Ignite! member and want to join Winter Warriors, please send us an email and we'll get you set up.
I registered for Ignite! but haven't received an email yet. When should I expect to receive emails?
Once the program begins, expect to receive an email every Monday. If you still aren't receiving emails, it could be an issue with how you submitted your email address (like a typo) when you registered, or that the emails we send are going to your spam folder (check and make sure you haven't missed an email from "Fleet Feet PNW"!), or another technical issue on our end. If you've checked your spam folder and still can't find any emails from us, please send us an email at rachel@fleetfeetpnw.com.
I have previous commitments on Tuesday nights and/or Saturday mornings. Is it still worth it to join?
Sure, we'd still love for you to join us! We send out a link to our training plans every week, which you can follow along to ensure you're getting the workouts done. Also, we record every coaching call and upload each call to our YouTube channel.
I'm not comfortable meeting in person. Is Ignite! still a good fit for me?
We think so! Since we provide a training program as a part of Ignite!, you can do your weekly workouts solo and on your own time. You'll still be able to join our coached call each Tuesday, participate online in our Ignite! 5k group, and connect with our coaching team via email if you have any questions about your workouts.
Where are your in-person meet ups?
It depends on where you live. If you live in the Spokane area, your meet up location is at our Kendall Yards location (1315 W Summit Parkway). Our Portland meet up location is in NW Portland (2111 NW Savier Street), our Tacoma meet up location is our shop on Proctor (3812 N 26th St Unit A), and our Boise area location is at our shop at the Village at Meridian (3573 E Longwing Ln #105).
Where do I find a link to the Zoom call?
We send out the Zoom link every week in our emails. If you aren't receiving our emails see the first question in the FAQ.


How will I receive my medal at the end of the training program?
You'll receive your medal on race day. If you choose to run your 5k solo, we'll have the medals available at your local Fleet Feet for you to pick up.


What does "race day" look like?
We've planned our race day under the assumption that COVID-19 protocols will still be in place. We'll offer race "waves" from our store that you can register for in advance, a start/finish line, marked race course, pre-packaged, post-race goodies, and a photo booth!
Meet Coach Wade
Your coach, Wade Pannell, found running the way you might have as well: he stopped into a Fleet Feet. In his 8+ years as a business owner, he has coached athletes to train for their first 5k, as well as their first Ironman triathlon.
"It wasn't easy, and it took a lot of determination, but I remember to this day the first time I finished a 5k in under 30 minutes. The hook was set and I wanted to continue my journey to become a runner. As a youth, I was a cyclist (both road and mountain), soccer player, and time trial specialist. I picked up running at the age of 35 and within a year finished my first marathon (I wouldn't recommend this approach). I went on to qualify for the Boston Marathon four years later and finish my first and only Ironman in the following year. As a triathlete, I focused mostly on the 70.3 (half Ironman) distance, a race that was difficult and required excellence in all three disciplines, but that was still short enough that it didn't wreck you for a couple weeks after the race. During the height of my racing, I was a solid top 10% age-grouper in national scale events.
Endurance competition is a race against yourself. Some days, it is just a challenge to finish. For anyone starting this journey, it is one foot in front of the other, over and over and over again. It never feels good while you are doing it, but such a rush of accomplishment when you have completed the goal.
The pandemic, the shutdowns, and the polarized nature of our current culture has definitely brought some of our priorities and business objectives into question. That being said, it has brought us back to our roots and made us reconsider where we focus our time and efforts. The hardest change is the impacts to races, training groups, and people running together. The main goal for the coming season is to bring people together and find ways to provide the expertise and resources to our communities. The concerns over the pandemic have kept people from our stores and limited our time together; it has complicated our capacity to reach new customers and continue to grow our running community. I am hopeful for 2021, and my Ignite! trainees are a big part of that."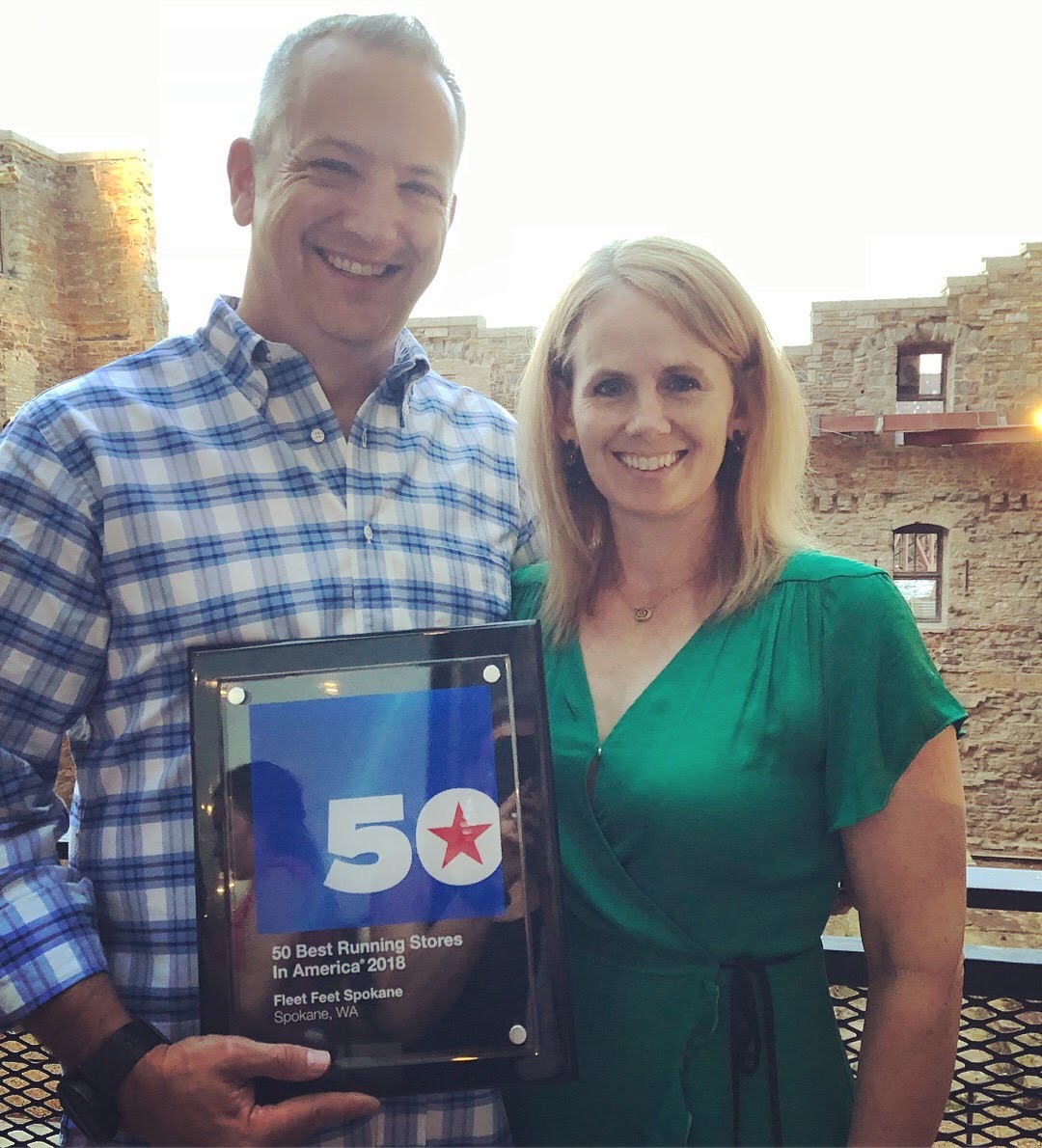 Wade with his wife and business partner, Julie
Ignite! 5k Training Winter 2020 More Info »
Program Start: November 9, 2020
Program Schedule: Eight week program with a weekly Zoom call and weekly Saturday meet up to keep you motivated.
Program Fee: $30
Description: Join our Ignite! 5k training program. We start our virtual 8-week program with Coach Wade Pannell on November 9, 2020. Note that Fitvil registration is through Spokane, but is open to all northwest runners. Meetups will occur in Portland, Meridian, and Tacoma.