Welcome to our new series of race recaps! We'll deliver the rundown of local races we've attended - feel free to chime in in the comments with your thoughts!
The promises were big: warm, dry, indoor staging area at the Oregon Convention Center, real bathrooms, mimosas, food, tech t-shirts, roses, medals, and a fast, accurate course. But, boy, did Race for the Roses deliver!
Sunday, April 19th started bright and early; the doors to Exhibit Hall A opened at 5:30am for last minute packet pickup. I arrived around 6am to meet our team at the Fleet Feet booth and wait for the members of my run club to arrive. The setup of the room was great - big mat space for stretching, line of sponsor booths, table for food, gear check area, mimosa pickup line, and a fun "photobooth" put on by Regence.
Our Fleet Feet Sports Training Program members have been working hard to prepare for the race and were excited and ready on race morning. We're so proud of their dedication and achievements!

Fleet Feet Sports PDX was responsible for pacing the half marathon; our pacers were awake and ready for the 7am start time. They had a great time and loved the rewarding feeling of helping runners meet their pace goals. Thanks, pacers!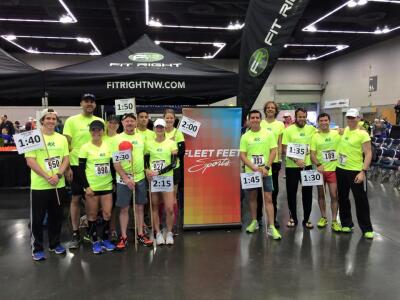 I ran the 10k, which started at 7:20am. It was a bit chilly to start, but with the sun out, it quickly warmed up. The course ran over the Broadway bridge, around NW Portland, down Naito Parkway, across the Steel Bridge, and back to the Convention Center. It was fast and accurate as promised, but I have to admit, I didn't love the climb up the bridge at the end! I simply kept repeating my "hills for breakfast, hills for breakfast" mantra. While my race didn't quite go as well as planned, I was third in my age group.
The 5k headed out around 7:35am and was a great event for runners and walkers alike! Everyone I saw seemed to be having a great morning...that was the overall feeling of the whole race - endless positivity and fun.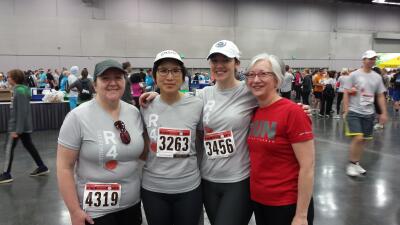 Intro to RUN ladies and Coach Maggie

Ending the race with cheering spectators and volunteers handing out medals (beautifully hand-crafted by adults with developmental disabilities who work at Albertina Kerr's Port City day center in North Portland) and roses was wonderful! I was impressed (again, as this was my second year running the 10k) by how Race for the Roses goes above and beyond for participants.
The party continued inside with pictures, mimosas, Jamba Juice, and delicious snacks and kept going as everyone waited for the half marathon walkers to finish. The results were available quickly and awards were handed out efficiently. Overall, just a great event!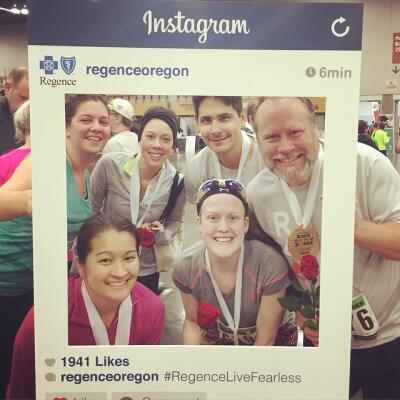 My run club snapping a (sweaty, post-race) pic with the Regence Instagram square!

Fleet Feet Sports PDX is proud to have sponsored Albertina Kerr's Race for the Roses in 2015 with a $2500 donation. Albertina Kerr is a fabulous local non-profit doing great work to help children, adults, and families living with developmental disabilities and mental health challenges. 100% of net proceeds from the race benefit this organization, who has been serving our community for over 100 years.
PS- Thanks to all who came out to packet pickup at our Portland location on Thursday! We had a great time having you all visit!