We've all heard of the Shamrock Run, but how much do you know about the gem of a race that is Why Racing Events' Couve Clover Run? Taking place in downtown Vancouver the weekend after Shamrock (March 20th in 2016), this race has it all - a great, safe course, multiple distance options (3, lucky 7, or 10 miles!), medals, tshirts, free beer and pint glasses from Main Event, and an awesome pre- and post-race experience. The Fleet Feet Sports PDX team was thrilled to host packet pickup and be there on race day! Many of our Ambassadors also joined in the fun - read their take on the event below!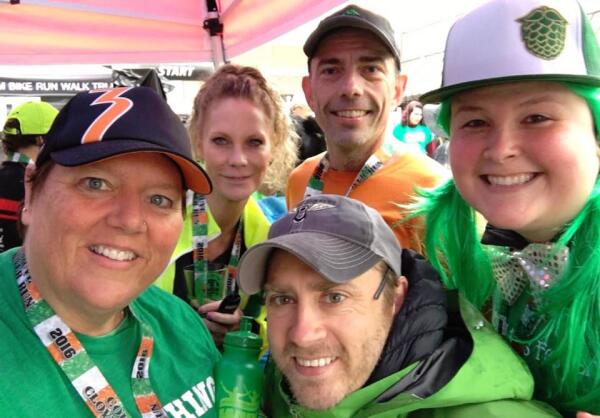 Ambassadors Brenda and Sarah, Fleet Feet Sports PDX events manager Nick, and friends!
The Couve Clover Run! What can I say, I missed out on this inaugural event last year and surely didn't want to miss out on it this year especially since I live in the downtown Vancouver area. This time last year I was training for my first half marathon and well, let's just say 'fun-times' were limited for me while training. So, on the day of the event last year I sat at home on my couch after my long run training and relished in the fun pics everyone took. It was at that moment, while looking at all those awesome pics, I told myself, I could not miss out on the fun this year. Thankfully, some of us Ambassadors were lucky enough to be able to participate in the event while representing Fleet Feet Sports. My plan was to have as much fun as I saw in those pics, and let me tell you, I was not disappointed. From beginning to end, I could not stop laughing, until I began to run out of breath on some parts of the course, but I was laughing on the inside. Even the rain, the slight wind couldn't damper the great mood this event generated. From the costumes that were soaking wet, the new friends I made along the course, the high fives all the amazing Fleet Feet Ambassadors gave on the run, the BEST aid station manned by my awesome run club, RGC, this event lived up to all the pictures and stories I saw last year. Post party event was just as awesome at Main Event, one of my favorite places downtown. No one was bothered with the fact that we were dripping wet afterwards, but it was all about the stories endured along the route, in fact, I don't recall anyone really mentioning the rain, that's when you know you've had a successful event. This is the second evert I've done with Why Racing, my first being Girlfriends Half and I can't say enough how proud I am to be a part of this local event that is right in my smack in the middle of my neighborhood. It goes without saying, this event is on my permanent list of 'must-do's' every year. A huge thank you to Fleet Feet Sports for extending the opportunity to the FFA's and to Why Racing for an outstanding event.
- Tangela Sabir, Fleet Feet Sports PDX Ambassador
Ambassador Tangela and friends!
On a damp Sunday morning, the Couve Clover 7 Miler was a joy to run. Well, maybe not a joy, but you know how it is, a wet slog becomes "a joy" once it's over and you're pleased with your time. The weather was perfect for running, cool but not cold, damp but not wet, breezy but not windy, etc. The course was easy and almost completely flat (always a bonus) and the rain didn't really kick in until the last mile or so, so my feet remained mostly dry. I usually run with friends, but ran this one on my own. The riverfront course and encouraging volunteers (yay volunteers!!) helped keep my energy up. And I appreciated how well organized this race was after running some races that were lacking last year; WHY Racing does a great job. There were plenty of volunteers on the course at aid stations and course direction points, and there was event a beer/bacon/lemonade aid station near the halfway point (not sure if that was sanctioned). I, of course, indulged in bacon and lemonade. Post race the weather was not so nice, but I warmed up with a coffee from Boomerang before heading home for a nap.  
- Amanda Lane, Fleet Feet Sports PDX Ambassador
What a fun event! So many familiar faces, great costumes, and a very well-run race. There was so much swag and so many things to see and do at the end of the race. Entry gets you a shirt, medal, water bottle, pint glass with finisher beer, and soup/breadstick at the finish line. Not even the rain could keep spirits down! I would definitely participate in this race again! A big thumbs up on this one!
- Sarah Beck, Fleet Feet Sports PDX Ambassador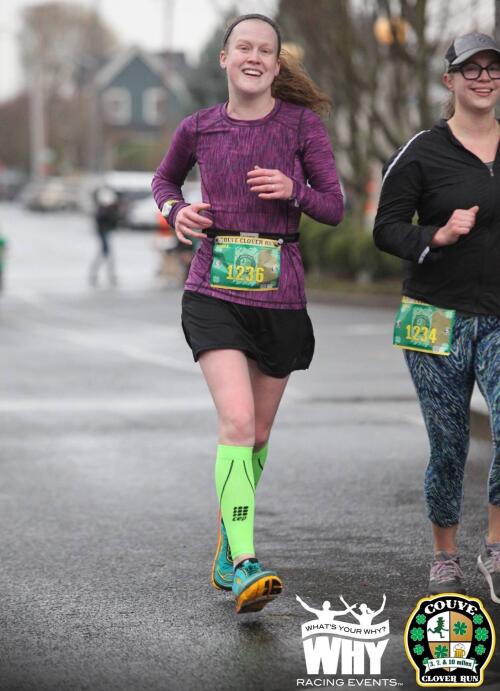 Fleet Feet Sports PDX managers Kate and Holly
I had a policy of only doing large races but the awesome Couve Clover Run changed my mind entirely! I always feared that in smaller races I would be running alone and lonely. At 900 runners I thought my fears would come true at the Couve Clover - but it was entirely the opposite! There were just enough runners to feel the energy of the crowd, but not so many that I felt like a sardine at the start. The volunteers were fantastic and I got high-fives and water any time I needed! The announcer was full of energy and for the first time ever I heard my name as I crossed the finish line. Not only that - I was able to try and keep my pace with mini competitions - targeting one runner and trying to stay with them the whole time. I couldn't quite catch up to fellow Fleet Feet-ers Kate & Holly but on the out & back part of the course I waved at Ambassadors Amanda Lane and Tangela Sabir - it was a huge bonus to see my friends out on the course. Couve Clover is already on my to-run list for next year, and I'll definitely be signing up for more Why Racing events soon too!
- Rachel Palmer, Fleet Feet Sports PDX Ambassador
The Clover Couve Run on Sunday was such an awesome experience, I haven't raced in a long time so it was kind of cool racing again. The course was nice and flat with a few inclines and there were people at every corner to cheer you on. Not only was the course nice, but there was nothing but positive energy that was getting everybody pumped and ready to go. 
- Sarah Moreno, Fleet Feet Sports PDX Ambassador
As one of the organizers for Vancouver RGC - I'm always a fan of races and events in Vancouver and especially those sponsored by Why? Racing. Sherri McMillan goes above and beyond to create an awesome race experience - from the pre-run warm-ups to the great post-race parties. This year, Why? Racing was generous enough to donate a few free entries to the Fleet Feet PDX Ambassadors. I thoroughly enjoyed each mile of the unique 10 mile course that wrapped itself through downtown Vancouver and along the waterfront. Despite rainy weather - the on-course support and fast course makes this race a must-do every year.
- Erin Coyle, Fleet Feet Sports PDX Ambassador
I ran the Lucky 7 mile Couve Clover Run last week in downtown Vancouver. The run started in downtown Vancouver passing through Fort Vancouver and along the riverfront trail and back to downtown. It was a gorgeous course, although a little bit rainy. I especially loved seeing all of the runners decked out in their green attire and costumes as well as all of the supporters from the community throughout the course! The event from start to finish was very well organized. The stores along Main Street hosted the runners with beer, coffee, treats, and other goodies after the race, which was nice to get away from the rain and get warmed up. Thank you for such a great experience!
- Lori Tu, Fleet Feet Sports PDX Ambassador