On April 26, at 
7:30am
 in Bend, Oregon began the inaugural
Bend Marathon and Half
(by the Gorgeous Series folks!). Around 1300 runners huddled together in the 23 degree weather with ambition, excitement, fear, dread, hope and most of all...hopes that the porta-potty line was not long.
Thankfully, the lines were great!! Everything at the start was well organized and ran smoothly. Bathroom lines were short, bag check was easy to find, smiles were everywhere, parking was simple, my outfit was perfect, friends were hilarious, and the gun time, on time!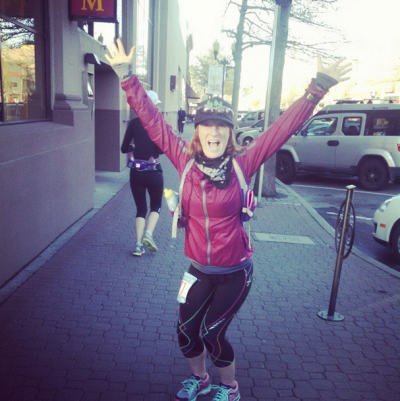 Before the race!
Everyone ran off with cheers and screams, all runners half and full at one time. I can imagine with growing popularity that the times may change, but today was perfect. I enjoyed the intimacy of the small group where we could chat and encourage one another. The sun warmed us quickly through the easily marked course and my cute outfit became my
Animal Athletics
shirt, compression pants, and my Picky Bars hat (equally cute). By the time we passed through downtown Bend on mile five, I was warmed by the sun and amazed by the views of Three Sisters, Broken Top, and Mt. Bachelor.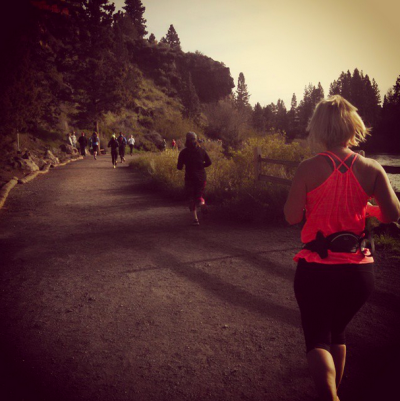 On the course
The full (my race) split from the half to head out to Cascade Lakes National Scenic Byway up to the turn around and Seventh Mountain Resort, while half marathoners headed home to the Mirror Pond parking lot. This course did not disappoint! The elevation gain got me on my fight up the Scenic Byway, but I loved the challenge as I needed this in my training for my first ultra at the end of May. Kerry Loehr and Blair Hook (the Gorgeous Guys as I call them) were there at the end cheering everyone on and even apologized when I told them that the course got me!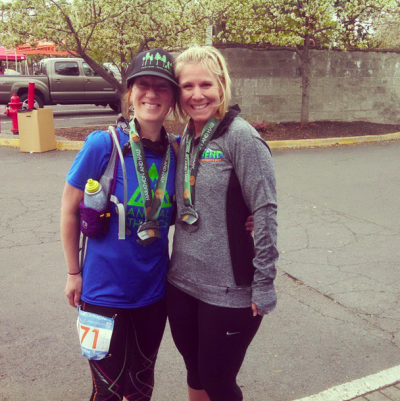 Post-race! I made it!
This race and the series to come from these guys are inventive, exciting, challenging and well, gorgeous. Not only are their races great, but the people they are prove to be guys I want to follow. They have been supporters of me and training with Animal Athletics since day one and I will do the same. I hope that you get the chance to run one of their races and meet these gorgeous guys!